Auto Business
News
Everything you need to know about the Suzuki Jimny coming to India!
After years of desiring the car, the Indian markets will finally have their dream fulfilled, with the Jimny making landfall by 2021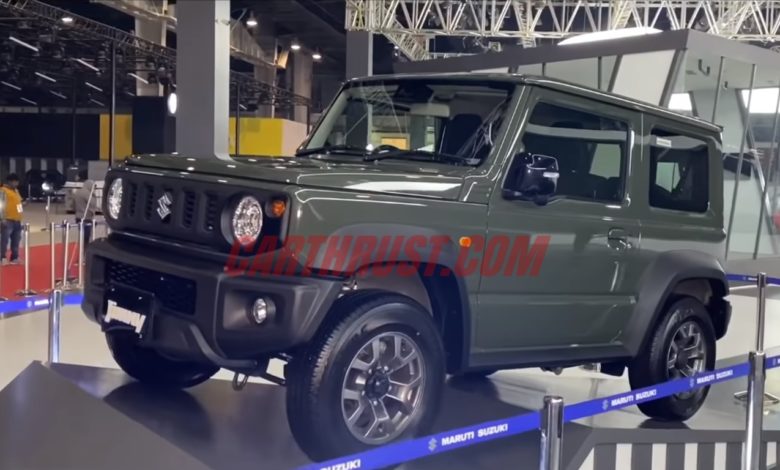 Before I begin writing about the Jimny, let me start by introducing it to those who are not very well versed with its existence.
The Suzuki Jimny, a 3 door SUV,  was born in the 1970, and in its time, it was the first mini-car to sport a 4 wheel drive system. This allowed the users to drive it on the roads, but at the same time, it could take on the roughest of terrains without complaining.
This began the tryst between the Jimny and its fans, and this relationship continues to exist even today. The 1970 Jimny eventually had to receive an update, and it did in the year 1981, when it lost the simplistic looks and rocked a more SUV like look, and its capabilities only became better.
However, both these versions of the Jimny's failed at one crucial aspect, comfort, and this was taken care of in the 1998 face lift, which saw to the Jimny looking more distinguished, yet there was no compromise on its driving dynamics.
The 1998 version was the one which followed the 'if it ain't broke, don't fix it' philosophy, and this model received minor updates through the years (to a point it where it was also offered as cabriolet) until 2018. In 2018, the world witnessed a face lift which truly evolved it from its ancestors. The 2018 Jimny was near perfect, it was comfortable when compared to its predecessors which were comfortable to the extent that the passengers were treated more like cargo, and less like humans, it complied to the latest technologies, and it looked extremely handsome.
The 2018 Jimny is powered by powered by a single K15B 1.5 litre petrol engine, and this engine can be coupled to a 5 speed manual gearbox, or 4 speed automatic transmission. The Jimny could provide some stern competition to vehicles like the Mercedes G-Wagon and Land Rover Freelander, which just goes on to show what kind of car this is. This ladies and gentlemen is what India has waited for so long, and it seems like it will make it to India by 2021.
Is the Jimny coming to India?
I would understand the doubt and uncertainity that people feel while asking this question. I myself have felt a very similar kind of anxiety, but this time it is for real, the Jimny will launch in India by 2021. The Gypsy being discontinued is no coincidence as this makes room for a car like Jimny to be launched in its segment. This does not necessarily mean it will be priced like the Gypsy, and we can expect it to be priced at a premium over the car which originally belonged in to this segment in India.
Another compelling reason that assures us that the Jimny will be arriving to India is, the need for more production of the Jimny. Worldwide, the Jimny has sold more than 2.85 million units (as of 2018 March), and the Kosai plant in Japan where it is manufactured, has reached full capacity, thereby, forcing Suzuki to find another plant to produce the Jimny at the scale with which it is being craved by the people. Hansalpur in Gujarat has been chosen as the production plant where the Jimny will be produced, and thus, it is certain that India will receive the Jimny.
Will a 3 door Jimny work in India?
India does not have very many 3 door mini-cars, and though even a 3 door version of the Jimny will do well in India, it has been decided by Suzuki that India will get a 5 door version for the Indian buyer. This version of the Jimny will be unique to India. Though I still hope the 3 door is sold as an option.
While the production of the Jimny will begin by the second half of 2020, this production will be for the 3 door version which is built to be sold in Europe. This does mean we will see it being tested on Indian roads, and for starters, it will be great to finally see the Jimny on Indian lands.
Okay, the Jimny is coming to India, but do you think it would be ripped of off all the features that the Euro spec version gets?
Alas, that is true, I am quite sure we will not get the features like that of the feature ridden Euro spec version, but I believe the India spec Jimny will not be too bad itself. When I say that the Euro spec Jimny is featured ridden, these features do not pertain to creature comforts. In fact these features are that of the car's dynamics and safety features.
The international spec Jimny gets features such as weaving alert (in case the driver is drowsy and the car starts to waver, the car will issue an auditory and visual warning), tire pressure monitoring system, high beam assist, lane departure warning and traffic sign recognition. Such features will be welcome in India, but we all too well know that it would not be available on an Indian spec vehicle.
Furthermore, the Euro Jimny gets heated front seats, heated door mirrors. In Indian conditions heated front seats would not be all that beneficial, but heated door mirros would be very helpful, and yet it would not make it to our version of the Jimny. That being said, I am sure the Indian Jimny will surely sport the features such as the 4 Wheel Drive system, Hill Descent Control, Hill Hold control,  ABS and ESP (as standard), curtain airbags and other basic features.
That is good to know, how about some information on the power train being offered?
The Jimny globally is offered in 1.5 litre petrol engine and a 660 cc (Japan exclusive motor). The 660 cc fulfils the Kei car regulations of Japan hence, it's size and engine size are limited to Japan only. Although, India will see the Jimny using the the 1.5 litre engine which is used to power the Vitara Brezza, Ciaz and Ertiga. The transmission offered will be either a 5 speed manual or a 4 automatic. What will make this car truly fun to drive, will be its 4 wheel drive system with its low range transfer gear, which would allow its users to conquer practically any road.
I am sold, what kind of pricing should I be looking at?
Like I said before, this car may be replacing the Gypsy, but do not expect it to priced like one. This is not as simple as most of Maruti's cars, the Jimny has a sophisticated 4WD system and a 1.5 litre petrol engine, which could end up taking the cars price around 10 lakhs (ex-showroom). Even at this price point, this car would be a value for money, and you can expect it to sell like hot cakes in the country. In India, the Jimny will be sold under the Nexa outlets of Maruti.
And well yes, it would interfere with other products from Maruti. It will probably confuse buyers of cars such as the Brezza, S-Cross and even the top end Ignis, a headache of this nature for buyers is a good thing for any motor brand. However, what makes Jimny special is the fact that it is unique it self and it will be the first of its kind in a market like ours. So to all interested parties I say this, the Jimny is arriving, THE JIMNY IS COMING TO INDIA!