Auto Business
News
Morris Garages builds a custom made Hector Ambulance
Morris Garages India continues in its initiative to support the country, this time by preparing the Hector Ambulance which will be donated to the Vadodara Healthcare facilities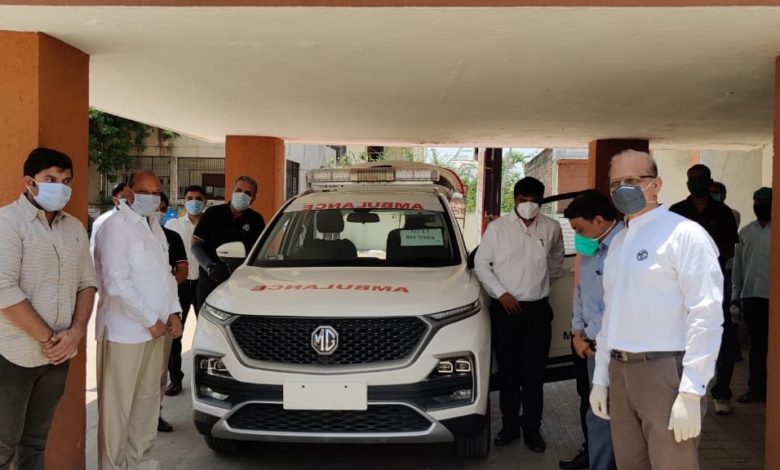 Coronavirus has brought an abrupt halt to our lives, and due to this, our frontline personnel, especially the medical staff have had situations where their medical resources have been exhausted. Morris Garages has been influential in assisting the country by coming up with different initiatives, their most recent one being, the 'Hector Ambulance'.
To start with, no, the Hector Ambulance will not be for sale, and this vehicle is here, strictly to support the Vadodara Healthcare facilities. It is pleasantly surprising, as to how, MG has managed to use the size of the Hector to their advantage and have fitted equipment such as an auto loading stretcher, oxygen system regulator, a jump seat for an attendant (with reusable covers), a fire extinguisher, medicine cabinet with a 5 parameter monitor, a light bar on top of the vehicle along with a siren and a few more other pieces of equipment. Now this may not match the utility of a conventional ambulance, but it will surely do the job, and that by itself should be enough to make a considerable difference.
The 'Hector' Ambulance is the latest out of box inventiveness from MG, and this is not the first time that they have undertaken a project like this to support the medical staff of the country. Just 2 days back it had been reported that Morris Garages had tied up with Vadodara based MAX ventilators to scale up the production of ventilators within the country.
This collaboration would ensure that during Phase 1 of production, 300 ventilators would be made in the first month and Phase 1 would be completed within the coming 8 weeks. After this, arrives Phase 2, during which production can be bumped up to a 1000 ventilators within a month, and this can be altered as per the need of the country. Ventilators are a crucial piece of medical equipment, and there have been instances where hospitals have fallen short of them. Thus, steps like these, will help make sure that there is an abundant supply of ventilators in India.
MG has been extremely proactive in coming up with methods to support the country, just a week back, the Chinese Automaker supplied a 100 Hector SUVs to the frontline workers such as doctors, Government officials, police employees and others. Prior to this, MG donated 2 crores to the Government hospitals of Gurugram (Haryana) and Halol (Gujrat).
Furthermore, they also started the 'Affordable Ventilator Challenge' which was an initiative started by MG, whereby individuals and companies were encouraged to build a cheap and easy to produce ventilator. MG also started the 'Disinfect and Deliver Initiative' via which they intend on sending their sanitised vehicles right to the doorstep of aspiring customers for test drive purposes.
Morris Garages support has surely made a difference, and by themselves, they have managed to help the frontline personnel, the patients, the Government and this support will not be forgotten. I hope other motor brands are motivated by MG, and engage in such initiatives.
ALSO SEE
MG India provides 100 Hector SUV's to the frontline workers!