Auto Business
Connected Car
News
Launch alert! BS6 Hyundai Verna launched at Rs. 9.30 lakh
The Verna has seldom been called as Hyundai's best offering in India. Being a Hyundai, it came loaded with features, had a smooth ride and a refined engine. All this made it the sedan for a lot of people. But, it still didn't outsell the Ciaz. Will Hyundai finally seize the segment with the new Verna?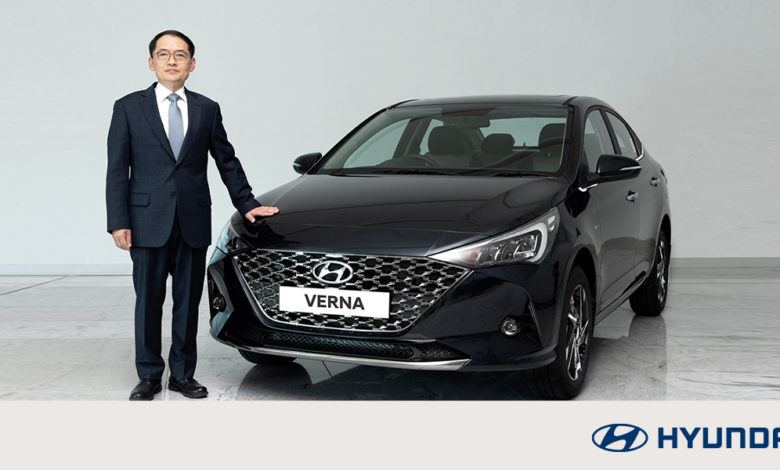 The BS6 Hyundai Verna launched at a lucrative price tag of Rs. 9.30 lakh ex-showroom. Not only does this pave the way for future cars from Hyundai, it is setting a standard for pricing to features ratio for any upcoming sedans by other auto makers. The new Verna was also launched back in March and it is not quite clear to me why this has been relaunched. Anyway, let's first dive into the part that has changed the most, the engine.
The new Verna now comes with a 1.5L petrol and a 1.5L diesel engine complying with BS6 regulations. It also comes in a 1.0L turbo-petrol avatar. And this has to be the best part about Hyundai, they are offering a turbo petrol variant for all of their newer models right when India is at the point of finally having affordable performance oriented cars. We were recently drooling over the absence of hot hatches in India so it is good to see Hyundai's offering.
Anyway, the new Verna's 1.0L turbo-petrol has 120 PS of power and surprisingly just 17.5 Kgm of torque. It comes paired with a 7-speed Dual Clutch Transmission. The 1.5L petrol generates 115 PS and 25.5 Kgm which is more than the turbo albeit at a lower rpm. It is mated to a 6-speed Manual Transmission and an IVT or Intelligent Variable Transmission. This is nothing but Hyundai's version of the CVT. The 1.5L diesel makes 14.7 Kgm of torque and a 115 PS and is connected with a 6-speed Manual Transmission & 6-speed Automatic Transmission.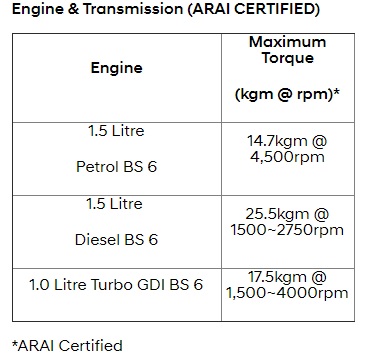 Hyundai has also reworked the front and back-end of the car with a new set of headlamps and taillamps. We remember covering the launch back in March along with the pricing but, somehow Hyundai decided to relaunch their relaunched car. If anyone wants to read that one again, here is the link.
A word from the CEO
Speaking at the launch of The Spirited New VERNA, Mr. S S Kim, MD & CEO, Hyundai Motor India Ltd. said, "The Spirited New VERNA is an All-rounder sedan with Human Technology Connect comprising Futuristic Design, Smart Connect, Ingenious Detailing and Superior Dynamics for new age aspirational customers. The brand VERNA has been a landmark in Hyundai growth story winning many prestigious accolades worldwide. The Spirited New VERNA is mastered to deliver excellence including core areas of Styling, Performance, Technology and Safety to create a new benchmark in the sedan segment."
Features
Any Hyundai car has always aced one aspect for being the perfect vehicle. Its features. Hyundai vehicles sometimes offer features above and beyond (Pun intended) the segment and asking price of the car. This one is no exception. For starters, it comes with Digital Cluster, Front Ventilated Seats, Tyre Pressure Monitoring System, 20.32 cm touchscreen AVNT with HD Display, Arkamys Premium Sound, Driver Rear View Monitor, Rear USB Charger vs. Conventional Power Outlet, Paddle Shifter, Wireless Charger and an Electric Sun roof. This list is not exhaustive by the way so, you get the point. These features not only add on to the sheer driving pleasure (I need to stop with them puns!) but, are also a good show off. Unlike most cars, Hyundai offers real features and not gimmicks, mostly.
The car also has 'Hyundai Blue Link' which has an in-built and tamper-proof device powered by Vodafone-Idea eSIM along with a Cloud-based Voice Recognition platform. Blue link is India's most advanced connectivity solution. The 'Spirited New VERNA' is equipped with 45 Blue Link features classified under different services in the form of Safety, Security, Remote Operations, Vehicle Relationship Management, Geographic Information Services, Alert Services and Voice Recognition. These Blue Link services will be complimentary for first 3 years and post which customers can further renew the services.
Pricing
Here is the introductory pricing from Hyundai: