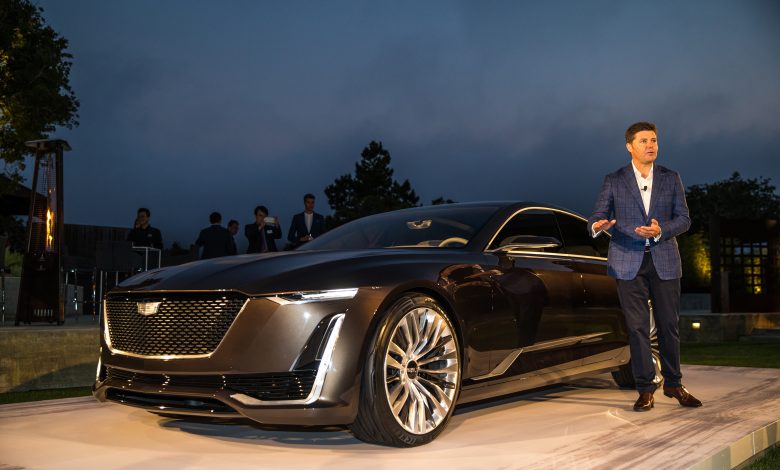 General Motors's luxury brand Cadillac is preparing its vehicles to step into the future, and it seems that we could expect something special from them. Not only are they preparing a different line of powertrains, more importantly they are employing a different design language. In the words of the Design Director of Cadillac, he wants their EVs to be "unlike anything else".
Brian Smith, Design Director of Cadillac was recently interviewed by Automobile magazine, and while he was in conversation with them, he spoke about working from home due to Coronavirus, experience of building EV vehicles and their goals and objectives.
The 2016 Escala concept helped us have a basic idea of what the Lyriq and Celestiq would look like, and after reading about the conversation Brian had with Automobile, there is now a better idea of what direction Cadillac wants to take with respect to design language. The Lyriq which is their electric crossover is believed to be their first EV to enter markets, and this will happen by 2022. The Celestiq on the other hand would be their flagship sedan whose launch will take place nothing before 2025.
When asked about the design language that the EVs would follow, Smith said "Making electric cars desirable is what we're all about. They've got to be just as beautiful and thought provoking as any internal-combustion-engine vehicle … more so given the technology that is coming along with that beauty." There may not be a lot of information on the technology used on the EV vehicles of Cadillac, but one look at their concept Escala, and I surely agree that their vehicles would look beautiful in the coming future.
An interesting subject which was spoken about was the use of grilles on EVs. Now we do know that electric vehicles do not need a grille, but Smith did say that some airflow is needed. He furthermore went on to say, "We still want the car to have a strong face and recognizable graphic, but now we can have a slick, flush appearance with different ways to do the detail." I particularly like how most EVs can sport either a minimalistic grille or a modify the grille to make it look however they want it to be.
The next thing which the 2 parties spoke about was the Celestiq and its design. Fun fact, the Celestiq was supposed to be an ICE based vehicle, and the Lyriq suv has actually shared design inputs from the flagship sedan. When asked about the Celestiq taking on the vehicles such as the Mercedes Benz S Class and BMW 7 Series, Smith quite confidently said "We're aiming for the moon with that car, and it will be unlike anything else in its class of vehicle or segment." The expectations from this vehicle are sky high at the moment, and it seems that the Celestiq might just set the bar for what a flagship sedan ought to be like. The Design Director also feels that the Celestiq should have a unique silhouette, something which sets it apart from all other sedans.
Electric vehicles are the cars of the future, and it is especially delightful to see big brands from different parts of world acknowledging this fact and working hard to introduce a new line of green electric vehicles. The pace with which electric vehicles have been produced/unveiled lately suggests that a large part of world could see a shift in powertrain in the coming years. I for one cannot wait to be a part of this change.