Motorsport
Valtteri Bottas beats Hamilton to take the pole position
The Finnish driver beat his teammate in the 2020 Formula One season by just .012 seconds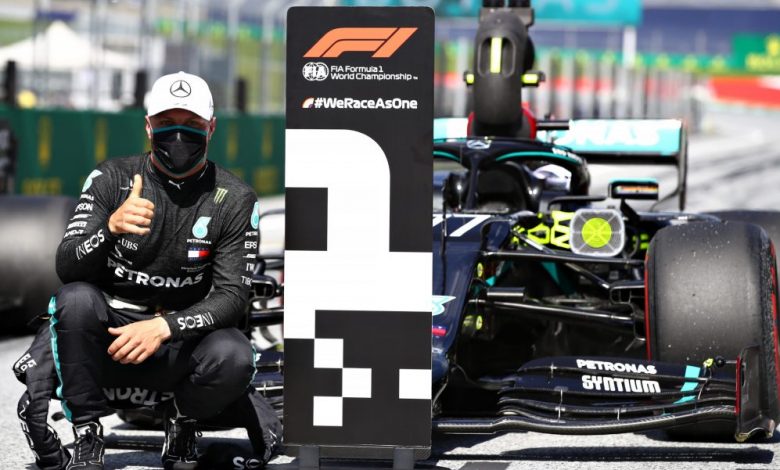 F1 Season is finally here and it has begun at the Red Bull Ring in Austria. Mercedes is continuing last season's trend to hold their dominating presence with a one-two win as Bottas secured the pole position, with teammate Lewis Hamilton being second.
In spite of Valtteri sliding and skidding on the track during the final lap, he still managed to finish first. Mercedes would be incredibly happy to see their drivers doing well, almost being on a different level at the moment. Bottas celebrated by clenching his fist and hugged Lewis. On winning, Bottas said, "It's something special when you push the car to the limit, feels so good. It's very impressive."
When Valtteri's vehicle skid in the gravel, right behind him was Hamilton, and it would be expected that this would have slowed Lewis down, but instead he said, "No, no, it wasn't confusing, I came out of Turn 4 and there was a big puff of dust, and I didn't know where the car was or anything and managed to see that Valtteri was just about to come on track. Fortunately, it didn't affect the lap and he kept his position." In spite of the yellow flags being displayed to warn the drivers about Bottas's mistake, Hamilton hadn't seen it.
On number 3 was Red Bull's Max Verstappen, and the fourth rank was held by McLaren's Lando Norris. Verstappen was just 0.538 seconds slower than Bottas. About the game, he had to say, "It's going to be interesting quite a bit warmer tomorrow and hopefully this will play to our advantage, today, Mercedes was on a different level, unfortunately. Last year we were also a little bit off in qualifying so I expect we will be a bit better in the race."
Hamilton, who had asked his rivals to come together as one and fight against inequality, was probably looking to extend his record 89th pole, but that seems to have been delayed for now. He came out full of praises for his teammate, and about the team he said, "We show year on year that we continue to be the best team. We're open-minded and are constantly learning from each other and pushing the boundaries."
Ferrari had a poorer race, with Leclerc coming 7th and Vettel failing to make it into the Q3, starting 11th on the grid in the race. Vettel fans have had a tough time especially after knowing that he would be leaving Ferrari after the end of the season, and this performance would only upset them more. After a tank full of despair last season, Ferrari fans were hoping to see a rejuvenating performance from Ferrari but, that has failed to happen. If anything, Ferrari's graph is on a steeper downward curve.
Some have already went on to say that Ferrari is looking like a midfield team which as per me is too far fetched. The prestigious team holds the doors to some of the best drivers and it is just a matter of time before Ferrari get their kick in. What I see is Sainz must be keeping a close look at Ferrari's performance and his heart will beat faster every time Ferrari is losing their game.
The Austrian Grand Prix will begin at 1510 local time which is 1210 UTC which is 5:40 pm in IST. The race will kick off with Mercedes looking to win, but Verstappen sitting at third, he could make a significant difference, and maybe eve spoil Mercedes's plans.