Auto Business
News
The 2020 Ford Bronco will be offered in a 2 door/4 door format with 3 trim levels
After several spy shots, Ford has finally let out a teaser which shows the 2020 Bronco's silhouette, in its 3 different forms.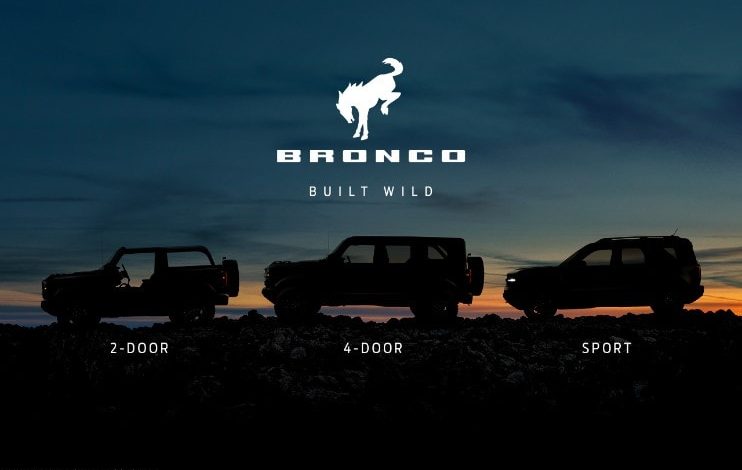 The legendary Ford Bronco is being brought back, and hardcore Bronco fans couldn't be more excited. However, Ford has not been generous when it comes to providing information about the Bronco. Most fans were making do the spy-shots, but finally Ford has released a teaser image of the Bronco, standing tall in its 3 forms.
In the image, the 2020 Bronco can be seen in a roofless 2 door avatar, a rugged 4 door hardtop Bronco and a more conventional Bronco Sport. Amongst the 3, the roofless version and rugged 4 door Bronco have used a similar styling dynamics, as for the Bronco sport, this vehicle has been designed to make it look different from the others.
The Bronco has taken a few design cues from its ancestor, but with a few twists and upgrades of course. LED headlamps with DRLs, LED tail lamps, alloy wheels, a new axle are a few things which are new, with very many new updates as well. Expect massive changes on the inside as well, but Ford has done a great job at keeping the cabin and its features a secret. We could surely expect a touchscreen infotainment system, a functional yet feature rich interior.
Coming to the powertrain, information is yet quite scant, but it is believed that the 2020 Bronco will utilize a 1.5 liter and 2.0 liter turbocharged Eco Boost engine which produces 187 and 250 ps respectively. A hybrid motor may also find its way into the Bronco engine unit.
In a world which has lately taken to SUVs and crossovers, the Bronco couldn't have brought back at a better time. As an individual living in India, I would have very much liked the Bronco to be launched here, but that is just a distant dream. The Bronco will make its world premiere on the 13th of July, and once it does, we will have more information with respect to its exteriors, interiors, powertrain and driving dynamics.