Auto Business
News
Opinion
Buckle up for the Mercedes-AMG GT Black series
Mercedes-AMG released a teaser for an all new GT Black series and I'd suggest everyone to buckle up (pun intended).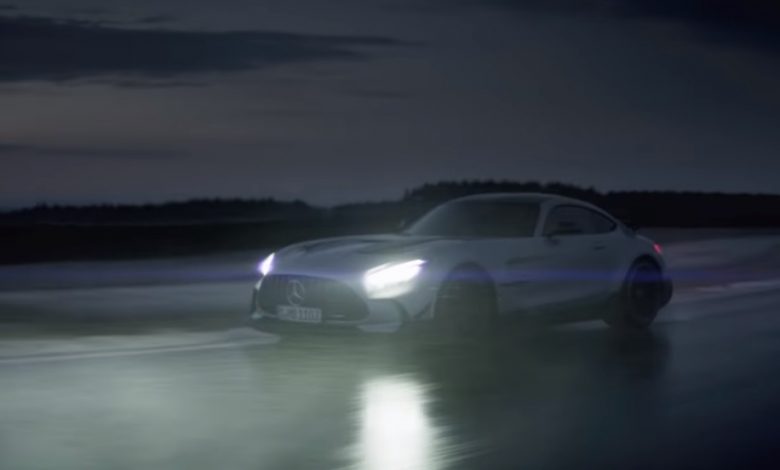 Mercedes-AMG recently released a teaser video to give us a glimpse of the upcoming new AMG GTR Black series.The video also features popular automotive youtuber Shmee150. It seems to have positive responses all around. The video itself is brilliant due to the fact that it uses the element of night and a touch of covert ops that tie in perfectly well with the series' theme.
What caught our eye?
Due to the shadowy feel of the video, the first thing you will notice are the headlamps. They have a captivating, almost halo-like nature. The hood is wider with vents and the sides are sucked in so it looks like an arrow-head.  You definitely can't miss the bulky rear wing. It is angled rather unusually for that particular car.
The smartest hypothesis would be that the rear wing and body design team up to give that aerodynamic boost that will enable the machine to zip through uncontested. The taillights are nothing to ignore as well. They look at you like squinting red eyes as the car speeds away as if to say 'can you keep up?'. The new well rounded front grille seems like an average touch up. All this pieced together with jet-black rims and a quad tip exhaust make for a classy, neat little package.
Previously, the GT R and GT R Pro performed exceptionally well with their charged up rear wheel drive and an output of 577 horsepower. One can predict that the upcoming series will have a more powerful output from the sounds heard in the video. Keep an eye out for more news about this newcomer. Dare to venture into the twilight? The GT-R was a sportier version of the AMG GT. Then, Mercedes came up with the GT-R Pro which is an even nastier track monster than the GT-R.
But, the black series has always been Merc's way of announcing what pinnacle of engineering is. Yes it is a bit confusing with the lineup but, that is with Mercedes' entire lineup. What we know for sure is that this will be it for the AMG GT and the next one will be an entirely new car. That's way ahead in the future though! Or is it?