Auto Business
News
2021 Mercedes Benz S-Class's fabulous interiors partially revealed
Will feature the most futuristic and luxurious cabin the world has ever seen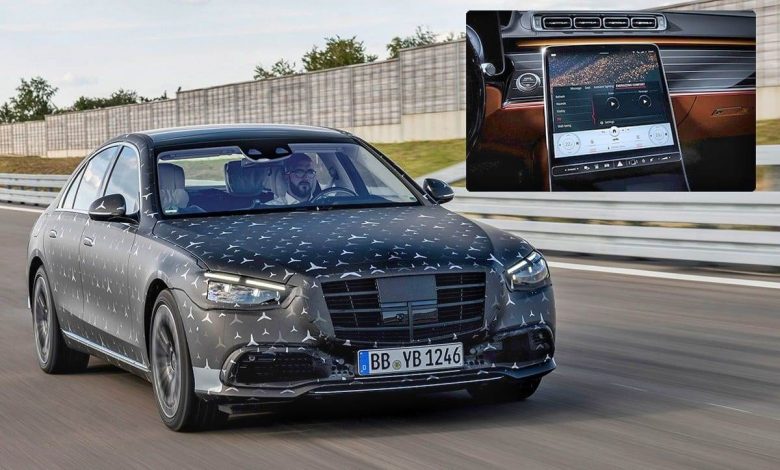 If you think about the epitome of luxury in automobiles, you can't just miss the Mercedes S-Class. S-Class signifies ultimate luxury and driving experience, the name of the car makes you feel exclusive and a class apart from people. No compromises no cuts just one mission, to be the last word in luxury, to be the ultimate driveable machine.
The German manufacturer have been turning heads, giving a sense of pride and also emptying pockets since 1972 and every time people think, "oh but is there any innovation left? surely not" they prove them wrong by bringing something ever more futuristic and luxurious than before and from what it looks, the Star has managed to do it again.
The latest-gen S-class (W223) is all set to debut this year and Mercedes Benz has given us an inside about the cocoon the car will feature. They reportedly said that the interior will be 'revolutionary'. It is focused to offer "a feel-good ambience with lounge character" and has taken design cues from both interior architecture and yacht design. It claims the interior offers "a third place" that serves as a "refuge between home and workplace".
There are many new first in class features. It will feature a completely redesigned dashboard with an ergonomic display arrangement. The interior includes large trim elements built into the dash and are offered in the car's rear as part of the 'First Class rear suite'. They are made from open-pore wood veneer with aluminium inlays.
It will also feature many new additions to the Energizing mode which is made to refresh the passenger. The odour control is completely revamped with filters so fine it will catch the smallest of pores and not let them inside the cabin. It will also feature an odour tracker which will provide info about the air outside the car, pretty classy. The massaging seats will also get an update with a 'coach mode' which will sync with the fitness tracker band on your wrist to create a personalised massaging program for you according to your stress levels and other parameters.
It will also replace as much as 27 buttons with dials, touch controls, voice command and gesture control which I believe is a big gamble because if it works properly then it will make the drive much easier and soothing but if they don't get it right it will be a very big blunder.
The S-Class will also feature an all-new MBUX ( Mercedes Benz User Experience ) infotainment. The new system can be connected to the Mercedes smartphone app, which will allow owners to set up to seven different profiles – preferred automatic seat, radio and lighting settings – and activate them by scanning a QR code on entry. Additionally, rear passengers will also have access to the same infotainment functions as those in the front, controlled via up to three touchscreens; each of which can be specified with OLED technology and haptic touch feedback.
The yacht on wheels is high on security too. Along with PIN-protected settings, it will also require voice and fingerprint recognition to access the payment gateways. Never heard of a bank in a car? Now you have!
Talking about the powertrains, it will be offered in petrol, diesel and hybrid options but that's not the important part. You won't drive the car if you buy it because you will be too tired at the end of the day from boring conferences and chunking numbers all day and will be chauffeured around, and Mercedes have taken care that you have the ultimate experience on your ride back home.
It will be on the market after its global debut in September 2020 and will be produced in Mercedes's most futuristic plant, Factory 56 in Sindelfingen. The electric equivalent of the S-Class the EQS will also be produced in the same plant.
The car will hit Indian shores mostly in the second half in 2021 and will give tough competition to the BMW 7-Series and Audi A8.