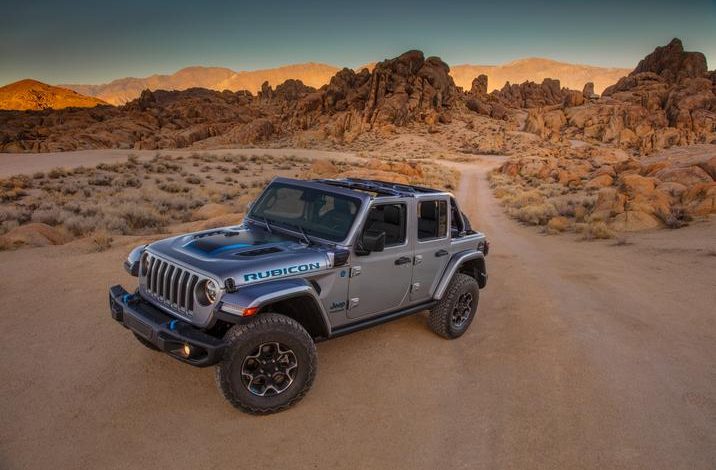 The thought of Jeep making an efficient offroader is something like a truthful politician, it's hard to believe. But Jeep thinks otherwise, and so to prove all of us, ahem, non-believers wrong, it has just revealed an efficient plug-in hybrid version of it's popular and quite-capable Wrangler for the 2021 model year, The Wrangler 4xe.
The SUV market has been growing and growing, it's not a new phenomenon. Consumers have found a new liking for practical vehicles with a large footprint and high seating positions. Indeed, it is cool to have a high, commanding view of the road as you drive down, occasionally sneering at "lesser" drivers in their puny sedans and hatchbacks. That is, unless, they are also in an SUV, which seems to be more and more likely as the SUV market grows. You now have large SUVs, humongous SUVs, sporty SUVs, Small SUVs, and of course, those hatchbacks raised a couple of centimetres and given cladding and that the companies would like you to call "compact SUVs". We've also had a couple of electric and plug-in hybrid SUVs for the kind of people who dine on "vegan" meat. Most of them, however, haven't been the kind you'd very confidently take offroad.
Jeep has mainly remained quiet on most of these segments for a while now. You see, when you think of a Jeep, you think of large, capable offroaders with a big lumpy engine stuck in the front and four-wheel drive, driven by probably a beer-bellied American who yells yee-haw as he drives over liberals on his way to the shooting range. So you wouldn't quite expect them to make a plug-in hybrid version of their most popular SUV, the Wrangler. But, and Alas, they have. Those damn liberals, I tell you!
The Wrangler 4xe has two electric motors, one replacing the alternator on the front of the 2.0-litre turbo 4 cylinder, and the other in place of the torque converter, both of them powered by a 17kWh lithium-ion battery, which can be fully-charged up in 2 hours on a 240-volt, Level 2 charger. Power is delivered through an 8-speed automatic transmission and to the tarmac through a four-wheel-drive system (hmph obviously!). All this clever electric-gasoline mating means you can get 50mpg out of the 4xe, which is quite astonishing, considering its Jeep. it will in fact, also deliver up to 25 miles of all-electric range without sacrificing off-road ability according to the carmaker.
Right, now that we've covered all the environmentally friendly nonsense shall we get to the exciting stuff then? Well, it produces 375 all-American horses and 470lb ft of torque, which is more than enough to topple a large statue. The 4xe should be just as capable as any Wrangler with solid Dana 44 axles, a two-speed tranfer case, coil springs and monotube shocks, and the ability to drive through 30 inches of water. Indeed, The 4xe shares about the same specs and off-road parts that its combustion-powered counterparts offer. Sahara and Rubicon trims will offer diff locks, a front sway bar that disconnects, so you wouldn't think that this Wrangler would get stuck anywhere, not like any other new Wrangler ever has. In fact, Jeep says that the electric motor's low down-torque actually enhance the Wrangler's offroad abilities. They will also tell you that the 4xe is "Trial-rated" which is a fancier way of saying that it can traverse the Rubicon Trail.
Jeep hasn't given any details about the price yet and it's unclear if it will sit above the turbo-V6 Wrangler. Nevertheless, it's an important move by Jeep in the SUV market, a power move if you may. Perhaps, we might see a fully electric Jeep soon?