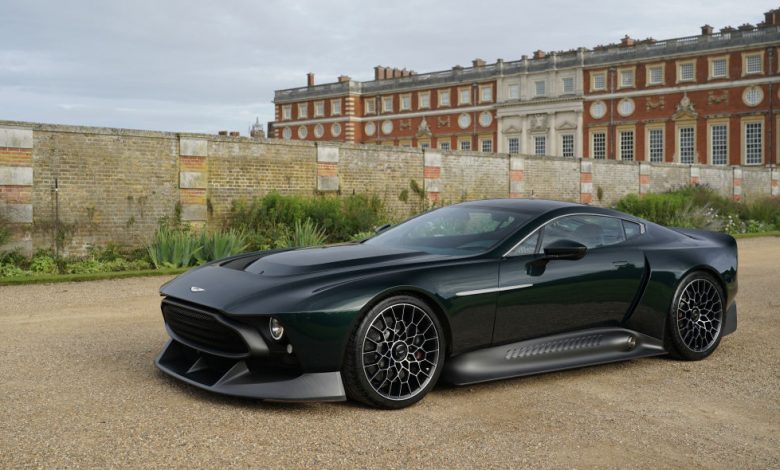 Have you ever wondered what would happen if you parked your brand new Aston Martin Vulcan close to an old 80s Vantage, and by morning if you found that the two had some rather dirty thoughts about each other in the parking lot that night? Well, one Belgian collector did. And so, we have their love child, sort of.
This is the Aston Martin Victor, a one-off build commissioned to Aston Martin's Q Commission that specialises in bespoke customisation of Aston's existing Line-up and building one-off and limited-run cars.
You take one look at the Victor and you're immediately reminded of its parents. With the Vulcan's sharp nose under which is the characteristic Aston Martin grille, flanked on either side by large round headlamps which scream 1980s Vantage. In fact, the car's overall muscle car silhouette is mostly inspired by the Vantage, along with the large hood bulge and the ducktail spoiler. However, the rear lights, humongous diffuser and splitter, side skirts, and side-mounted exhausts seem as they have borrowed from the Vulcan's gene, it's even got its centre-locking wheels. All this has been built on a stripped-back carbon fibre chassis of Aston's another limited-run car, the 2009 ONE-77.
The Victor is a striking looking thing, no doubt, with a futuristic design that still manages pay a rather graceful homage to the 80s. But what makes this brawny looking thing even more remarkable, is what's underneath those beautiful fully carbon fibre panels. Well, it's a 7.3 litre naturally aspirated V12 mated to a 6-speed manual gearbox (yep, you read that right!). The Cosworth engine has also been lifted from the One-77, however, it's now been tuned-up to unleash 836 horses and 821Nm of torque. With more than enough power to kickstart a dying star, it is indeed the most powerful road-legal car Aston Martin have ever made. To cope with the speeds this thing can do around corners, Aston's given it the Vulcan's in-board suspension.
The Interior is mostly green, British Racing Green if you may, accentuated through some tan Leather, carbon fibre and walnut inserts. Quite fitting for someone who likes to have their Martini shaken, not stirred. The Victor also gets the DBX SUV's infotainment system and half a steering wheel, which looks quite futuristic and sporty.
Pricing hasn't been disclosed for the Victor yet, but you don't need to be a genius to know that it is expensive, very expensive, but to the Belgian collector who commissioned this work of art, probably worth every penny.