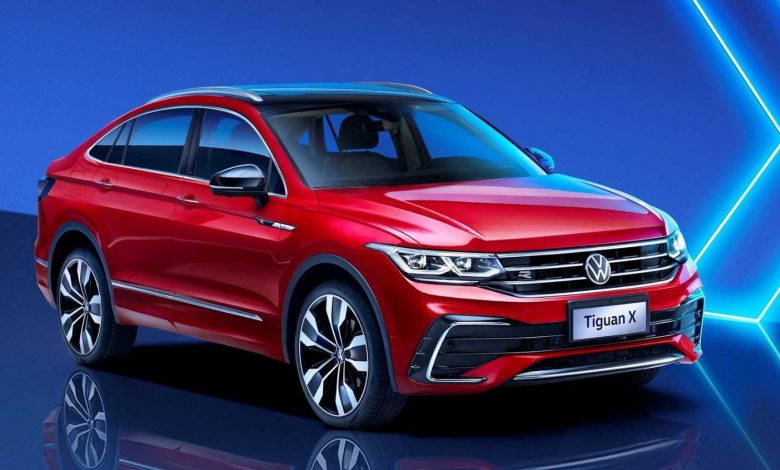 Coupe SUVs are all the trend right now. We've had some jaw-droppingly good looking examples from the likes of Audi and Land Rover, as well as some not-so-beautiful ones (we're talking about you BMW). And now Volkswagen has joined the band-Wagen and unveiled a coupe version of their popular SUV, the Tiguan. Volkswagen fanboys (and fangirls) however, will be disappointed as it is only available in China.
Like the way it generally goes with coupe versions of mast produced SUVs, the front of the Tiguan remains practically unchanged. in fact, looking from the front and front three quarters, you'd be forgiven to think that it was the basic version of the Tiguan you were looking at, however, that changes as you gaze down the side of the car from the B-pillar as you notice a rather aggressively sloping roofline and a large hatchback. The rear lights undergo a change here, as they have been given the sleeked-out treatment by the folks at VW, featuring a lightbar, a design that's more reminiscent of the kind you'd find on Volswagen's sedans, than the 2021 Tiguan. There's also a blacked-out roof and door mirrors so that the side silhouette really drives home the fact that this is indeed a coupe SUV.  The German auto giant has chosen to showcase the R-Line, which gets sportier-looking bumpers, faux vents, a boot lip spoiler, dual faux exhaust tips (honestly, why do automakers do this?) and a faux diffuser. The Tiguan has been stretched for the X version, at 4.77 meters, it's even longer than the standard Tiguan Long-Wheelbase version.
The Tiguan X will come with a choice of 2 engines. A 2.0-litre turbo-petrol will power the lower end models, which will put out 186hp and 330Nm of torque. Of course, if that doesn't quite get you to your kids' soccer practice in time, you can go for the 220hp and 380Nm version found on the higher-end trims. Both of these will come with a Dual-clutch DSG automatic gearbox as standard, and the top-end version will get VW's "4motion" all-wheel-drive tech.
As of now, Volkswagen say that the Tiguan X will only be available in China. However, if you're in India, both the Standard facelifted 5-seater Tiguan and the 7-seater Tiguan Allspace are going to be re-introduced in the market.