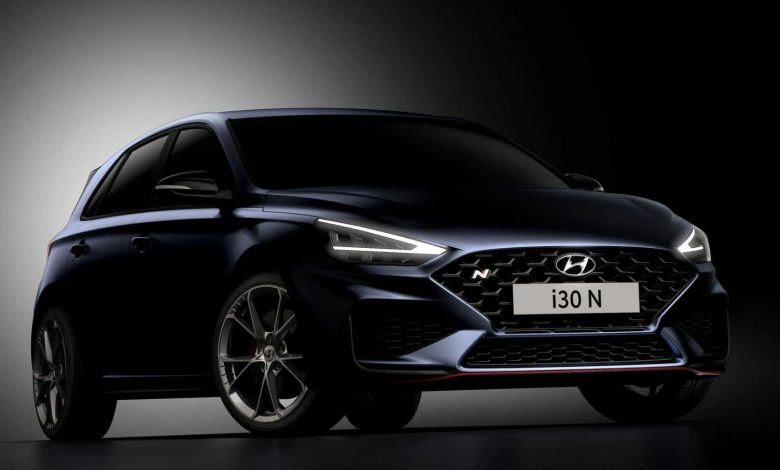 Now we all agree that hot hatches are a ton of fun, and anybody who thinks otherwise is a primitive stone-age neanderthal who has a piece of acorn for his brain. With a small size that still carries four, low weight and a reasonably cheap price, you really can't regret buying one. So no doubt a lot of people will be excited to hear that Hyundai has just teased the new facelifted Hyundai i30 N for the 2021 model year.
The old car wasn't really bad looking at all, and so it is no surprise that new one doesn't look all that different on the exterior. However, there is a sharper LED design on the headlamps and a more aggressive bumper. The rear end now has a more prominent diffuser and two rather large exhaust tips. The new model also rides on new 19-inch alloys to give it a sportier stance.
The 2021 i30 N will get Hyundai's newly-developed eight-speed dual-clutch transmission with, ahem, "dedicated N performance shifting functions" (which is probably Latin for "it's an automatic"). The i30 N will be the first model from Hyundai to be available with this transmission for the European fan club, though other performance models can be expected to join in on the brigade later on.
There is no official word about whether there has been any change in the engine performance or not in the i30 N, but it is expected the 2.0-litre 4-cylinder will be carried on with no changes. This means the "base" i30 N will continue to push out 250 horses while the Performance Pack will boost that output to 275 horsepower. Having said that the new Transmission should help the i30 N shave off a few tenths of a second in the 0-62mph time, which currently stands at 6.2 seconds.