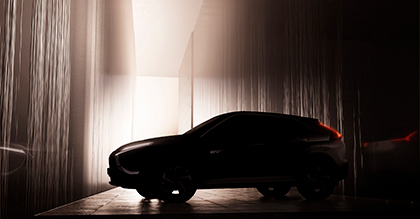 It was 2017 when Mitsubishi took what was a household sportscar name, to a medium good small crossover. Though quite controversial, it was no big surprise as Mitsubishi had been moving over from performance cars and sedans to SUVs and Crossovers to cash in on the high-riding trend to increase profits.
Now, Mitsubishi has teased a new version of the Eclipse Cross for the 2022 model year with a "radically changed front and rear design", which as we'd expect, gives it "a more upscale and energetic design". That is a lot of words to go along with a teaser image that shows as much, well, nothing. Apart, from a coupe-ish roofline, a curved rear-end design and some very slim LED lights there's not much on display.
It is expected that the 2022 Eclipse Cross will take styling cues from the e-Evolution concept, which was a rather boldly designed electric SUV introduced at the 2017 Tokyo Motor Show. Looking at the Cross again, you can see some subtle hints of the concept inspired design.
The facelifted Eclipse Cross is set to go on sale in the United States of America in the first quarter of 2021, so an official reveal should be just around the corner.
The New Eclipse Cross will not make it to European shore however, as Mitsubishi plan to wind down their operations in the continent, to focus more on other markets to reduce costs and maximise profits.