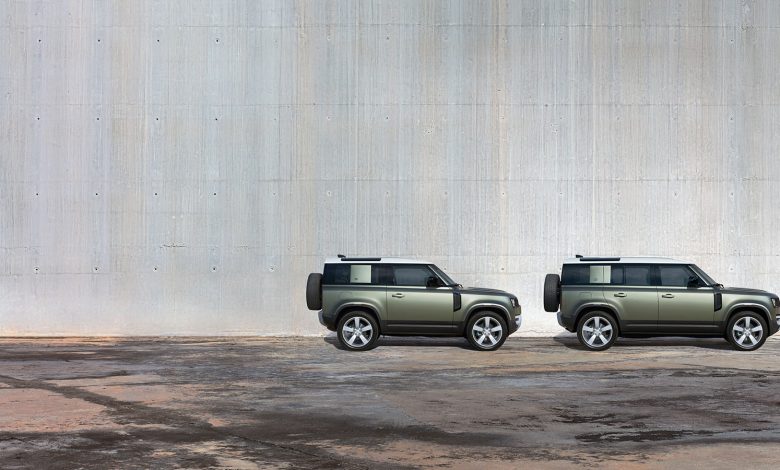 Defender fans in India, rejoice! After months of Delay due to the Covid-19 pandemic, Land Rover is finally launching the Defender in India. The Defender was initially bound to be launched in August this year. The redesigned Successor to the original defender first debuted at the Frankfurt Motor Show in September 2019.
In India, the Defender will come with a single-engine option, a 2.0litre turbo petrol, with 300ps of power and 400nm of torque, mated to JLR's version of the ZF automatic eight-speed gearbox.
Both the three-door SWB 90 and the five-door LWB 110 versions will be offered to Indian customers with a choice of five trim levels to choose from; the Base, S, SE, HSE and First Edition.
The Defender is being brought to the shores as a CBU and will come with features such as a 360-degree Surround Camera, Wade Sensing, Electronic Air Suspension (Standard on 110), Smartphone Pack, Connected Navigation Pro, Off-Road tyres, Centre Console with refrigerated compartment (optional), and more. Like the International versions, the Indian-spec car is highly customisable with a range of seating combinations and optional packages to choose from.
The Defender sits on an original D7X platform, exclusive to the offroader, which is an aluminium monocoque three times stiffer than traditional body-on-frame chassis. There are also independent suspensions with Air Suspension available on higher trims. There is also a permanently on all-wheel-drive system, a twin-speed gearbox, centre differential and an optional active locking rear differential for the people who really want to test their defenders in some dirt, and gravel, and snow, and sand, and just about everywhere else other than the road with the new fully configurable Terrain Response system.
The Defender has a ground clearance of 291mm and approach, departure and break-over angles of 38, 28 and 40 degrees respectively for the 110 version. There's also 900mm of wading depth on offer through the new wade program in the Terrain Response 2 system, which in layman terms is simply, a lot.
Starting at 69.99 lakh, The defender will compete in India against the likes of the Jeep Wrangler and the Mercedes-Benz G 350d