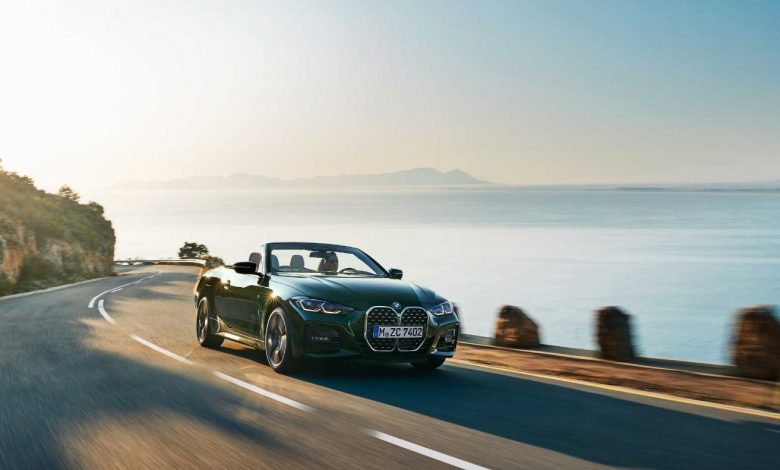 BMW 4-series convertible has evolved. With the new 2021 model, BMW is bringing the new big-grilled muscular BMW 4-series looks to its convertible sibling. That's not all that's news though. The 2021 BMW 4-Series now comes with a folding soft top, instead of a folding hardtop like the previous generation.
The soft-top roof shaves 40 per cent of the weight of the hard top panels. Keep the top-down and you'll still have 255 litres of trunk space, which 34 litres more than the preview 4-Series Convertible. There is also an increased headroom figure, 0.2 of an inch increase to be precise.
The new soft top can open and close within 18 seconds and operates while moving at up to 31mph. You also get an option to put the top up or drop it down from the key fob on the 430i, however, this features comes standard on the M440i.
The top comes standard in black. Though you can pay extra to equip the optional Moonlight black top that has a metallic shimmer.
BMW has given the new 4-Series Convertible some tweaks for improved torsional rigidity with stuff like stiffer side skirts, an aluminium shear panel at the front, and reinforced transmission tunnel, and a rigid rear floor plate. The smart people at BMW have also given attention to extra noise reduction with a focus on the intake system, engine cover, and underbody.
The 4-Series COnvertible uses the same engines as it's coupe counterpart, and 4-Wheel drive is optional. The 430i uses a turbocharged 2.0litre four-cylinder that makes 255 horsepower and 400Nm of torque. The rear-drive version reaches 60 miles per hour in 5.9 seconds. Depending on the wheel and tire combination, the top speed is limited to 130 mph or 155 mph.
If you want more grunt under the bonnet, you can go for the M440i  which has a 3.0litre turbocharged inline-six with a 48-volt mild-hybrid technology that produces 382hp and 369Nm of torque. The rear-drive model hits 60 mph in 5.0 seconds. Again, the top speed is limited to either 130 mph or 155 mph, depending on which tire-and-wheel combo you go for.
Both engines are mated to an eight-speed auto, and The M440i comes with an M Sport rear differential as standard, which is optional on the 430i.
The 2021 BMW 4-Series Convertible starts from $53,100, and the rear-wheel-drive versions will start arriving in the US in March 2021, while the All-Wheel-Drive cars will follow in July 2021