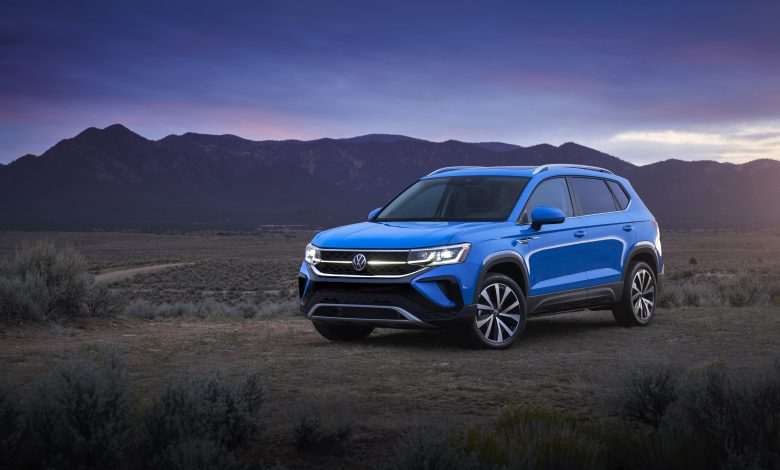 Volkswagen have been building up their SUV line-up for a while now, and they have just unveiled their smallest and cheapest one yet, the Taos. The subcompact crossover will slot right below the Tiguan in terms of size and price.
Close your eyes and think of a tiny Volkswagen crossover, chances are you're probably thinking of something that looks like this. With an understated, simplistic and boxy design ethos just as the Tiguan and Atlas, the Taos doesn't really stand out from the rest of the German manufacturer's line-up but it does feel like a breath of fresh air as a more mature option in comparison to many of its funky styled competitors.
The Taos is 9.3 inches shorter than the Tiguan, and its dimensions either put it on the large end of the subcompact SUV segment or on the small end of the compact segment, depending on how you look at it. It's similar in size to the Subaru Crosstrek and Jeep Compass, but unlike them, the Taos doesn't have an overtly rugged aesthetic and there's no off-road-oriented trim on offer, it is perhaps in comparison a more urban-city oriented PV.
The Taos is powered by a turbo 1.5liter inline-four with 158 horsepower and 184 lb-ft of torque which is capable of running on a modified Miller cycle called the Budak cycle to target high fuel economy. Front-wheel-drive Taos models have a conventional eight-speed automatic transmission, while the 4Motion all-wheel-drive cars come with a seven-speed dual-clutch automatic transmission as well as a different suspension system which includes a torsion beam in front-drivers and a multilink setup.
Cargo capacity offered is rather generous, with 28 cubic feet with the rear seats up and 66 cubic feet with the rear seats folded. And the interior seems to be just as simplistic and clean as the outside, with VW's new steering-wheel design and logo and crisp display screens.
Volkswagen offers a large amount of equipment as standard, which includes LED headlights, a digital gauge cluster, and two-tone upholstery. However, many driver-assistance features are optional as part of a package for the lower S and SE trim levels, though the package is standard on the top SEL trim. A 6.5-inch touchscreen is standard, though you can step up to the 8.0-incher as an option. Other options include a panoramic sunroof, leather upholstery, and a premium audio system.
Volkswagen estimated that the Taos will cost around $2500 less than the Tiguan to start, which would put its base price around $24,000. The Taos will go on sale in the U.S. in the second quarter of 2021.