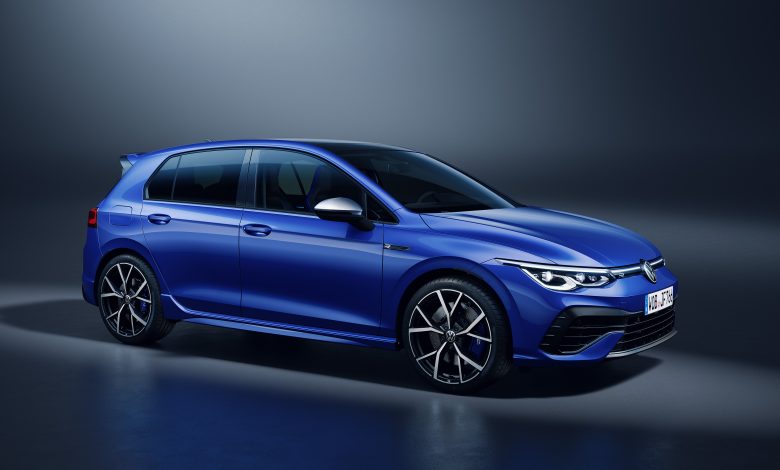 Everyone loves the Volkswagen Golf, it's the quintessential premium hatch. So when Volkswagen decided to discontinue the regular Golf in the US, you can guess a lot of people were miffed. But chin up lads, The Golf GTI and Golf R are still coming, and it's especially exciting in the form of the 2022 Volkswagen Golf R that has just been revealed.
Now, we'll spare you with the "It's the most powerful Golf ever", and the "most technologically advanced Golf ever" marketing lingo because that's just obvious, isn't it? It is not like other carmakers are fitting their upcoming cars with a cassette player instead of the infotainment systems, and cutting down on horsepower because they thought their hot hatches became too hot? It really seems like Volkswagen's marketing department needs to come up with better ideas.
Having said that, the new Golf R is seriously quick. With a turbocharged 2.0-litre four-cylinder under the hood to give it some el cojones, the hot hatch benefits from 315hp and 310lb-ft of torque, which is 27 horses and 15lb-ft more than the outgoing model. We're talking a 0-60 time of 4.7 seconds and a top speed of 155mph, and customers can either choose a six-speed manual transmission or opt for the seven-speed DSG.
The new Golf R also comes with 4Motion all-wheel drive with a new setup. There's a new rear differential that distributes power variably between the axles, with the ability to send up to 100 per cent of torque to the outside wheel using a dedicated "drift mode". Yes, this is not your Granpa's Golf. The Drift Mode is one of the two special drive modes configurable within race mode along with standard modes like sport, comfort and individual.
Volkswagen has also given the Golf R a retuned strut-type front and multi-link rear suspension and has also given it a 20-millimetre lower ride height. The new suspensions set-up and a new geometry make the Golf R10 per cent stiffer than the previous generation, with a one per cent decrease in negative camber, and 6.6 pounds lighter thanks to an aluminium subframe.
Right, so it's more powerful and stiffer, and probably better on track as well, but how is it to live with? Well for starters, there's a 10-inch infotainment screen and VW's Digital Cockpit with a virtual instrument cluster. You get touchpad controllers on the steering wheel, replacing traditional analogue buttons, very tech-advanced indeed. There's a special "R" button on the steering wheel for easy access to the Race drive mode. Cosmetic bits include Blue trim pieces and "R" logos throughout the cabin, the seats, the dash, and steering wheel. There's also Nappa leather seats, which is a first for the Golf R.
The 2022 Golf R isn't that much different than the old one on the outside, but that's just how Golfs and Volkswagens, in general, go with updating their cars. However, the new car does get a new front bumper with a "motorsport-inspired" splitter, R-specific air intake grilles and black bits throughout the exterior. A set of 19-inch alloys adorn the style of the Golf R, wrapped in summer performance tires.
The 2022 Volkswagen Golf R will go on sale in the US late next year. There's no word on official pricing yet but you can expect the new version to match the 2019 version's $40,395 price tag, though a slight increase is also probable.