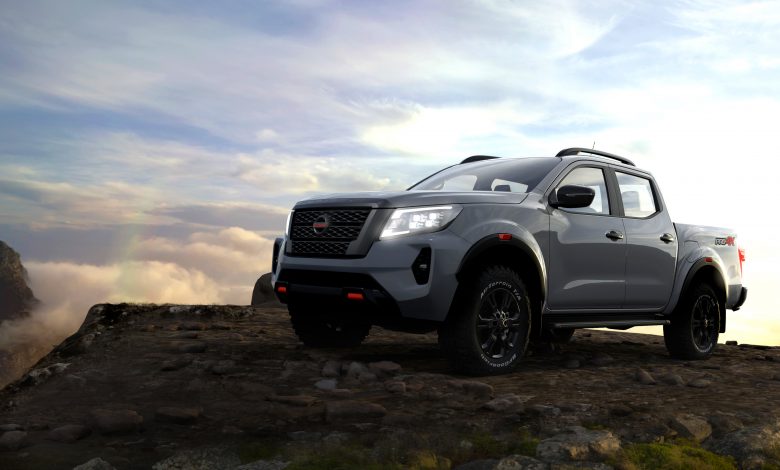 Nissan has just revealed the facelifted Navara, set to go on sale in Europe and South America (Where it's called the Frontier for some reason) for the 2021 model year. The pickup truck now sports a more modern look so you can do all the picking up you can do in style.
The exterior changes include new LED lights at the front with a C-shaped DRL design and a slightly different from grille with Navara/Frontier lettering on the top. There are also some slightly spiced-up LED taillights at the back and a new tailgate panel that proudly spells what you're driving.
Perhaps the most significant changes are brought by the new PRO-4X version, which Brings offroad-tires and black-out accents as well as some orange bits all over the truck's exterior.
The 2021 Navara/Frontier now has a higher payload capacity, thanks to a beefed-up rear axle, and an increased bed volume along with a new step built into the bumper, allowing easier climb-in. Nissan has also updated the truck with a new steering rack to make low-speed manoeuvrability better.
The safety equipment for the 2021 model year includes forward collision warning, emergency braking and rain-sensing wipers. There's also a new 360-degree camera system that utilises 4 cameras to show what's around the truck, and an off-road monitor.
You won't feel much different when you climb inside, however. Though there is an updated 8-inch infotainment screen complemented by a 7-inch digital gauge cluster to add a touch of modernity. There's also a new steering wheel, while Nissan says that the seats have updated cushions and backrests for better comfort, while better soundproofing and lamination on the front windows and windshield has been added to keep the cabin noise level down.
Since there has been no word on the changes to the engine, we're lead to believe that the same units will be carried over. The new Truck will initially go on sale in Thailand, with other markets following soon.