Auto Business
Launch
News
Škoda's Vision IN Concept gets a name, and its called "Kushaq"
The new mid-size SUV will be the Czech maker's first made-in-India model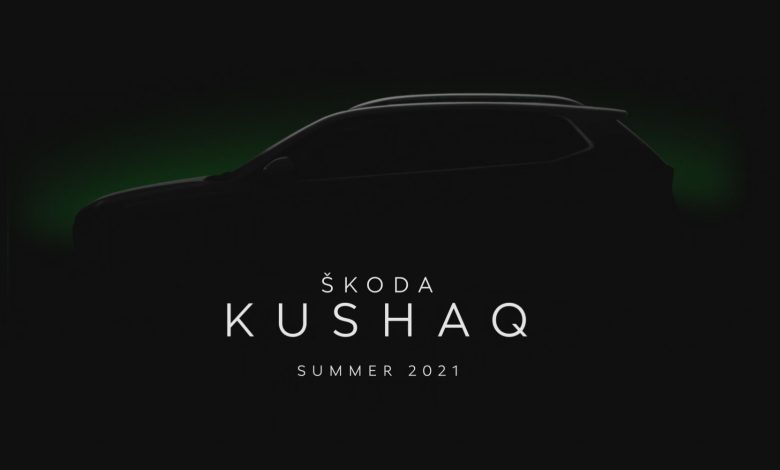 The production-spec version of the stunning Vision IN Concept from Škoda showcased at the Auto Expo 2020, is named Kushaq. It will be the inaugural made-in-India model in Škoda Auto Volkswagen India Pvt Ltd's India 2.0 plan.
As per Skoda, the new mid-size SUV's name originates from the Sanskrit word, 'Kushak', which roughly translates to 'King' or 'Emperor' in English. The name also sits comfortably in the auto maker's nomenclature for its SUV – like Kodiaq, Karoq, Kamiq (all beginning with a 'K' and ending with a 'Q').
Key highlights – 
Based on the India-specific MQB A0 IN platform

Will arrive with 1.0L and 1.5L turbo-petrol engines

To make its debut in March this year
Design philosophy –
Albeit Škoda released only a teaser image that highlighted the upcoming SUV's silhouette, a testing model has been caught on the Indian roads before. What we could understand from the teaser image is that fortunately, the production-spec will carry the Concept's sharp lines and modern styling. A win for Skoda already, then.
The platform it sits on – 
As mentioned above, the Kushaq will be solely based on the company's MQB A0 IN platform, which is specific to the Indian market, while also remaining similar in size when compared with its other mid-size SUV rivals. Moreover, it will feature a considerably longer wheelbase, at 2,671mm, which will benefit the interior space on offer. Win No.2.
Powertrain options –
"Pop the hood" and you will witness either a 1.0L three-cylinder turbo-petrol unit or a 1.5L turbo-petrol unit. The former 1.0L motor will be on sale for the lower variants of the mid-size SUV, churning out 110hp. This motor is the same as the current Skoda Rapid on sale. The engine can be had with either a manual transmission or a torque convertor automatic 'box.
The more-powerful 1.5L will have 150hp on tap, available in the higher variants of Kushaq, and is expected to arrive with a 7-speed DCT. Knowing that SAVWIPL has already decided to stay away from diesel, the all-new Kushaq won't be offered with a diesel powertrain.
Competitors and expected launch date –
Once the SUV hits the showroom floors, it will go up against the market-leaders like Hyundai Creta, Kia Seltos, Nissan Kicks, MG Hector, Tata Harrier, and Mahindra XUV 500. With VW's Taigun (based on the same platform as Kushaq) scheduled to launch this year, the competition will only increase.
As for the expected launch date, Skoda aims to go live with its all-new SUV at some point in March this year, while the deliveries are slated to begin in mid-2021. And with Škoda planning to heavily localize the car – around 95-percent – the prices should be competitive.