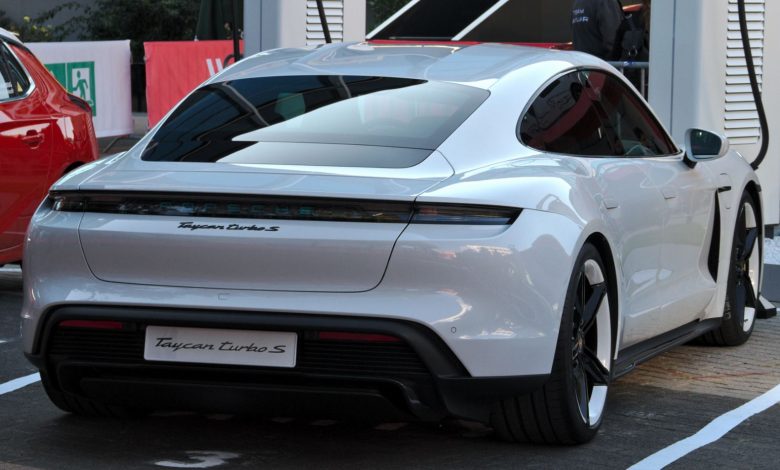 Caught everyone by surprise, eh Porsche? An RWD Porsche Taycan is coming soon. Well, this week!
The German carmaker recently went to its social media accounts and posted what looked like a teaser image consisting of the rear-ends of its 2021 Taycan range, and one unnamed model. The three models that can be distinguished from one another are the Taycan 4S, Taycan Turbo, and Taycan Turbo S, while the unnamed, fourth car is left to be too dark. Mind games.
Porsche, having already revealed a similar RWD Taycan but cheaper for China, is now aiming to do the same for the European and the US market. The unnamed model in the teaser has the same shade of paint used for the Chinese reveal. Sorry Porsche, you couldn't win over our eagle-eyes!
The base version of the Taycan will use the single-deck 79.2kWh Performance Battery as found on the 4S, however, with it being an RWD, it will make full use but with a single electric motor to drive the rear wheels instead of a dual-motor setup to drive all the wheels.
The electric motor, when paired with the Performance Battery, produces 402hp, although the Chinese can also tick on the double-deck 93.4kWh Performance Battery Plus (found on Turbo) option which increases the power to 469hp. It's an unknown though, that whether Porsche will bring both the battery packs to the US market.
While the RWD version may not be as powerful as the 4S, it does offer the best range in the Taycan range. Based on NEDC's test-cycle, the all-electric sedan can run for 257 miles on a single charge, with a smaller battery. With a bigger battery, the range is extended to just over 300 miles.
Converting the figures with EPA's estimates, the base Taycan will have the capability to run anywhere from 180-211 miles. For comparison, the 4S currently has the best range of 203 miles, while both, the Turbo and Turbo S top out at 192 miles.
Along with a slightly better range, the base Taycan also offers a larger front trunk since there is no secondary electric motor. Happy news! The Taycan 4S currently starts at $103,800, so expect the RWD Taycan to be the first model in the line-up to sell for under six figures.