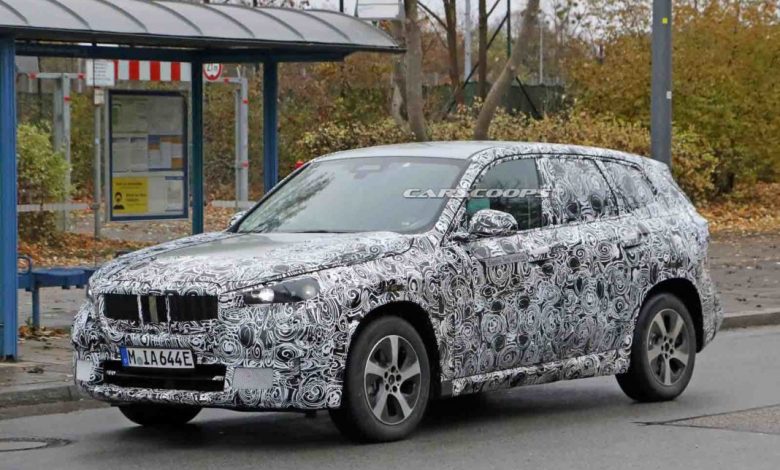 The iX1 will be sold alongside the upcoming generation of the X1 which is due for an update next year when it arrives with a petrol/diesel/plug-in hybrid version. The full-blown electric version of the hugely-successful X1 crossover will thus become one of the nine new EVs to be made by BMW by the year 2025, along with the i7 & i5 saloons.
BMW, like everyone else, is betting big on EVs and as a result, under the Power of Choice tag, the Bavarian carmaker aims at selling more than seven million PHEVs and EVs by the end of 2030. iX1 will become the entry-level i model range and will sit under the all-new iX3, and the flagship iX models. It will also replace the i3 which has been on sale since 2013. So long, you little car.
As for how soon can we see it, well here are a few spy shots taken by Carscoops. By the looks of it, it is of almost the same dimensions as the current X1 and well, I sure hope it retains as little of that grille as possible. Just like everyone else.
As far as the technical aspects of the vehicle go, everything remains unconfirmed at the moment, but one can expect the iX1 to use iX3's fifth-gen eDrive powertrain, capable of churning out 282bhp and an 80kWh lithium-ion battery pack that offers 285miles of range. Although for the smaller car, a different version of the powertrain, with less power and range could be used.
The company would want to repeat the tremendous success it achieved with the X1, as the crossover sold more than 500,000 units in its first five years of the sale in Europe alone. It is a given for the iX1 to share a cabin design with the other X1 variants, bringing the latest generation of BMW's iDrive infotainment software and a series of advanced driver aids, too.