Auto Business
Electric
Launch
News
BMW's i4 will be more powerful than the M3 Competition
The future is electric and blisteringly fast. Let's hope it is for track too!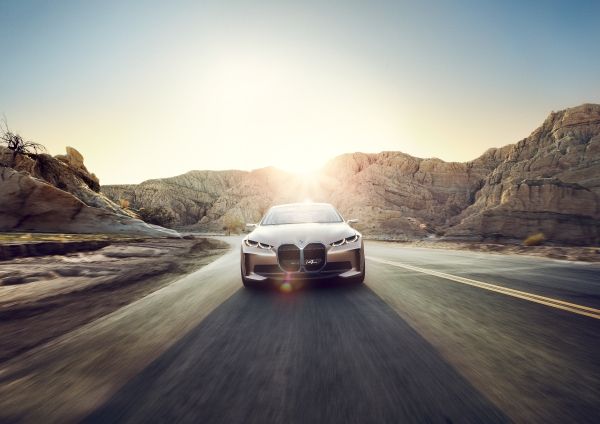 Early last year, BMW gave the world a look at its i4 Concept, and now, the Bavarian carmaker has revealed details about the production-spec scheduled to launch later this year. The full-blown EV will stand alongside Tesla's Model 3, and Polestar 2, sharing its underpinnings with the soon-to-arrive 2022 4-Series Gran Coupe.
BMW has confirmed that the production-car will replicate the concept vehicle's 523bhp power output, thus making it more powerful than the 503bhp M3 Competition, and a mere tenth slower to 0-62mph. People, book your i4s right now!
Matters against its rival in the Tesla Model 3 Long Range suggest that it's the BMW which has the upper-hand. BMW says the top-of-the-line i4 will do 0-62 in under 4 secs, that's three-tenths faster than what a Tesla Model 3 LR can manage. However, when the same is compared with a Tesla Model 3 Performance, the lead of the electric Bimmer vanishes. But hey! the i4 looks so much better that the Model 3 drivers will not have a good start!
In terms of range, which in this situation is one of the most important factors to look at while buying an EV, the i4 has a projected range of 373 miles, a mere 13 miles more than what a Model 3 Long Range can manage. The maker also estimates that since the i4 will be a fully-electric vehicle, it could mean that there's an addition of 500kg owing to such a large battery, which could potentially make i4 the heaviest 4-Series variant by a mile.
Since it's a Beamer, the interior-quality will be great is an understatement. It will share bits-and-pieces with the 3 & 4-Series models, but will most likely miss out on the next-gen interior layout present in the iX, an electric compact SUV that, when arrived sometime this year, will become BMW's flagship of its 'i' range.
BMW claims it to be amazing to drive, with the steering said to be 'accurate' and 'precise', and the ride 'largely insusceptible' to road bumps. Powerful than an M3 Competition, amazing to drive, accurate – anything else that it can do? Oh wait, there is!
The BMW i4 will be… able to drift! See the images for yourself, BMW has ensured enough spontaneous electric-power delivery to burn those rubbers to the ground and pollute the environment, while saving it too, with an EV. We like the combination.
"For the first time, we've developed a BMW with a sporty DNA for pure-electric driving entirely from scratch," explains i4 Project Manager, David Camacho. Good then, we also know that the fast minds at the M division are looking for a sportier variant of the i4, too.
A BMW M i4 vs a Tesla Model 3 Performance? Which one would you choose, should the former come to life…