Formula 1
Welcome Formula 1's most changed car for 2021 – The McLaren MCL35M
With Ricciardo and Norris behind the wheel, this would probably be the most changed team in terms of their position as well.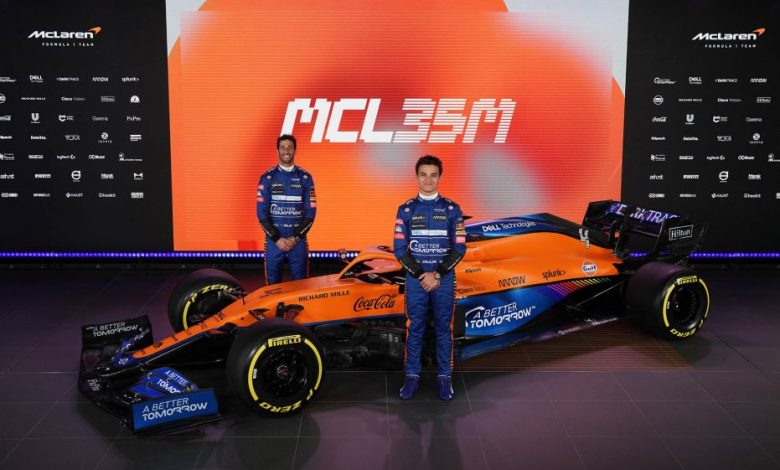 While we were all busy discussing when (or if) Lewis Hamilton will sign a deal with Mercedes, Mclaren had been posting YouTube videos about their developments. And if you have been following them, you'd know the hype train's start point is the Mclaren HQ.
With a Mercedes engine in combination with the compounding chassis improvements that McLaren had already been making, the MCL35M was a HIGHLY awaited reveal. And now we have it.
For most of those who aren't into F1 as much, this might seem a futile reveal considering nothing other than the livery is available on display. No specs, no times, no performance figures, nada! But, for us F1 fans, it is a moment. A real moment. Especially when it comes to Mclaren in 2021 because of the drivers and the engine in that monster.
Visually, the MCL35M looks similar to its MCL35 predecessor. Most teams having been forced to use modified versions of their 2020 chassis this year, ahead of the introduction of all-new cars in 2022 – the MCL35M is no exception and also sports McLaren's now-traditional papaya-and-blue color scheme.
There was one big change lurking under the bodywork of the MCL35M, however, with McLaren having switched back to Mercedes' power units for the first time since 2014 this season – the only team on the grid in 2021 forced to deal with a change of power unit supplier, as McLaren continue their quest to return to the sharp end of the grid. But, I wouldn't be so mad about it considering the engine supplier is Mercedes.
"It's great to have finally joined the team after what feels like an age since we confirmed it last May. I'm thrilled to be a McLaren driver and super-keen to get started. McLaren has been on an awesome journey over the last few years, and I'm looking forward to helping the team maintain this positive momentum.
"Going into this new season in Formula 1, I'm feeling excited and motivated to give it my absolute all. I think my determination to perform has only grown as I've gained more experience and I'm looking forward to getting this next chapter in my career started," said the new driver for Mclaren, Daniel Ricciardo.
"I'm really excited to be back working with the team ahead of my third season in Formula 1," added Norris. "Every time I get into the car I feel like I'm growing in confidence and experience, which helps me build my performance year-on-year. I've been working hard personally throughout the off-season to be as sharp as I can when we get to pre-season testing, and I can't wait to get back in the car soon.
"2021 is going to be another challenging year on-track with close competition, but I'm just focused on getting back to racing and giving it my all."
Most of us are considering McLaren to be the mean machine and the meme machine for 2021 although, Ricciardo has cleared that it won't be all comedy and fun. This is serious business and it will be a competitive environment so the fans should not only expect to see him add just a comic relief.
I'd like to say that Daniel, we know what kind of driver you are and we are expecting nothing less than a win from you pushing that beast round the track. After all, this is a very important year for Ricciardo. If he is desirous of a world championship title, the coming 2 seasons are his only real chances at it with an active peak career.
Speaking of the squad's new driver pairing, meanwhile, McLaren Team Principal Andreas Seidl called the Ricciardo-Norris partnership "one of the most competitive driver line-ups in the sport," adding: "The entire team has worked hard over the short winter, together with our colleagues from Mercedes-AMG, to produce the MCL35M and provide a strong car for our drivers to race this year.
"This has been no small challenge, and I want to thank every member of our team, whether at the MTC or working remotely, for the massive effort they've put in. Lando and Daniel will, I know, do their very best to represent the team out on track."