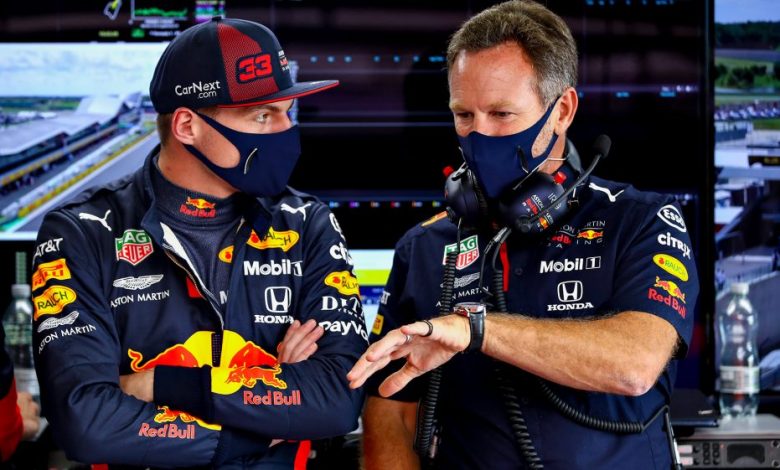 Christian Horner will become the longest-serving Team Principal in Formula 1 as he heads the Red Bull Racing Team for the 17th consecutive year this season. So, why the rant? Simple – the way he's been reacting to the news and the moves around him have resulted to an IDGAF frame of mind which, in F1, doesn't really work, does it?
You're wondering what did he over speak on now? Well, he admits Max Verstappen will be top of Mercedes' list to replace Lewis Hamilton, should the seven-time world champion retire at the end of the season, and has also admitted there are performance clauses in the Dutchman's current Red Bull contract. We shall explain why the entire thing is quite… over the top.
Scenario 1…
Soon after Red Bull Racing announced that it will adopt Honda Racing's engine tech, Mr. Horner stated, with full confidence, that "Red Bull have taken control of their own destiny". Sure, but doesn't it seem to any of you that maybe he always wanted this to happen?  Gotcha!
"We have taken control of our own destiny, in respect of integrating power unit with our chassis," explained Christian. He has further added that the new facility at Milton Keynes (RBR's home) would be "fully capable" of designing and operating the new-generation of engines from next year.
To my surprise, and pretty sure to yours too, Christian has expressed that due to not having an engine partner currently, it has allowed them to do the work on the engine themselves. Hmmm…
Now, there is a possibility wherein Red Bull's star-driver, Max Verstappen, could've initiated the talks of them having their own engines because well, the infamous performance clause in the Dutch superstar's contract. And if Honda had it made it very clear about its intentions of not being able to provide a Championship-worthy package, this move looked even more serious. All of the "self sourced RedBull engine" rumors went to bed. Or have they? We' ll leave it at that.
Scenario 2…
Oh the unique relationship between Christian Horner and Dieter Mateschitz – one is the top boss at RBR, the other owns RBR. If you needed any definition of loyalty, you must take a look at Mr. Mateschitz. He has had two F1 teams and two bosses for both of them for a time span of 16 and 17 years. Such long serving team principals have often been either co-owners or serious backers of the team.
Let's bring Mr. Helmut Marko here. He's the advisor and Head of Driver Development Program at RBR. The situation that arises now is that until recently, there were only six different drivers to drive for the Austrian team between 2007 and 2018, with that 'trend' being broken in the last two years when both, Pierre Gasly and Alex Albon were replaced in sheer desperation to end Mercedes' dominance.
The major issue is the fact that mostly all the decisions related to driver transfers fall into Helmut Marko's laps, and judging by how terrible and horrendous it has gone in the past couple of years, it would be quite welcoming if he isn't given the chance to have a full say on this anymore. Similarly, I feel, it'd be Max's decision too.
Now, while Dieter and Christian have had this 'brotherhood' of a relationship, it would most certainly be testing the patience of Dieter Mateschitz if the draiver swapping doesn't stop or result in victories.
Scenario 3…
Last year, Max Verstappen signed a contract extension with the Red Bull team which would see him drive for them until 2023. Now, with every driver contract comes a performance/break clause. In his case, it states that should his team not have an engine manufacturer partner, he could, potentially, break free of the tenure and look for a drive somewhere else.
What does that mean? As of now, from next year of course, Lewis Hamilton, Valterri Bottas, George Russell, all run out of their respective contracts, meaning they would be free agents come the end of this season. Max, on the other hand, will be aiming for a Mercedes drive (in Christian Horner's words) because well, who wouldn't.
I fail to gather as to why does Christian so openly commented on the prospects of his driver, with whom he probably has "very strong relations", joining the Silver Arrows. Wait, is he already preparing for the nightmare scenario?
Mercedes boss Toto Wollf has always had good relations with Max and his family, but does that imply that he will pursue the Dutch over George, who, as we all know, is faster than Bottas? Sorry Valtteri, it's true. Personally speaking, I don't see Max in a Silver Arrow because the Brackley team is much more team-oriented than the driver-oriented people at RBR.
Max is also a bit too much for the kind of image that Mercedes holds. In other words, Mercedes keep a morally high approach and so does its drivers. This is exactly why Nico and Lewis partnership worked for one year (apart from that Nico got scared?). The high on adrenaline, extreme celebration and party mood team of RedBull is the exact opposite of Mercedes. And so are its team principals. Wollf's words hold value because they are rare while Mr. Horner… ahem!
Confusing much? Wait. Christian has been supporting Max every time, even when he was the one responsible for putting them in a bad place, and so, with that sort of comfort level, and the fact that Red Bull has invested *a lot* in him, will Max still choose to aim for the exit door, or will he be patient and have confidence in them? My opinion from a driver's perspective is "absolutely not." The only aim a driver like Verstappen has and should have is world champion.
I know what I think – should, for some insane reason, Sergio fail to perform in the Red Bull this season, be prepared to see Sebastian Buemi take his place. And after him who knows maybe Jehan Daruvala gets a chance. All hail Helmut Marko!