Auto Business
Launch
News
The 2022 Jeep Wagoneer and Grand Wagoneer – XXL has a whole new meaning!
After a gap of nearly 30 years, the Wagoneer and its elder brother have returned to make an impact and win over the Tahoe, Escalade, and Navigator.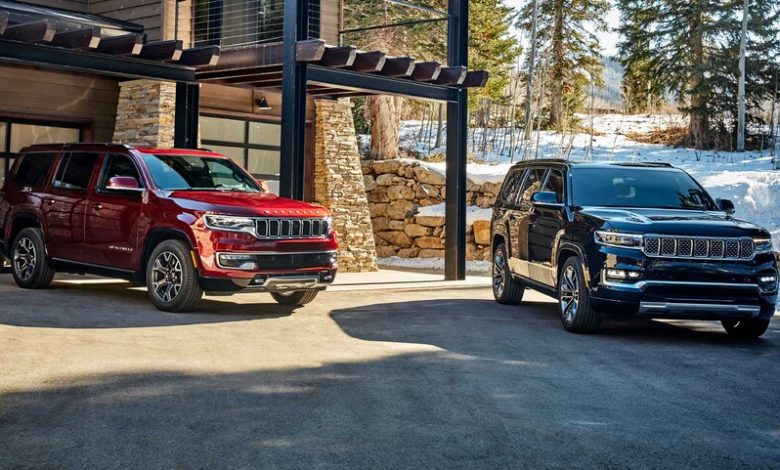 First impressions? They look huge, and when compared with their direct rivals, are the correct choice! The 2022 Jeep Wagoneer and Grand Wagoneer are ready to take Jeep into the lead of the premium SUV segment. But, what does separate the two? We tell you…
Design
At first glance, both the SUVs aren't entirely different from one another – a good thing. They are almost the same size, have roof-racks, bold lettering across the front, back, and sides. However, it is on the Grand Wagoneer that things seem to get more serious.
The flagship SUV for Jeep has a sophisticated grille, chrome surrounding the windows (because, why not), an all-black roof, premium LED lighting that opts for a welcome dance sequence when the driver unlocks it. And, to up the ante even further, Jeep is also readying its long-wheelbase versions that are scheduled to arrive sometime later.
Interior design
The inside is what you must be looking for considering the price of this mammoth. Well, you won't be disappointed. It has what Jeep says is "most advanced Uconnect system ever." If you spec it to the brim, which you probably would if you're buying from LA, you'll get around 50 inches of screen space. A 10.25-inch driver display is standard with a 10.1-inch infotainment display.
Apart from this, it gets a secondary 10.25 inch display separated from the primary with a solid aluminum built. I don't know if Jeep gets the message but Audi deleted the secondary display from the e-tron GT. Might have a point because it is very distracting. But hey, you'd like to be chauffeured around in this one so let's shift to the back seat. A  set of 10.1″ displays at the rear with HDMi inputs AND Amazon Fire TV built in (Nice!). There is an option of another touchscreen for the shotgun passenger that is 10.25 inches in size.
If that is still not enough to blow your eyes, there is a 10″ full-color HUD adopting features like adaptive cruise control, lane keep assist and a fully digital rearview mirror. Flick a switch and you can turn it into a traditional rear-view mirror. You don't use your mirror to watch your kids at the back, do you? If you do then, a rear seat monitoring camera is available with a split-screen display and a "zoom-to-seat" function.
A premium McIntosh audio system, ventilated seats, ELEVEN USB ports, ambient lighting with multiple colors and wireless charging are all on offer here. Taken for granted in 2021 isn't it?
Jeep says V8 is for all!
As you could probably understand, both, the 2022 Wagoneer and the Grand Wagoneer get a V8 motor which, as should be the case, doesn't make the same output – in the Wagoneer, you get a 5.7L V8 with an eTorque 48-volt mild-hybrid system capable of producing just shy of 400hp and 404 lb-ft of torque.
Numbers on the GW's side increases as the motor found in the even-bigger version of the Wagoneer is a 6.4L V8 making 471hp and 455 lb-ft of torque. To add, both SUVs will be capable of towing anything under 10,000 pounds.
While the Wagoneer is offered with an 8-speed auto and RWD as standard, the GW arrives with an 8-speed auto but with Jeep's Quadra-Trac II four-wheel-drive system. Although the Wagoneer also has options to go for one of the three different optional four-wheel-drive systems.
Shoes
All the 2022 Wagoneers come with 20-inchers as standard, but there is a possibility for one to choose either the 18-inchers (off-roading wheels and tyres) or the flamboyant 22-inchers.
The GW has 20 or 22-inch aluminum wheels as standard finished in four different color finishes and a three-dimensional wheel cap with a Wagoneer logo.
And the list of different variants continues…
Apart from the Series I, Series II, and Series III trim levels on both the Wagoneers, the Grand Wagoneer can also be had with the Obsidian variant which becomes available after the 'standard' GW is launched and will have the same motor powering it but with a bunch of gizmos as standard.
Pricing
The Wagoneer is the cheapest of the lot as it begins with a Series I model starting from just under $60,000. Series II sells for $70,000, and the top-spec Series III costs $75,000 and can go until the $100,000 mark after all the options are checked and fitted.
The Grand Wagoneer, on the other hand, is a bit pricier – Series I is $89,000, Series II is $96,000, the Obsidian version is $101,000, and the top-of-the-line Series III trim is $106,000, but can go until the $113,000 mark.
Both the SUVs go on sale in summer this year. So then, which one would it be, and why?