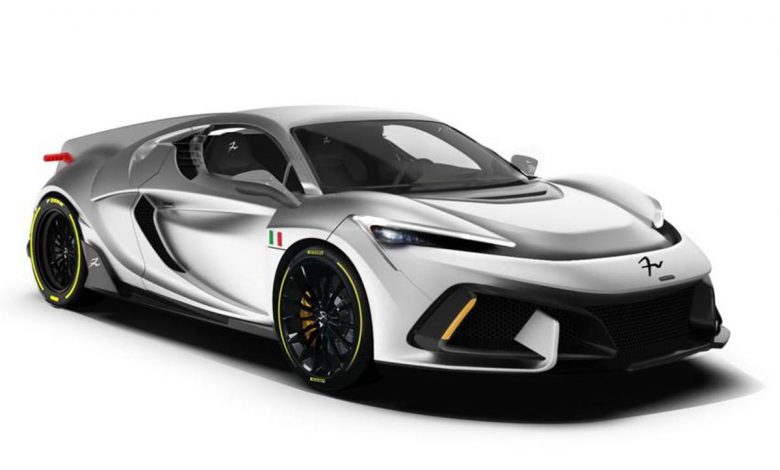 One can't talk about Italy without mentioning supercars. Home to brands like Ferrari, Lamborghini, Fiat, etc. Italy has a new rad looking supercar to flaunt. Named like some delicious cuisine, the FV Frangivento Sorpasso has definitely some mouth-watering recipe and comes in two flavours, red sauce and white sauce, okay I'm kidding, they're Stradale and GTXX variants.
Following the footsteps (or shall we say tire marks!) of the Asfane DieciDieci hypercar which was launched in 2019, the Sorpasso is the second offering by FV Frangivento.
Both the variants of the supercar will get a V10 engine and all-wheel drive. Though, while the Stradale will be powered by a 610hp naturally aspirated V10 engine, the GTXX will get extra juice from a supercharger bumping the power output to 810hp (Don't worry, it'll still be fully road-legal).
Built with supercar-typical carbon fiber, these mean machines weigh around 1,300kg, and the GTXX variant can do a 0-100kmph in just 2.9 sec and a 0-200kph in a mere 9.3sec (fast food I see, hmm). The GTXX has a top speed of 344kmph. FV Frangivento has yet to reveal the GTXX version, and the Italian brand says that it will have "a more aggressive look" with more sophisticated GT3-inspired aerodynamics and a large rear wing.
The interior of the vehicles are also not revealed as of yet, but FV says it'll be full of leather and Alcantara and will have a sporty, minimalist design. Sorpasso will also be equipped with something called an 'Avatar Driving System' that apparently acts as "an intelligent co-driver, with customisable human features, with whom it is possible to interact using natural language just like with a travel companion." (Shall I call it Jarvis already?)
The company said the supercars will come with Programma Sviluppo and Programma Ego programs for 30 days. Under these programs, the customers will get major customization options and will be able to work alongside the stylists to create their own car. Oh, and FV is promising delivery just 150 days after your order.
Talking about paint schemes, the Stradale is finished in Hermes Grey (Manny Khoshbin would love one!), while the GTXX flaunts a two-tone finish. The Sorpasso gets a bold-looking front profile and an equally bold rear. There are angular headlamps with LED daytime running lights on the front complemented with a LED light bar at the back. The supercars pack components from industry experts like Brembo, Sparco, OZ and Pirelli to name but a few.
The prices of the two Sorpasso weren't disclosed during the release, though FV Frangivento said that enthusiasts and collectors have already booked theirs and will receive their cars by the end of July.