Formula 1
Leclerc takes the pole at Monaco GP as he red-flags the Monaco GP qualifying
Hamilton in seventh, Ricciardo out in Q2, Gasly ahead of Hamilton, Vettel and Hamilton together at the starting grid. Could this race weekend BE any more exciting?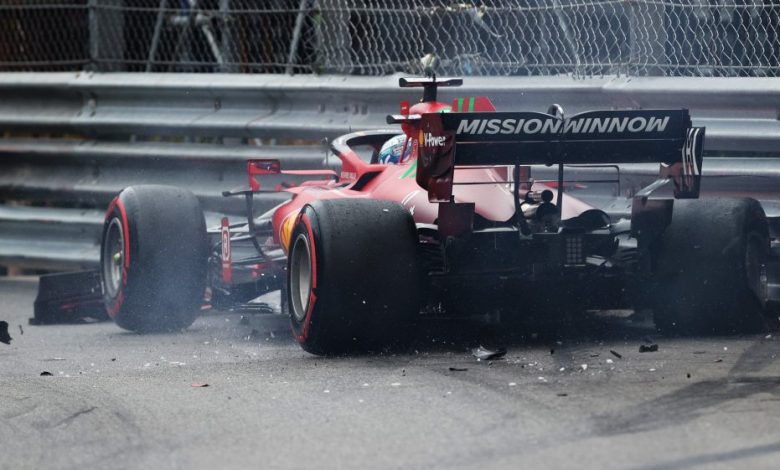 When we talk about Hamilton's consistency, we often forget that it is both ways. When he wins, he wins… consistently. But, at the same time, when he struggles, he struggles consistently too! As was visible explicitly at the Monaco GP qualifying. Hamilton has had 2 poles in the last 5 years here at Monaco and so has Ricciardo. The remaining one was taken by Kimi Raikonnen.
Today though, Ricciardo was out in Q2, Raikonnen was out qualified by his team-mate who managed to get to Q3 in an Alfa-Romeo and Hamilton finished behind AlphaTauri's Pierre Gasly. In fact, this is after 2 years that we'll finally be witnessing Hamilton and Vettel side by side on the starting grid.
So… what happened?
The Ferrari of Charles Leclerc sped down the Monaco GP circuit in a very "Ferrari" fashion as he claimed P1 in his first lap of Q3. He beat Max Verstappen who'd go in the pits after his first lap and come out back on track with at least 5 minutes remaining in Q3 suggesting he either had fuel for a couple of laps or they didn't trust the circumstances with rains/Red flags… or maybe both. And boy were they right!
Leclerc bumps into the wall with 18 seconds remaining in Q3, red flagging the session and quite conveniently making himself the pole sitter for tomorrow. In fact, he's the first Monegasque driver to take pole at his home GP. Co-incidence, luck, deliberate or too aggressive? I think it was a little bit of everything. Of course Charles didn't feel it was the best way to end up at Pole with your car in the walls but he sure felt very nice having a pole for the first time in a long time. The only problem is that if there is a gearbox damage to Leclerc's car then he will face a 5 place grid penalty. And it is highly likely that he has gearbox damage.
What about the other nine drivers?
Let's start with Perez because we can end it quickly. Perez is simply not proving to be the asset he was to Racing Point last year. He was doing okay in his final lap when he got a bit too aggressive with the curbs and got a 3 car traffic making him lose a couple of tenths.
He has not been able to crank up his performance thereby resulting in RedBull fighting off two Mercedes cars and Mercedes strategy with just a single car. As a fan of Sergio, with all due respect to his skill and whatever he did for the sport, it was a bit disappointing to watch. But, I'm sure it was more disappointing for him. It was a mixture of bad driving and bad luck for Perez. Maybe that second RedBull seat really did get cursed when Daniel left feeling unimportant.
Coming over to Vettel, he was shining. Simple as that. Vettel could be observed in his 'natural habitat' as he was fighting off the top guns with ease ending one place behind the Mercedes of Lewis Hamilton and a place above the RedBull of Sergio Perez. As they say, Monaco is more of a driver's battle than the battle between the racing machines.
It was perhaps Lewis Hamilton who will have a lot to do tomorrow. He finished in P7, one place behind the Alpha Tauri of Pierre Gasly as he was three quarters of a second slower than the pole sitter. Imagine a seven time world champion who sat on the front row of every race for quite some time now, finishing in P7 in Monaco. Now, I can already hear the new kids talking about how Monaco is a driver's playground and that Hamilton's car won't help him reach P1. I just want them all to realize that Hamilton holds a better record of race wins and poles in Monaco than all other drivers on the grid including Alonso, Raikonnen, Vettel and Ricciardo.
As I said before, Hamilton is consistent. So, when he struggles, he does that consistently too. It was a qualifying to forget for Lewis AND for Mercedes as they struggled with each of the setups they tried here at Monaco. Just when things seemed to get better with Valtteri on his best lap for P2, the session was red-flagged. Hamilton bumped twice in his second lap of Q3 and had a lock-up during his first lap of Q3.
Coming over to Bottas, he was trying his best to recover from the nightmares he's had since the beginning of this season but, he really is unlucky after all. As soon as he started of with his best lap, with Hamilton all the way down in P7, the session was red-flagged snatching away a possible P2 or maybe a pole. And beating Bottas in Monaco from P7 would be one REAL challenge even for Hamilton. Behind him sits the Ferrari of Carlos Sainz Jr. who was also going to try for another lap but had to settle for P4.
I was most impressed by the two guys in P5 and P6. They were Lando Norris and Pierre Gasly respectively. When Norris was speeding through the circuit in that Gulf livery McLaren, I was literally swooning. I still believe he could have beaten one of the top 4 guys if he had another chance. Pierre Gasly on the other hand managed to get a faster lap than Lewis Hamilton… in an Alpha Tauri. Let that sink in and go watch his lap. I have nothing to say about it. All props to him for being so consistent.
The most impressive jobs were by far done by the two drivers whose upcoming and ongoing rivalry is like poetry in motion. I am talking about Max Verstappen and Charles Leclerc. If you believe Leclerc or Verstappen didn't have as much talent as the limelight gave them props for, you must watch them both working like artists on the canvas of Monaco GP street circuit.
Of course Leclerc did end up in the barriers in his second lap but, his first lap, the one that put him on pole, was pure art. It was a painting by Piccasso. He becomes the first guy to beat Carlos Sainz Jr. in qualifying and also the first Monegasque to be on pole at his home race.
Verstappen too, was a sight to behold today. It did seem like he put his best out there in the first lap in Q3 but that lockup cost him pole position. He went in to the pits and came back out early which was a smart move considering what happened but, his second lap wasn't enough to beat Leclerc either because it wasn't Max's perfect one. As soon as he started with the third, he was FLYING through and would have most probably snatched the pole from Leclerc but, the session was red flagged. Nevertheless, thanks to Verstappen, a Honda powered car sits at the front row of Monaco after 17 years. Cheers!
Conclusion
The conclusion drawn is best described in the words of Valtteri Bottas, "It's Monaco, anything can happen!" I couldn't have said it better. The qualifying session here is all about whether you're able to kiss the barrier or you are too aggressive and you run into it. The race here is all about the fight to be able to overtake.
Even if you pack enough horsepower or top speed to overtake another car, you simply don't have enough space or a long enough straight to make it easy for you. It was very well proven by Ricciardo in 2018. He won without his electric power so he was down by about 150HP. There are 5 different chassis in the top 7 for the starting grid tomorrow. That tells a lot about what this race can be tomorrow. So, I'll take a leave by saying… don't miss!