Formula 1
Verstappen flies, Hamilton's cries, Sainz shines and Vettel tries to bring his fire back at the chaotic 2021 Monaco GP
One thing we now know for sure is that to win a Formula 1 GP, just like everything else in life, you need luck by your side.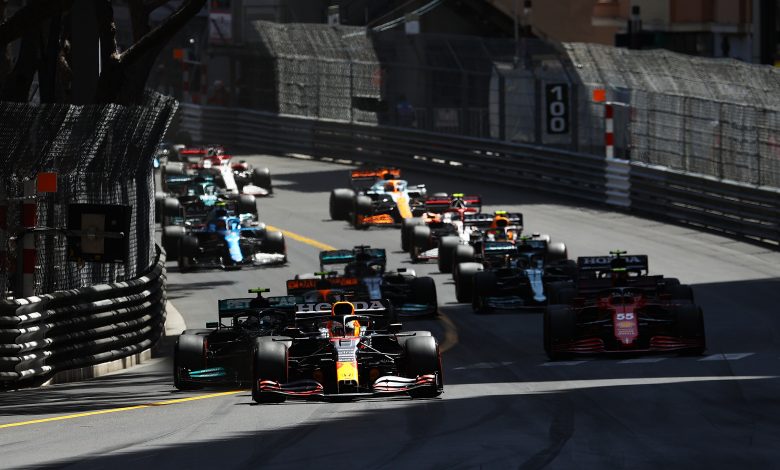 Making a comeback to the F1 calendar after a gap of 2 years, we had lots of expectations with the return of the Monaco GP. And boy were we right! Where do we even begin! 4 different years, 4 different winners! 8 different constructors on the points tally at F1's shortest circuit. The tight and twisty streets of Monte Carlo just made sure to remind everyone why it's called F1's Mediterranean crown jewel.
There's no U-turns after Saint Devote as you climb the steep hills away from it towards Beau Rivage. To give you a context of what can happen here, the victor of 2 out of previous 5 races here finished in 7th yesterday. BTW! That guy is also a seven time world champion. No Monegasque has ever taken a victory here. Daniel Ricciardo, who won the 2018 GP without his electric power boost meaning he had 150HP lesser than other drivers, finished in P12 yesterday.
Because nothing is impossible, I'll say it is extremely difficult to overtake here in Monaco. The drivers have to do their jobs on Saturday in qualifying and they'll mostly retain their position unless their strategists mess it up (Mercedes) or jewel it up (Aston-Martin). To add even more drama to the most dramatic circuit, many drivers (including the championship contenders) couldn't finish their best laps in Q3 as Charles Leclerc smashed his car into the wall red-flagging the session. We learned later on that he couldn't start the race because of a drive-shaft issue which was 'completely unrelated' to Ferrari's decisions regarding the gearbox change. Hmmm…
Well, it wasn't just an entertaining race, but it has also certainly made the season a whole lot more exciting. The presence of 7,500 fans around the circuit for the first time this season also felt nostalgic in a way. It indicated that gradually a degree of normalcy is returning to the sport's landscape. And the same could be said about Aston Martin & Ferrari's return to form. However, the Prancing Horse let a golden opportunity slip through its fingers as the polesitter Monte-Carlo boy, Leclerc was forced to pull out of the race due to a mechanical issue. And who else to capitalize on it other than the young Dutch powerhouse who wins the fastest Monte Carlo race in history.
Verstappen who was sitting 14 points back Hamilton, now leads the drivers' tally by 4 points with his first-ever victory at the Circuit de Monaco. However, this season is just getting started, and by the looks of the fierce rivalry going on between the Mercedes and Red Bull Camp, this is going to be fun! The title fights will now continue in Baku at Azerbaijan GP in two weeks time. But we just can't stop going through what happened at the Circuit de Monaco, so let's rewind the street fight one more time. Oh! And there was NO safety car deployed yesterday. WHAT WAS WITH THE 23rd OF MAY 2021!
RedBull
Make way for the winner! Well, at least that's what it felt like with Verstappen charging in the Red Bull's RB16. The Dutchman might be just a "sitting duck" at the end of the Spanish GP, but there's no taking over this young powerhouse on the Circuit de Monaco. He didn't just rule the streets of Monte Carlo, Verstappen's 157.833 km/h winning average speed was the fastest in Monaco Grand Prix history, surpassing Fernando Alonso's record of 2007. "Flawless and dominant", if you want to sum up his performance in two words.
Coming to his teammate, if you thought Mercedes' Catalunya one pit stop strategy was brilliant, you should have seen some brilliant strategy from Red Bull that allowed Sergio Perez to overcut his way from P8 to P4 in the pit stops. Sergio Perez, who barely managed it to P9 at the end of the Saturday qualifiers because of Leclerc's accident, finished with a respectable P4 on the main race day. He was finally seen doing his bit for the team. It was his first point on the twisty Monaco streets since finishing on the podium in 2016. Overall with Verstappen's first podium at Monaco, him and RBR now take the lead of the drivers' and constructors' table at the 2021 world championships.
Editor's note: As much painful as it was to see Perez not being able to perform in the past few races, I was filled with pride on an absolutely impeccable performance by Sergio Perez at the Monaco GP. And we also finally saw what RedBull's strategy team can pull of with Perez' P8 to P4 jump after the pit stop. I firmly believe that if the Leclerc accident didn't happen on Saturday, Perez could've started ahead and we could have seen a Red Bull 1 and 2 where P1 and P2 could've been either of the drivers.
During Perez' late charge on Lando, he definitely looked like a bull charging on to something carrying immense speeds. Norris could have been leaking himself looking at that Redbull in his mirrors but, the Monte Carlo streets aren't meant for overtakes. Verstappen is proving why he deserves to be a world champion with the consistency in his performances. And he is very smart. He had positioned his car facing the right side to block Bottas at the start and he DID manage to do it well. But, him saying he has nothing to prove is a little too over-confident because you need at least one world championship to be able to say that sitting in one of the top cars!
McLaren 
The only thing outshining the bold MCL35 Livery was McLaren's Lando Norris who secured his 2nd podium of the season with P3. (He did have some help from Bottas actually, who got ruled out of the race after a disastrous pit stop. And Leclerc, of course). Once in the right spot, all the British driver had to do was to hold his position during a stressful late charge from Red Bull's Sergio Perez, which he managed quite well. And let me tell you, it wasn't easy.
However, things weren't that bright for Daniel Ricciardo, who got lapped by his own teammate towards the end of the race. The Australian was definitely left short of answers in Monaco after he registered his worst qualifying result since 2013 with P12. His early-season struggles with his new British team continued even on the familiar streets of Monte Carlo, a circuit where the ever-smiling driver once been on pole and won with former team RBR.
Editor's note: The most surprising thing is that Lando is No. 3 in the driver's championships and he does not appear to be someone who's ready to stop so soon. Whatever unfolds further is going to be really intriguing to say the least. Lando is wrapping more and more fans day after day with his innocent yet passionately fierce driving style and I HOPE he stays the same.
Almost had a tear in my eye seeing Ricciardo being lapped by his much younger team-mate. Oh the expectations we had. Ricciardo's driving style is somehow not suiting the car but, to be honest, I don't get that. I just hope he gets back to his own self. he was once world championship material. Right now it seems both the second Red Bull seat and himself have been cursed.
Aston Martin 
Well, seems like all Sebastian Vettel needed to get back in his old form was a good shaking off, which the twisty streets of Monaco provided just perfectly. After a tough start to the season, the four-time world champion rediscovered his mojo in the streets of Monaco. Vettel fought through to score his first points of the season in Sunday's race in Monte-Carlo, jumping both Gasly and Lewis Hamilton in the pitstops to grab the fifth place.
And just to make his first points with new team Aston Martin more memorable, he also bagged the Driver of the Day title. Definitely not a bad comeback. His teammate Lance Stroll also got his first-ever points in Monte Carlo by tying his best result of 2021 and crossing the chequered flag at P8 for AM.
Editor's note: The Aston Martin strategy team deserve all the credit and press they can have right now. Vettel's over cut was absolutely stunning and so was Stroll's strategy of starting on the Hards and coming in the pits late grabbing him a points finish even when he started outside the top 10! Just, Kudos to the team's strategists.
AlphaTauri
Trailing behind Vettel was Pierre Gasly who was able to hold off Hamilton's Mercedes to claim P6. It's Gasly's best finish of the 2021 season so far, which also helped lift AlphaTauri above Alpine to sixth place in the drivers' championship.
As for his teammate Yuki Tsunoda, he gambled on strategy, running the longest first stint of all after starting on the hard compound tyres. But he didn't have the pace to make it count and wound up fighting with the two Williams cars down the order. Ultimately, he crossed the chequered flag at the P16, not a bad feat if you have never driven in a real race on the twisty Circuit de Monaco before.
Editor's note: I think Gasly and Hamilton being close friends really has helped Gasly. He was able to hold on to his place ahead of Hamilton in an Alpha Tauri! I really don't know what else to say except to praise him. Words won't define my pride but I really wish that his team takes advantage from the next season where all teams would come closer to being equal. I want him fighting for the championship. That man has immense talent.
Haas 
Coming to the most consistent team of the season so far. Again finishing on the bottom of the table, the only thing different this time was the teammates' position swap on the drivers' tally. However, at this point now, it seems like that the Haas drivers can now rely moreover upon the performance of other team's cars (or non-performance to be clear), instead of their own VF21s.
Nikita Mazepin and Mick Schumacher crossed the finished line on P17 and P18 respectively (Thanks to Leclerc and Bottas). However, none of the boys did any major mistake on the race day causing any major chaos on the circuit, especially on a track like Circuit de Monaco, which is an impressive achievement in itself, to say the least.
Editor's note: Nothing particularly interesting about their performances except for that they were really good back markers yesterday as they gave every driver the space quickly causing no shuffling or chaos.
Scuderia Ferrari
There was plenty of drama in the dying stages of Q3 yesterday when Charlie managed to bin his SF21 in the wall meaning his right side of the car had to bear most of the damage. Initial checks showed no considerable damage to the gearbox, which was later confirmed in the morning of Race Day until it wasn't…
Charles' car couldn't get out on the grid on time, meaning at worst, he had to start from the pitlane. However, it was later found that there were some issues with the left driveshaft which directly meant that Leclerc, once again, couldn't score any points. Heck, he didn't even get a chance to do so! Later in the day, it was Mattia Binotto who confirmed that the driveshaft area was never checked because they didn't think it was damaged. Need I say more?
The second Ferrari, in the hands of Carlos Sainz, who had the pace for Pole yesterday if not for Leclerc's crash, started in P4, but effectively in P3 due to his teammate's DNS. It was more of a wait-game for Sainz as he did have the pace to take it to the Mercedes of Bottas ahead of him but lacked that 'extra-bit'. Luck was with him, though. Following Valtteri's retirement (more on that later), he ran the race in P2, where he even finished his day. It is McLaren v Ferrari for the time being, the Scuderia certainly loved the slow-speed corners, but only if they had Charles racing, too…
Editor's note: We have had enough words for Charles and for what happened and for Ferrari's ill-advised startegies. let's shed the spot light on Sainz who saved Ferrari yesterday. I mean he could've easily caught up and given Verstappen serious sweating troubles had his tires been not in such a worse shape. At one point, Sainz had got down the gap between himself and Verstappen to 2.4 seconds all the way from 5.5 seconds! I don't think he needs to prove why he deserves the Ferrari seat anymore.
Alpine F1
It was a 'strategic' Pole for Esteban, with his teammate, the much-experienced-yet-somehow-a-rookie Fernando Alonso, down in P17. With Charles out of the race, Ocon started in P10, but Nando managed to use all of his Monaco experience to quickly gain three places in the first few laps. After then, it was a rather dull race for the Spaniard – Alonso took the chequered flag in P13, whereas Esteban stayed ahead of a fast-charging Giovinazzi to cross the finish line in P9, two more points in the bag!
Alfa Romeo
The more I say about Antonio's qualifying efforts, the lesser they make an impact. I mean why isn't the world talking about that man?! He put his Alfa in P10, just over two tenths behind Sergio Perez, in a Red Bull! Nevertheless, the race started, he was hovering in P10 for most of the Grand Prix but he did manage to eke out some performance to fight with Ocon for P9. Though that didn't happen, meaning he finished where he started – in P10. Not too bad. As for the Iceman, he again had issues with his "drinks", had a relatively good start, gaining two spots right after T1, but finished his race in P11.
Editor's note: There is a reason why you see the Iceman only smiles around two people. Vettel and Antonio. Being so experienced, he does have an eye for good racing drivers.
Mercedes-AMG Petronas F1
Unarguably the second team to be the worst hit. Or if we bring in some more valid reasons, unarguably, the worst-hit team of the 2021 Monaco Grand Prix. It all went berserk when Valtteri put his Mercedes in P3, whereas the star-driver, the man, the myth, the legend, Lewis Hamilton, was down in P7.
The world expected Bottas to take the lead from Max as soon as the race started because the slot ahead of the Finn was empty because Leclerc's DNF meant P1 was to be left empty. However, the world was wrong to think that. Valtteri did have a better launch, but in the second phase, Max closed the door on him. And someday, Mercedes would too. Enough with the hate, let's continue.
Lewis was down in P7, P6 after a no-show from Leclerc, and remained behind Gasly for most of the race, before he decided to pit. Oh, the drama that unfolded later… Lewis made a stop to get past Pierre, but little did he know that somehow, he would lose so much time that not only Gasly, he would also race behind Vettel, and later Perez, too! He was visibly very angry with the team, and rightly so.
It was a hard day for Lewis' engineer Peter Bonnington (Bono) as he was disclosing the bad news to Lewis bit by bit. But, the worst one was when he told Lewis to not go for the fastest lap yet because he might be LAPPED by Verstappen. Imagine, No. 2 on the driver's championship lapping No. 1! Fortunately, that didn't happen. Back to Bottas…
It was Car No.77's turn to make a stop, he switched on to the brand-new Hards, but his right-front was so close to him that it didn't want to come off! Oh, the tears, the unusual smile I had on my face. There it was, his race, in a nutshell. Well, to be honest, he was going strong, and it certainly looked like a confirmed P2.
That wheel nut DID NOT come off and it wouldn't have even if they tried with a hammer because it had machined itself to the axle and was cross-threaded. Mercedes pit-crew better take a lesson from this because this wasn't the first time they messed up. When you work hard day in and day out but don't get the results, I feel Valtteri's pain. All I can say is he will get returns for all of his work. On Lewis' side, he saw the chequered flag in P7 but got an additional point for the fastest lap. No further comments.
Editor's note: Lewis lost interest in his race and his battle cries didn't really help put up his image either. He was literally asking how Valtteri was doing! If Lewis gives credit to the team when he wins, it is just that the team gets credit for the losses as well. Especially at a race like Monaco where the drivers do their work on Saturday and it is mostly about strategy on Sunday's race.
Yesterday, was the worst day in Mercedes history when it comes to strategy and decision making but, I really disliked Hamilton's behavior as well. Yes he's had more victories here than any other driver on the grid and his fastest lap yesterday was a new lap record for the circuit but… losing interest and not trying for it at all seemed so poor. Coming from a man who believes and makes his fans believe in "Still I rise."
Williams Racing
750th Grand Prix appearance for the Williams Team. George Russell couldn't live up to his 'Mr. Saturday' potential, he started his day's proceedings in P15 while his teammate was in P18, and though points looked out of reach since it was Monaco, there were some hopes of a point or two. Well, it could've been great, it could've been dismal, and for the two drivers, it was the latter, as both the cars finished P14 and P15, with George ahead of Latifi.