Auto Business
News
Audi intelligently teases the next-gen RS3 in a 'family photo'
The hatch and sedan, both will continue to have the turbocharged 2.5L, in-line-5 motor.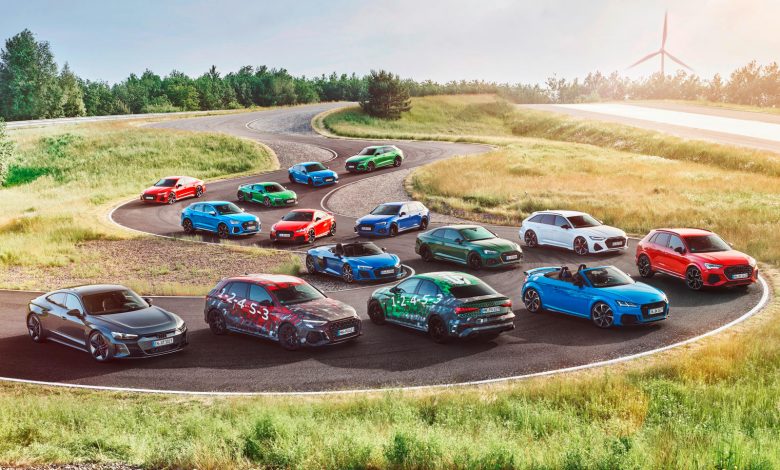 Family photos are fun and everything, but they are oh-so-much-better when Audi does them. The company has been teasing the next RS3 for quite some time now, and it is expected that it will get a power boost to help it fight in a better way with the Mercedes-AMG CLA 45 S. The next-gen RS3 is one of the most hotly-anticipated models to come from the German marque and enthusiasts are quite enthusiastic about the same.
The only two cars under the camo wraps are the RS3 hatch and sedan, and when you look at them, you instantly see "1,2,4,5,3", the RS3's firing order. Additionally, the front grills have been redesigned with functional air dams on either side. It also gets a redesigned LED lighting signature along with larger fenders. At the back, you have a roof spoiler on the hatch and a boot-lip spoiler on the sedan.
As for the power, we already confirmed that the next set of all-new RS3s will have the turbocharged 2.5L, in-line-5 motor, also found in the RS Q3 and TT-RS coupe, making over 400hp. It may or may not come with some sort of hybrid assistance. Speaking of some sort of hybrid assistance, Audi Sport's MD, Sebastian Grams, confirmed that plug-in hybrid Audi Sport models are inbound as part of the division's electrification process, as well as new all-electric models to accompany the RS e-tron GT.
Audi Sport's Head of Sales & Marketing, Rolf Michl, added: "We expect to offer more than half of our high-performance models in partially or fully electrified form as early as 2024. And by 2026, this figure will likely even be as high as 80%. We want to offer our customers the right products and services for their specific markets and segments."
To conclude on a sad note, Rolf also said that by 2030, all Audi Sport models will be either plug-in hybrid or fully electric. Last chance for you to take delivery of a turbocharged Audi without any hybrid help, then.