Formula 1
2022 F1 car unveiled in all its glory
Don't worry, in case you are, for this is not how the cars will look next year. Teams still have the liberty to design and build these machines the way they want.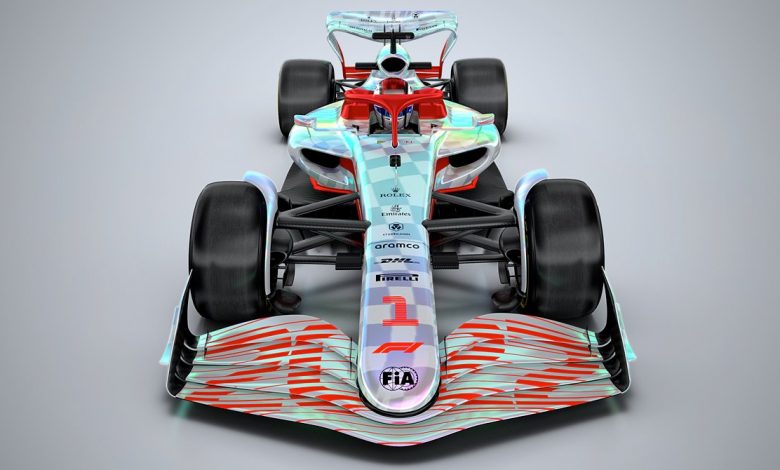 I take it that you must've already seen the F1 2022 car, thanks to Facebook. Nevertheless, the specially commissioned design was unveiled at Silverstone today ahead of this weekend's British GP. What does the new car have in store for us, here are the pointers:
Designed specifically to improve racing
We knew that the new rules will work on making the races closer than before. The regulations were delayed to next year due to you-know-what. However, with everything now dealt with, fortunately, research now shows that currently, the F1 cars lose 35% of their downforce when running three car lengths behind a leading car (approximately 20 meters, measured from the lead car's nose to the following car's nose), while closing up to one car length (around 10 meters) results in a 47% loss.
The next year's machine, developed by F1's in-house Motorsports team in collaboration with the FIA, reduces those figures to 4% at 20 meters, rising to just 18% at 10 meters.
Over-wheel winglets and wheel covers make a return
Last seen in 2009, the wheel covers will send airflow through the wheels, a potent way for teams to increase their downforce, but also adds to that chaotic aerodynamic wake coming off the cars. For the winglets, their job is to help control the wake coming off the front tyres and direct it away from the rear wing. 
18-inch wheels, low-profile tyres
This we have seen several times this season. We recently saw Pierre Gasly testing out the new ones and other teams have also been testing the 18-inchers for the next season featuring new Pirelli compounds and constructions to reduce the temps of these tyres when they slide around. 
Front wing, rear wing, & aero
The 2022 F1 car's front wing is now much simpler, resulting in generating consistent downforce when running closely behind another car, further ensuring that the front wheel wake is controlled and directed downside of the car in the least disruptive manner.
The rear wing is the most beautiful area to look at, IMO. The shape and position of the 2022 car's rear wing creates a rotational airflow that collects the rear wheel wake and rolls it into the flow exiting the diffuser. This forms an invisible 'mushroom'-shaped wake. Put simply, thanks also to a steeper diffuser ramp, this will allow the following car to drive through less disrupted 'clean air'.
On the aero side of things, it is said that the work on next year's car began in 2017 when it became apparent that to ensure closer racing, emphasis has to be put on ground effect to create downforce. The 2022 car features fully shaped underfloor tunnels allowing teams to generate large amounts of efficient downforce through this effect.
Same power units, improved safety
Being the most advanced and efficient engines on the planet, F1 will continue to use the 1.6L, turbo-hybrid units, but to take it up a notch, next year, the engines will see the bio-component ratio in the fuel rise to 10% (the current ratio stands at 5.75%). It will be achieved via the 'E10 fuel' – E stands Ethanol and 10 stands for the percentage in the mixture. However, that Ethanol should be a second-gen biofuel made the sustainable way so that it has a near-zero carbon footprint. An "interim step", says Formula 1's Chief Technical Officer, Pat Symonds. Oh if you're wondering if it has any deteriorating effects on the performance then do remember that Koenigsegg has been on bio-fuel for a long time now and their cars make a LOT more power when using bio-fuel.
With unfortunate incidents involving Romain Grosjean and the late F2 racer, Anthoine Hubert, the new F1 cars now absorb 48% and 15% more energy respectively in the front and rear impact tests, as well as greater forces in the static 'squeeze' tests required to homologate the chassis and certify their strength.
F1's Motorsport team is said to have run approximately 7,500 simulations, "creating around half a petabyte of data, equivalent of a third of the 10 billion photos on Facebook, or 10 million four-drawer filing cabinets full of text documents."
More on that, these 7,500 simulations took 16.5 million hours to solve, meaning if they had been done on an Intel i9, quad-core laptop, it would have taken 471 years to get to the solutions. There you have it, folks, now you know why F1 is a sport with an extreme focus on attention to detail.
Settled then, we wait until next year's pre-season testing to see how the cars look at last. Although I can't stop wondering how much amazing the cars would look in this year's liveries.