Auto Business
Launch
News
The Aston Martin Valkyrie Spider offers an F1 experience for the road!
And of course, this road legal F1 monster has an 1,160 HP V12 motor without the roof. The added weight is minimal there as well. Win-win-win!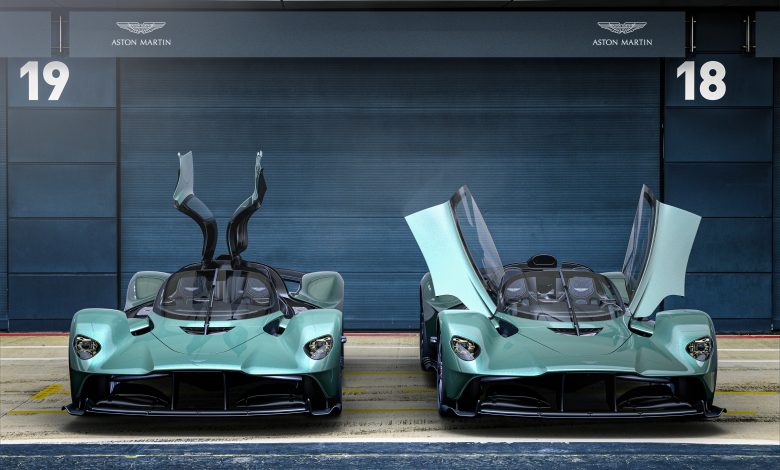 The all-new open-top version of Aston's Valkyrie hypercar is one such car that delivers the most comparable experience to that of an F1 car, not limited to the track. And rightly so, it is the "fastest, most extreme open-top Aston Martin to date." And by the looks of it, this could be the fastest most extreme race car we'd see for the track!
With that cleared up, let's look at what the Spider truly is, and what differences does it boast over its 'standard' coupe version. First off, no roof. Thanks to unique engineering solutions born from the combined talents of Aston Martin and Red Bull Advanced Technologies, you're now offered revisions to its carbon-fiber structure, precise recalibration of both the active aerodynamic and active chassis systems.
Elsewhere, the Valkyrie Spider is your average Valkyrie, but perhaps the most notable modification made to the Spider version is the front-hinged scissor doors, unlike the regular gullying-style center-hinged doors. Additionally, the weight was also kept to a minimum using a removable carbon-fiber roof section and polycarbonate roof windows.
The Valkyrie Spider will do in excess of 330km/h with the roof down, but 350km/h+ with it up, while also delivering LMP1 levels of performance to set impressive lap times, not normally achievable in a road-going car. Powering the Valkyrie Spider is the same 6.5L, V12 hybrid motor capable of making 1,160hp and  664 lb-ft of torque.
Aston Martin Chief Executive Officer, Tobias Moers said: "The Aston Martin Valkyrie is the product of incredible innovation and technology, but above all, it has always been about emotion. With the Valkyrie Spider, we are taking that passion and emotion to the next level. The driving experience promises to be truly sensational. The sound of that 6.5L V12 engine revving to over 11,000rpm with the roof removed is something I cannot wait to hear."
Red Bull Racing's Chief Technical Officer, Adrian Newey said: "Right from the very beginning of the Aston Martin Valkyrie project we were driven by exacting targets that went way beyond any previous road car and the Valkyrie Spider brings that same ethos to the open cockpit hypercar category. What you see is a simple removable roof panel, but the challenge of remaining true to the Valkyrie concept was anything but. Maintaining aerodynamic performance with the roof removed was of paramount importance, likewise keeping any unavoidable weight gains to an absolute minimum whilst maximizing enjoyment for the driver."
Some 85 examples were built and all of them are already spoken for, following an "unprecedented demand", available in both RHD and LHD configurations with deliveries scheduled to begin in H2 2022.