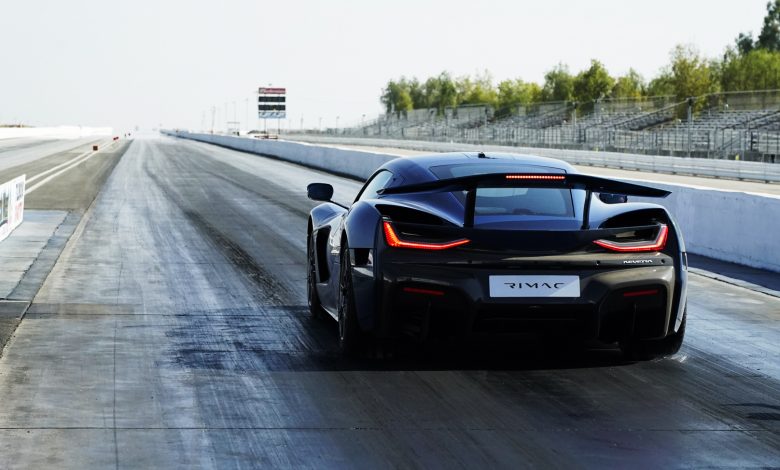 The Rimac Nevera has just made history, breaking the record by being the fastest acceleration by a production car. Rimac was on it's way to 'The Quail: A Motorsports Gathering" in California with the Nevera, and they decided to make a stop at the Famoso Raceway drag strip near Bakersfield, California. In June, the car had set an unofficial record for the fastest-accelerating production car, and on 13th August, with experts present from DragTimes and Famoso Raceway officials, it was time to test the car again- and it sure delivered.
The car took to the drag strip, with the infamous DragTimes' Brooks Weiselblat. The car sat on the warm 65°C track, launch Control enabled, Brooks in the driving seat. Brooks put his foot down, and the car set off. Within 8.582 seconds, the car had completed the quarter mile drag, reaching a top speed of 167.51mph (~270 km/h). Rimac's own inbuilt launch system, which helps accelerate the car from 0-60mph in a whopping 1.9 seconds is probably the biggest factor in this monumental achievement.
The Nevera's powerful 1,914hp powertrain powered by 4 separate electric motors, along with the Rimac All-Wheel Torque Vectoring 2 system helped ensure that the car powered down the drag strip, with as little wheelspin as possible, combined with the best possible acceleration. This was on the car's 11th day of continuous testing, and the first on a glued surface. This has led Rimac to state that even though the car managed to break the fastest acceleration record, there is still a chance to improve on the record time, and go faster.
Another thing to note is that this test was done with the standard Michelin Pilot Sport 4S tyres, which are standard on every Nevera. These tyres are not bad by any means, but are definitely not the grippiest out there, which just makes this record-breaking moment even more special. If the car is set up in the ideal circumstances, with the grippiest tyres available, then I have no doubt that the Nevera has a chance to be a serious contender for becoming one of the best EV supercars out there!