Auto Business
Launch
News
Mercedes revitalizes the C-Class All Terrain in 2021
Mercedes add new rugged variant to their ever so popular C-Class lineup. And of course, the All Terrain is an estate which makes it even more desirable.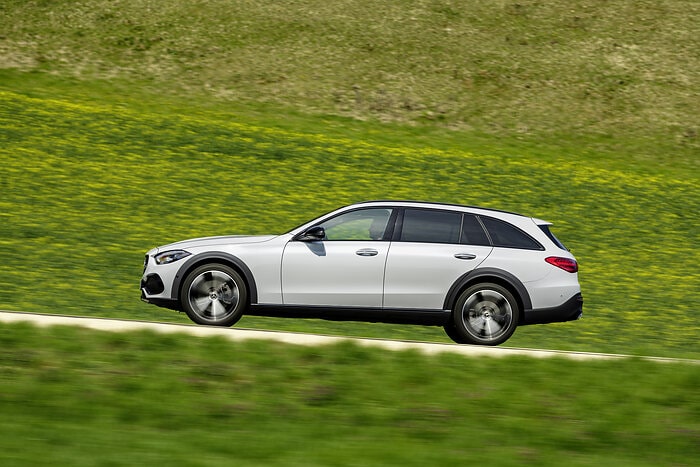 Mercedes have just announced the launch of their All-Terrain variant for the C-Class. This is the first All-Terrain car Mercedes have built since the E-Class All-Terrain was launched in 2017. The car is built with versatility and off-road capability in mind.
The car is built to be rugged, with 40mm more ground clearance than the normal model, and matte dark grey arch lines, an option between 17 and 19 inch wheels, and the model-specific chrome-plated load sill guard and the simulated underride guard, all which symbolizing the ruggedness of the car.
The car also comes with Mercedes' AVANTGARDE interior as standard, with 3 color options available in the form of black, macchiato beige / black and sienna brown / black. The instrument panel has also been modified to better suit the car, with the instrument panel facing 6 degrees more than the usual towards the driver, and an option between 10 and 12 inch touchscreens. The car's inbuilt systems also have a new compass system, geocoordinates, as well as the incline and decline angle, which are all specially for the All-Terrain variant.
Mercedes' own 4MATIC system has some new features in this car, as apart from the usual Eco, Comfort, Sport and Individual modes, there are also two new modes specifically for offroad driving; the Offroad mode, which is used for terrain like dirt, sand and gravel, and the Offroad mode with Downhill Speed Regulation (DSR), which is used for slightly more challenging and steeper terrain.
On the engine front, the car has an option between a petrol and diesel engine. Mercedes has put a new 4-cylinder engine in this car, called the M254, which they say is a very efficient engine. The car has the possibility of "gliding", i.e. retaining momentum whilst the engine is switched off, and Mercedes have used their Nanoslide and Conicshape technology to also help with the car's charging for its mild hybrid drive. The diesel variant also has a mild hybrid drive, which can also "glide" and regenerate energy while the engine is switched off.
Finally, the car also adds more interior space, with more elbow room and legroom available for the passengers and driver. The infotainment system has also been given a more sporty touch, à la the S-Class. Safety-wise as well, Mercedes have left no stone (or sand or dirt particle) unturned, ensuring maximum safety of the car.