Formula 1
The "Grand Prixview" for the 2021 Belgian GP
Ferrari vs McLaren, Max vs Lewis, a possible midfield resurgence for AlphaTauri and more!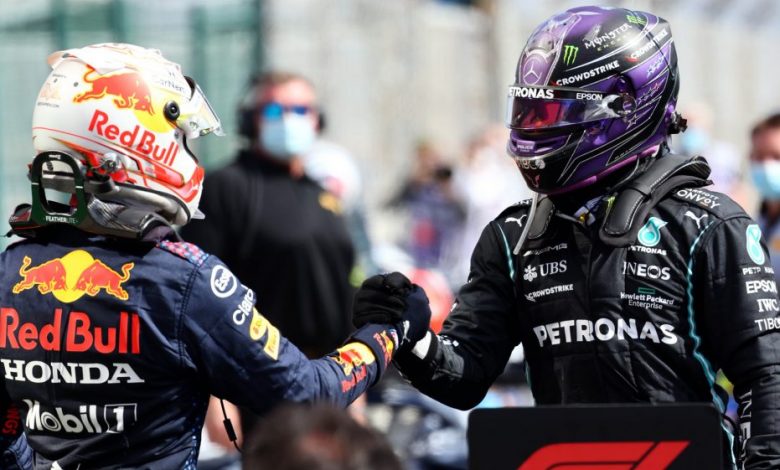 At long last, the wait is over. F1 is back this Sunday! Spa is one of the most popular circuits globally, and has long been a driver favourite. With this, us F1 fans will finally get to enjoy F1 again after an almost 4 week break- and there's good reason to be hyped. I'll discuss some of the hot topics that, in my opinion will be the main talking points for this second half of the season, and discussions that will re-emerge at Spa yet again. This is my Grand Prixview (pronounced Grand Preview) of the 2021 Belgian GP!
The Track
The circuit is one of the driver's favourites, and for good reason. 7 kilometres of racetrack through the pristine Ardennes mountains, globally-recognisable corners like Eau Rouge and Radillon, the Bus Stop Chicane to name a few, this circuit has been the scene of many memorable moments throughout F1's history.
Lap 1 is always a treat, with cars bunched so close to one another down the Kemmel straight that by the end of the straight, it seems like any one of them can take the lead. There are also crashes aplenty on Lap 1 at Spa, like Fernando Alonso flying over the top of Charles Leclerc in 2018, Romain Grosjean's massive start pileup in 2012 and the infamous Lap 1 carnage of 1998 which caused a red flag. All of these signal the fact that this year, Lap 1 at Spa will be amazing. We will see some very close racing, possible contact, and might at the end of it all, even see a surprise result. The race is just 6 days away- I can't wait any longer!
With the return of racing, so will the discussions and debates, and I'll look over some of the main talking points going into Spa.
Ferrari Vs McLaren- The battle for P3
Since Round 1, both Ferrari and McLaren have been fighting with one another in an enthralling battle for P3 in the constructors' championship. Both teams have had highs and lows, with McLaren's highs being Lando's 3 podiums and overall a quick and pacey car, while Ferrari had the highs of two poles in succession, and having the pace to win in both Monaco and Silverstone, though both were lost opportunities due to different reasons.
The drivers play the biggest part in all this as, despite having a slight disadvantage car-wise, Ferrari's drivers are exceeding expectations. Charles is a magnificent talent, but my highlight is on Carlos, who has not just adapted to the car incredibly quickly, but is also on certain occasions able to match Charles. McLaren have a dilemma on their hands meanwhile, as while their young prodigy Lando is being the most consistent driver on the grid while also surpassing all expectations, their other driver- a very highly rated driver at that, is struggling to produce results. Daniel has been off Lando's pace all season, scoring only 50 points to Lando's 113. Though it must not be forgotten that there was a similar deficit to his teammate initially when he made the switch to Renault in 2019, it is biting the team hard, as with an on-form Daniel, there's no doubt that McLaren would probably be comfortably sitting in P3, instead of battling with Ferrari, tied on points with them.
2020 vs. 2021 Constructors battle 👀

Which team has impressed you the most in our very exciting 2021 season? 🤩#F1 pic.twitter.com/vVPZ8G8fMd

— Formula 1 (@F1) August 15, 2021
The second half of the season is fast approaching, and both will be pushing at their maximum to achieve that glorious P3, something which both teams want to achieve. Ferrari have made it quite clear early on in the season that their focus has completely turned to 2022, and that anything they achieve this year will be done without much development to the car, so in my opinion they're the most-improved team from last year.
McLaren would also love to get P3, but they need to ensure Daniel performs and also the fact that they shouldn't sacrifice long term gains (2022 and beyond) in favor of short-term gains (achieving P3 this year). Both will, nonetheless, be pushing and giving everything they have, though with their rapid velocity to improve and current ability to make the most of their shortfalls given the circumstances they face. I'd put my money on Ferrari to take P3, as in my opinion Daniel's shortfalls might be a bit too much to cover up for McLaren right now, though who knows what can happen in the future, F1 is incredibly unpredictable! But, who knows what may happen. After all, it is THE Daniel Ricciardo, 7 times Grand Prix winner and he has already expressed his desire to be able to reach the level where he battles for the title in 2024.
A possible AlphaTauri resurgence
AlphaTauri have not had as great a year as they would have hoped to. Sure, they got the podium in Baku and have been the only team to score points in every single race this year, they have only scored one more point than they did at this stage last year. It's not difficult to see what the cause for it is, but the reasons for this deficit are many.
Yuki Tsunoda, in my opinion is a very fast driver, but he currently lacks the consistency demanded at this level of motorsport. His progression through the junior formulae has been noteworthy to say the least, having a meteoric rise through the rankings, and for good reason.
In F1 though, his deficit to teammate Gasly- who is shining I must say, is the reason AlphaTauri are struggling the way they are. He has only scored 18 points compared to Gasly's 50, and has been way off by some margin in both quali as well as race trim. Helmut Marko, the advisor for both Red Bull teams, is growing quite impatient with Yuki's performances and many crashes, and he is not well-known for his patience.
Marko will be pushing for Tsunoda to do better, and in my opinion he will have a resurgent second half of the season, wherein he will, in my opinion come closer to Gasly pace-wise, if not beat him at times. Yuki has some lightning quick pace- all he needs to do is be a bit more patient and work on his consistency. AlphaTauri currently sit P6 in the standings, 9 points behind Alpine. A bit of consistency from Yuki will do wonders for the team, and will no doubt help the team capture that envied P5 result.
Max Vs Lewis- The showdown
This is the final hand of poker from Casino Royale. Showdown please! Round 1 showed to us that this year, we would see a titanic battle between Max and Lewis for the driver's crown. Both gave each other just enough space and respect and battled supremely hard with one another and for a few races when Mercedes picked up the pace, it seemed like this might well be like every other season, wherein Mercedes had a bit of competition, but overcame them easily like they did with Ferrari in 2017 and 2018.
Red Bull, however was not one to back out, winning 5 races on the fly, Monaco to Austria. Mercedes are not ones to shy away from a fight either, striking back at Silverstone and quite literally eliminating the competition at Hungary, taking away 58 points from these two rounds while Red Bull could only manage 2 points across both rounds. With just 12 races left, it's time for the final showdown to commence.
There are 12 rounds left, and every round will pose a unique challenge for both drivers as well as their teams. Max and Lewis are quite evenly matched right now, and I have no doubt that both will be itching to get ever so closer to this year's championship glory. We will be witness to many fights and battles both on and off-track, and of course some close racing as well.
With that in mind, we also need to acknowledge the fact that with close racing, contact and possibly even another crash will be inevitable at some point as was the case in Silverstone. When two competitors, at the top of their game, are battling so fiercely, contact will be inevitable. It has happened time and time again in the past- it happened with Sebastian and Lewis, Nico and Lewis, and even Senna and Prost crashed with one another multiple times. Hence, this battle between the two for the elusive P1 will not be an easy one by any margin.
Also something of note will be how well both team's second drivers are able to perform. Sergio is quick, and even has a win under his belt, but has been a bit scruffy in the last few races. Valtteri has been there or thereabouts, but at certain races like Imola, Baku and Hungary has had horror shows in race trim, being well off Lewis and just not performing the way he should. Spa as a track is quite a challenge, and it will be very interesting to see how it all pans out. Can Red Bull regain lost form and triumph over Mercedes? Can Valtteri and Lewis continue their streak of consecutive drivers and constructor's crowns the way they have done since 2017? Only time will tell!
Quick-fire hot topics being discussed going into Spa:
Who will Mercedes choose to be in their second seat going into 2022? Do they risk going with the superstar that is "Mr Saturday", George Russell, or do they go conservative and stick with Valtteri for another year? Mercedes is expected to make a decision by September at the latest.
Can Alpine retain their form? They went into the summer break with the best possible result of a P1 finish, but will they be able to build on it? The car is unpredictable, having highs and lows at random it seems. Both drivers are driving well, so as long as Alpine sort out the car, they will do good at Spa and beyond.
Can Aston Martin regain lost ground? They were cruelly stripped of their P2 at Hungary, but by their own admission they have not been where they want to this season. Can Lance and Sebastian do well enough to get the team back to P5 in the standings? Time will tell.
Will Checo Perez be retained for another year, or will Pierre Gasly be called up again to Red Bull? Helmut Marko has openly said that Perez is not part of the team's long-term future, and has expressed his dissatisfaction with Sergio's recent run of form. But it is Helmut Marko's words so don't take them seriously. His analysis and what he says is in RedBull's worst form. Nevertheless, the second Red Bull seat will be a hot topic which is sure to be discussed at Spa.
What will Williams do? Will they sign two new drivers for next year? Do they stick with Latifi, or do they go for new drivers? Can they convince Russell to stay, and if he goes, can they convince Bottas to bite the bullet? It all depends on Mercedes' decision on whether to promote Russell or not.
Spa is set to be the proving ground for all 20 of the drivers, and the wait is unbearable. All I hope is that all the drivers and teams have rested and rejuvenated themselves, for the next 12 races will be nothing short of hectic!