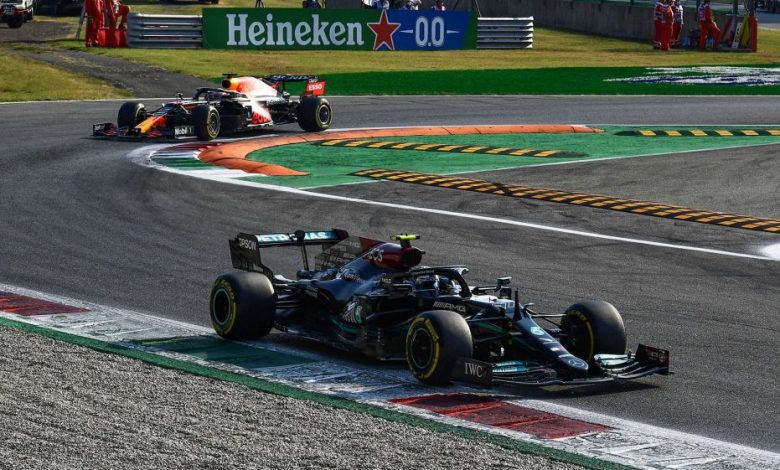 Saturday gave us the usual FP2, and Sprint Qualifying for only the second time in F1 history. Both sessions were exciting, and both had big crashes in them. Here's the run-down for both sessions:
FP2
FP2 was slightly more eventful than yesterday's FP1, with drivers exploring the limits. The cars are in Parc Ferme conditions, so no setup changes can be made to the cars apart from the front wing level and some differential changes. Hence, we saw some drivers go off-track, and pushing the cars a bit too much.
Daniel Ricciardo takes a bumpy ride at the first corner#ItalianGP 🇮🇹 #F1 pic.twitter.com/9NOFC7CM1R

— Formula 1 (@F1) September 11, 2021
The session continued on as normal, until we saw a yellow flag, and then about 4 seconds later a subsequent red flag as well. Sainz had crashed quite heavily at Ascari, though he thankfully emerged all okay, though shaken. His car took a big hit, though it was salvageable.
The session resumed, and drivers went out on track again. Charles and Lewis battled a bit going into Turn 4, which was nice to see. What wasn't nice to see was Charles pulling in to box a few minutes later, the Monegasque driver having some seemingly unexplainable difficulties. Max was also given a friendly reminder by his race engineer about the track limits, and with that the session concluded.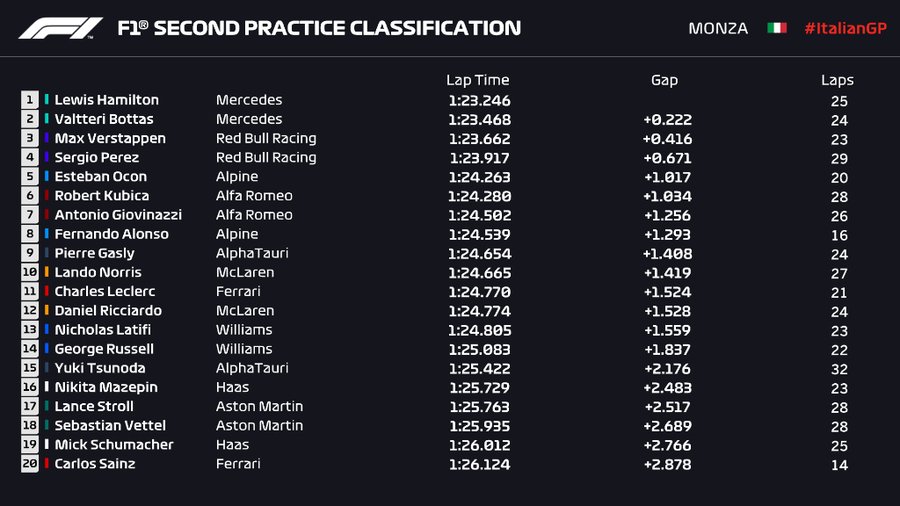 Mercedes' pace looked to be unbeatable, with both Red Bulls a bit too far behind. Both Alfas did well to finish P6 and P7. Now, onto Sprint Qualifying!
Sprint Qualifying
Charles felt unwell before the Sprint, though he was eventually able to start the race normally. Carlos' car was also repaired in time, which was good news for Ferrari fans like me! The grid took shape, and then they all set off on the formation lap. The race started, and then at the Curva Grande, we saw the first accident- Gasly went hard into the wall, after his damaged front wing went under the car.
Frustration for Pierre Gasly as his #F1Sprint ended in the barriers#ItalianGP 🇮🇹 #F1 pic.twitter.com/y79IP3Yw5u

— Formula 1 (@F1) September 11, 2021
After the Safety car came out, we saw how the grid was shaken up a bit. Kubica was spun around by Tsunoda, and also Lewis had a bad start. The safety car stayed out till Lap 3, and then came in. Valtteri had a great restart, and the race resumed.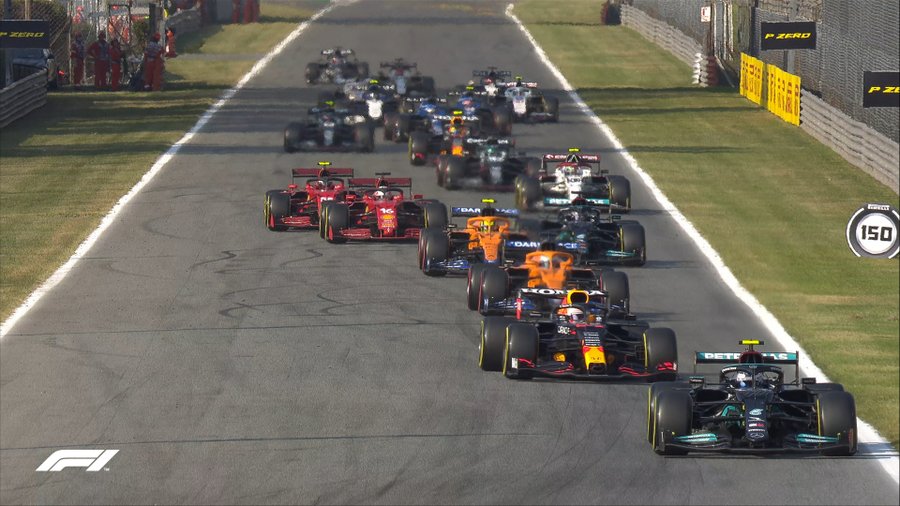 Immediately at the restart, Fernando made a STELLAR move on Seb into the first Lesmo, which earned him the Moment Of The Race. Lando was valiantly holding off Lewis, and the race then stabilised from then on. Lap 6, Lap 8, Lap 11, Lap 13; Lewis just couldn't get past the quick Lando! Sergio had a very bad qualifying, and then had to do a recovery drive all thoughout the race. He had a good battle with Stroll, and nearly got himself a penalty in the process!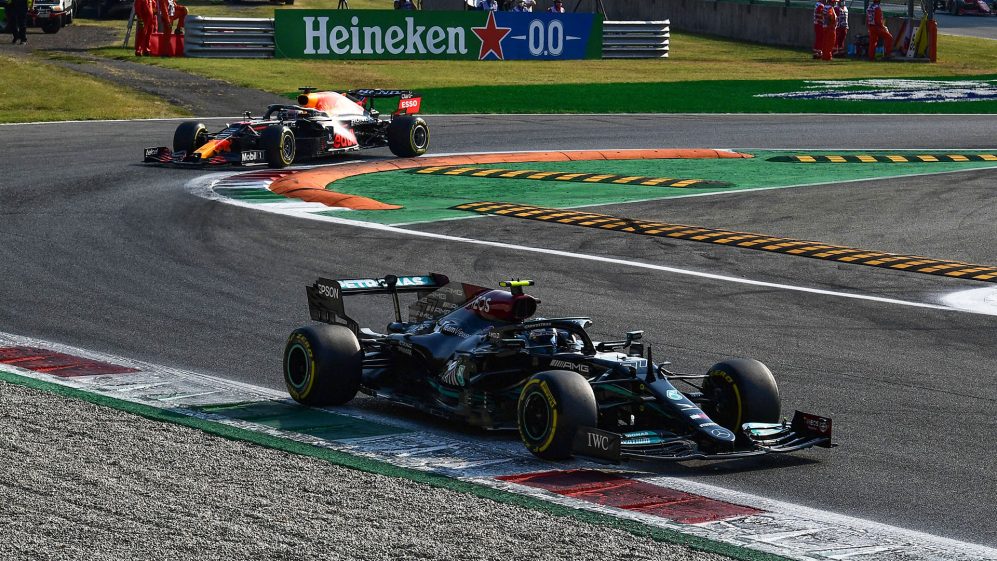 The race stabilised, and nothing happened for the rest of the race. Perez seemed to be catching up to Giovinazzi, though nothing happened in the end. Bottas won comfortably, from Verstappen and a brilliant drive from Daniel which saw the Aussie finish a brilliant P3! In my opinion Daniel and Valtteri were the best drivers today, and both Ferrari and Giovinazzi's performance should also be lauded.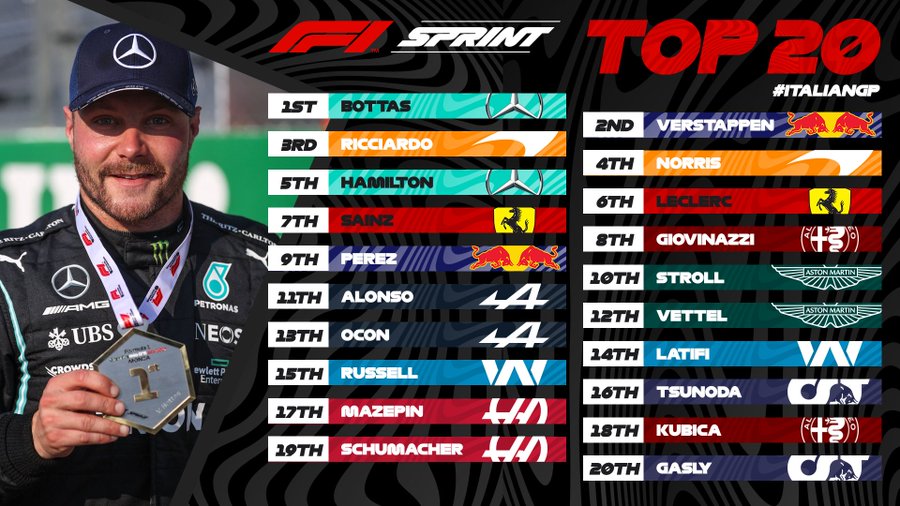 Quite honestly, apart from the Lap 1 crashes and bad starts, nothing happened in the race. It got very dull, and honestly wasn't exciting at all. Bottas will be taking a penalty after taking a brand new PU, which effectively means that everyone will move up one place from where they finished today. This will promote Max to P1, and Daniel to the front row for the first time since Mexico 2018!
Let's just hope that the main race tomorrow is more exciting, fingers crossed!