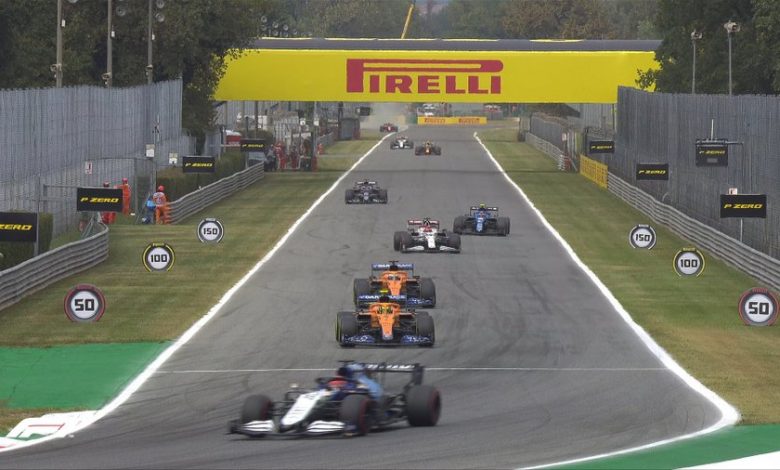 Friday at Monza was eventful, with the new "Sprint Qualifying" format being used for only the second time in F1 history. We saw FP1 and Qualifying held on Friday instead of the usual FP1 and FP2, and it was amazing to see. We can expect a shaken-up grid result from tomorrow's Sprint Qualifying, which will determine the grid slots for tomorrow!
FP1
FP1 was rather uneventful, with the only "incidents" being drivers misjudging their braking points at Turn 1. Tsunoda complained to the team about a loose seatbelt, though the issue was fixed rather quickly.
📻 Tsunoda's been on the radio early in FP1 telling his @AlphaTauriF1 team that he's got a loose seat belt #ItalianGP 🇮🇹 #F1 pic.twitter.com/3SlIJSDgCi

— Formula 1 (@F1) September 10, 2021
Traffic was expected to be an issue, and it sure was. FP1 was just a precursor to the events of qualifying, as we saw bunch-ups and drivers impeding one another quite often in the session.
The session ended with Hamilton comfortably ahead of Max, and Red Bull seemed to have quite a deficit to Mercedes, something along the levels of which we haven't seen happen in the past few races. Daniel seemed to be a bit better off than he has been in the past few races, which is only positive news!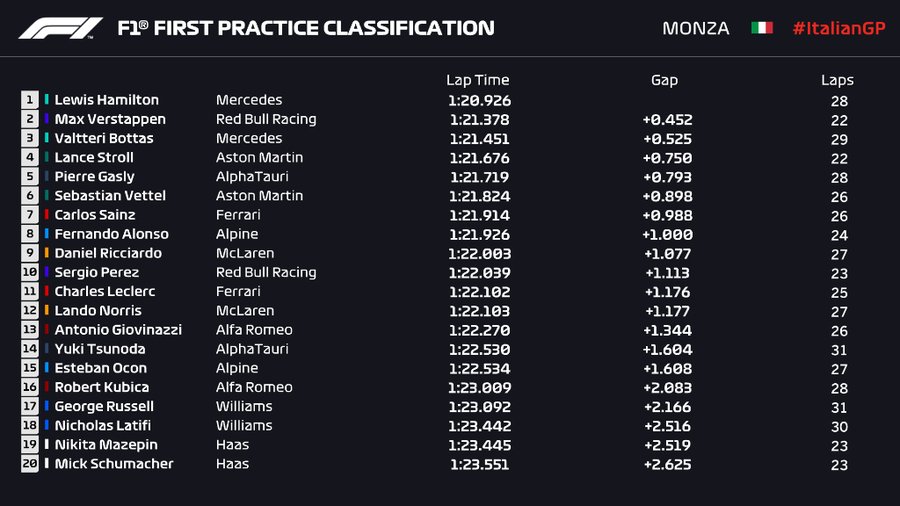 The only exciting part of qualifying was getting another glimpse at the helmet cam thanks to George Russell, something which has us F1 fans purring, and wanting more!
Qualifying
Oh my, was qualifying fun.
Q1 was a fairly straightforward affair, though teams seemed to have issues with tow and getting effective slipstream consistently. Traffic was an issue yet again, with Max being badly affected by the traffic going into Turn 4, something which obviously upset the Dutchman. His former teammate Gasly also faced issues with traffic, this time at Ascari.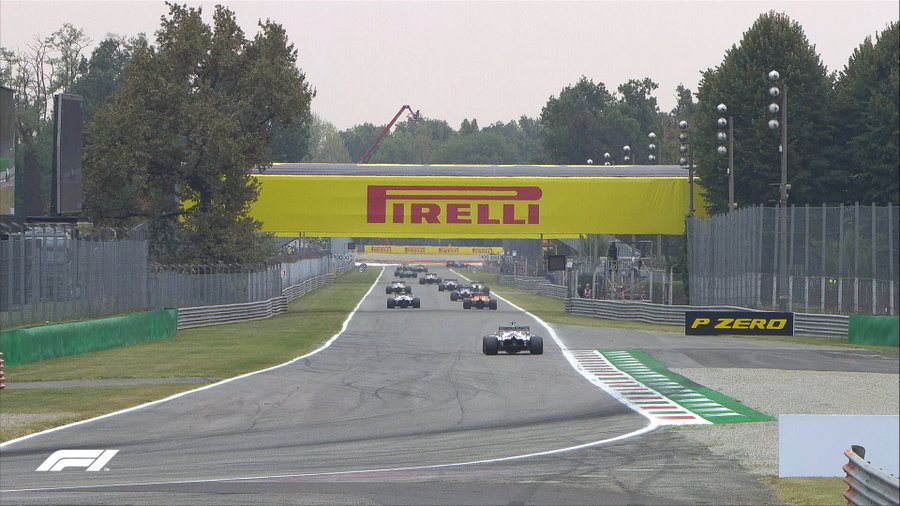 As can be seen above, there were 16 cars out on track at the end of Q1, and about 12 of them were sharing this very same piece of tarmac! Everyone finished their laps, and George was out in Q1, though only for about a minute at most. Tsunoda had run wide, and in turn got his laptime deleted, promoting the Briton into Q2 with P15!
❌ Q1 ELIMINATED DRIVERS ❌

Latifi
Tsunoda
Schumacher
Kubica
Mazepin#ItalianGP 🇮🇹 #F1 pic.twitter.com/pqv9JBLCc0

— Formula 1 (@F1) September 10, 2021
Q2 was also quite normal for the driver's first runs, with not much happening. Leclerc faced issues with his enine braking, though apart from that not a lot happened. When they were coming out for their second runs though, there was a bit of an issue.
Tension mounting in the pit lane as the cars exit

Vettel comes out as Hamilton is going past and the two world champs almost touch! #ItalianGP 🇮🇹 #F1 pic.twitter.com/rUNMRKLZ9h

— Formula 1 (@F1) September 10, 2021
Seb and Lewis nearly hit one another, and also almost took out an innocent Alpine mechanic while they were at it. The video is a bit nerve-wracking to watch, though the cars carried on with their laps. It was very close, but in the end both Astons, both Alpines and Russell were eliminated.
❌ Q2 ELIMINATED DRIVERS ❌

Vettel
Stroll
Alonso
Ocon
Russell #ItalianGP 🇮🇹 #F1 pic.twitter.com/TEoGWPGyZX

— Formula 1 (@F1) September 10, 2021
Q3 was next, and boy was it fun. After their first runs, Lewis led Max by just 0.017 seconds, the duo closely followed by Lando in P3, just 0.065 behind Lewis. Bottas was P5, and Ricciardo was P4. Bottas' time was not because of an issue, it was because he was effectively punching the air for the whole grid (literally), as he was the first car to go out, and was giving the all-important slipstream to everyone!
On their second runs, it was tight, but many did not improve on their times. Then, out of nowhere, Bottas went a monster 4 and a half tenths up on his initial time, and went P1. Max couldn't beat him, Lewis couldn't beat him, and we had a shocker- Valtteri had snatched pole with a BLISTERING lap!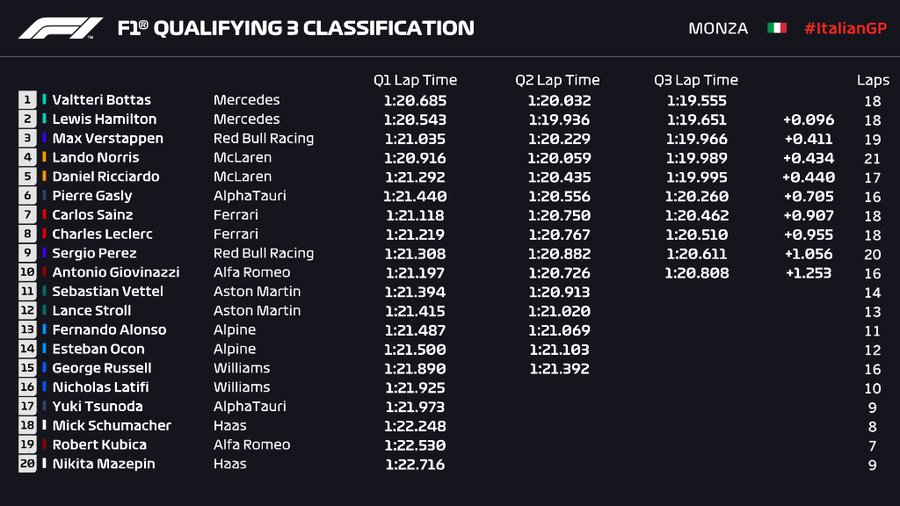 My standout drivers in qualifying were Daniel and Valtteri. Daniel drove fantastically, just 0.006 behind Lando and 0.029 behind former teammate Max, a great drive by the Aussie! And of course, Valtteri was just on fire, with a cracking lap! With all this, I just can't wait for Sprint Qualifying tomorrow 🙂