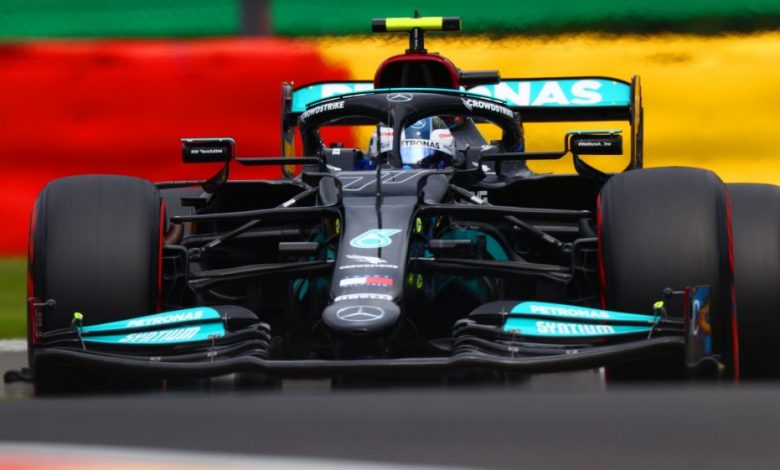 Friday at Sochi was alright, with FP1 being very dull, while FP2 had truckloads more in terms of action. Something to note is that Max has taken a brand new power unit, and will start from the back of the grid, keeping Charles company. It will be interesting to see how Red Bull approach the weekend, now that they know that Max will effectively start last on Sunday.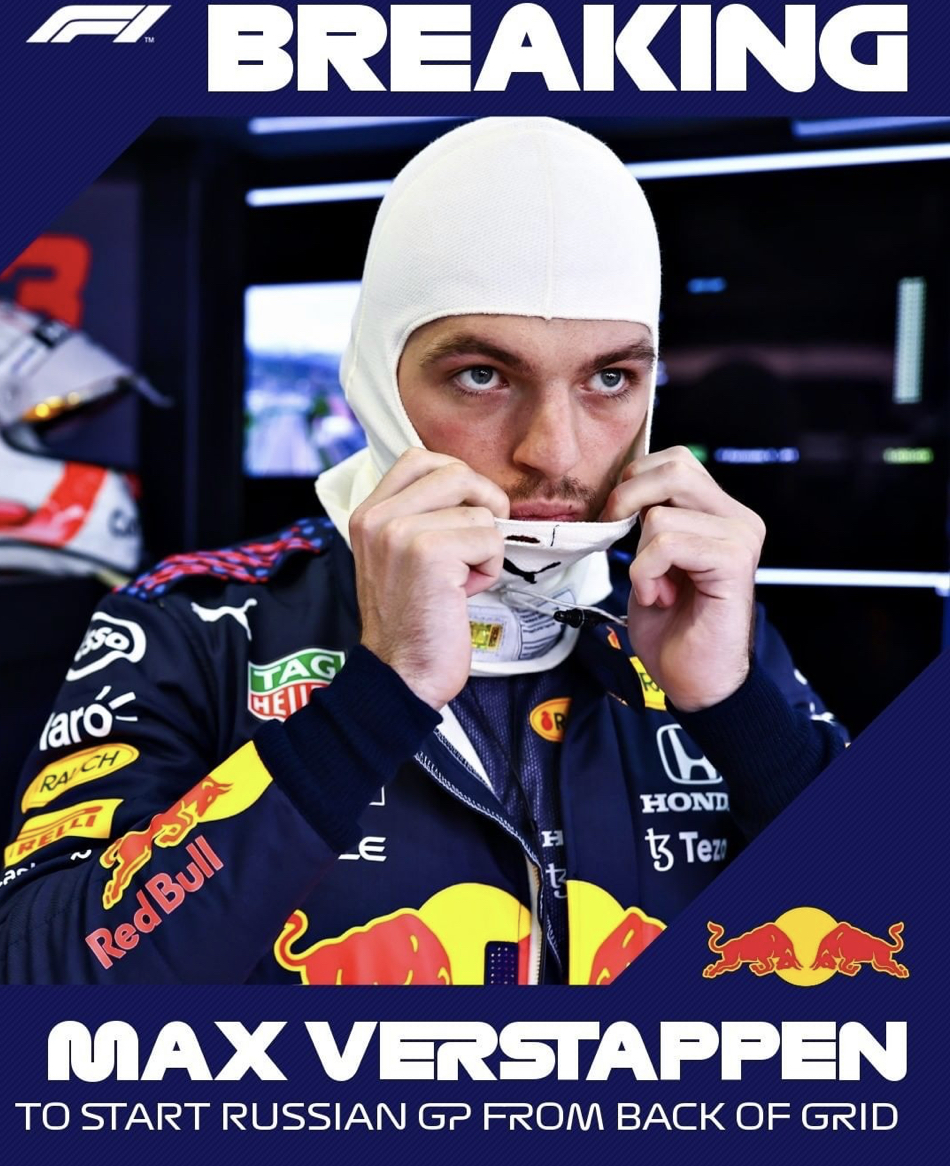 Without any further wait, let's get straight into the events of Friday!
FP1
FP1 reminded me of the 2019 French GP i.e. barring a few moments of interest, nothing happened from start to end. The session began normally, and nothing exciting happened, the only thing being Giovinazzi locking up badly at the end of Sector 2 towards the end of the session, and a brief VSC to clear some debris on the track.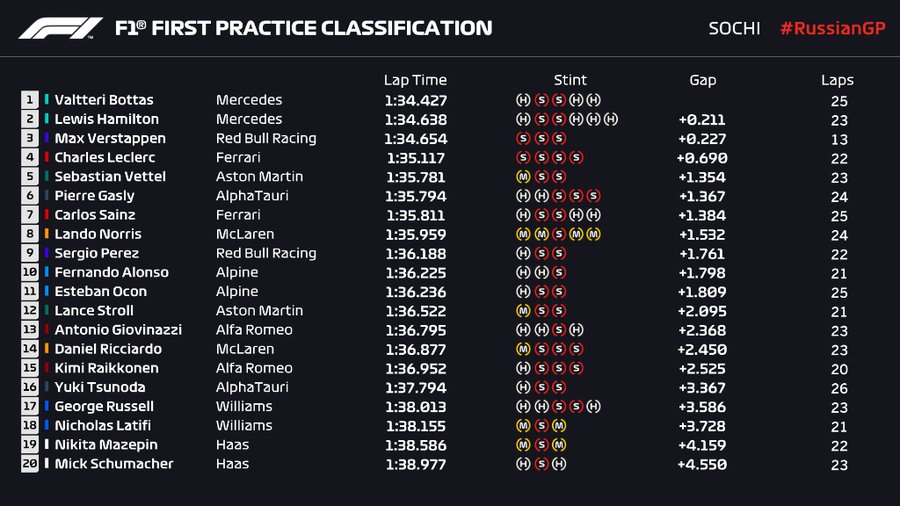 Something of note is that Valtteri seemed quite comfortable with the car, and so did Sebastian. Charles and Carlos showed great pace, considering Ferrari were putting an emphasised focus on their race pace today. Pierre impressed with 6th, though Daniel had a tough session, down in 14th, and Lando had a small moment while on his cooldown lap back to the pits. Onto FP2!
FP2
FP2 started quiet, though not for Ricciardo. McLaren had to change his entire engine, and the Aussie had to sit out most of the session because of it. Lewis hit his front jackman when he came into the pits to box, though thankfully the jackman was alright after it.
Daniel Ricciardo is yet to emerge from the garage so far in FP2

The @McLarenF1 crew are working hard on an issue with his car 👀#RussianGP #F1 pic.twitter.com/Tr5cBPQ5NW

— Formula 1 (@F1) September 24, 2021
Both Ferrari cars seemed to have good pace, even heading the timing table at one point. Daniel emerged out of the pits after about 25 minutes, the McLaren team doing a great job to get him out as soon as possible. A few more moments passed, and we saw Charles have a half-spin at Turn 9, escaping without any damage. A few minutes later, we saw Giovinazzi at the same corner, though this time we saw him sans a rear wing, and he had to retire on the spot.
This spin and crash from Antonio Giovinazzi brought out the red flags during FP2 at Sochi 👀💥#RussianGP #F1 pic.twitter.com/orL47zcWRz

— Formula 1 (@F1) September 24, 2021
The session was red-flagged, while his car was cleared. Once the car was recovered, the session resumed. The session remained clean until the final few seconds, when Gasly lost his front wing after a weird accident.
There was plenty of drama and plenty of incidents in FP2 at Sochi 👀

Watch all the best bits from Friday's second session 🍿⬇️#RussianGP #F1

— Formula 1 (@F1) September 24, 2021
The session ended, with Valtteri yet again on top, followed by Lewis and Pierre. Both Bulls had a tough session, with Max 6th and Checo way down in 11th. Norris and Ocon also impressed, as did both Ferrari cars considering both were focussing on their long run pace. Lance, Daniel and Yuki all had shockers of a session, finishing well below where they should usually be.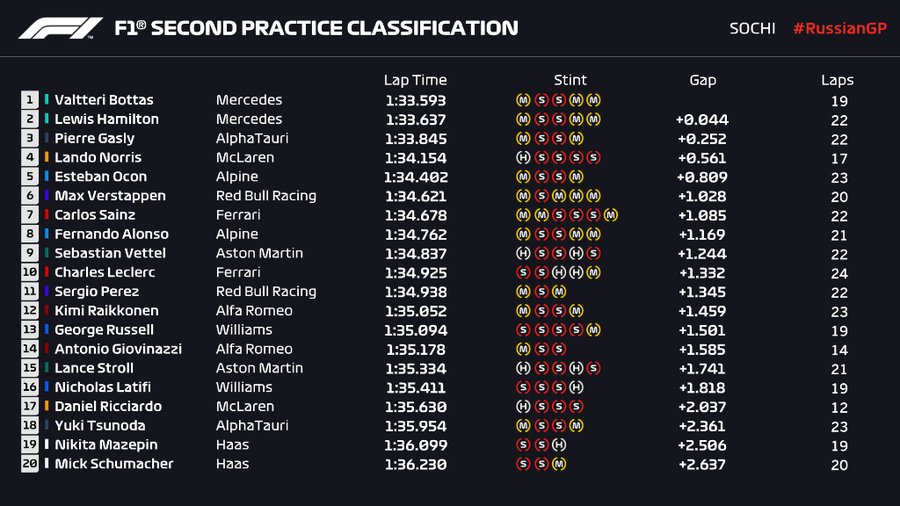 Rain is expected for tomorrow, and it's likely we might not see any running at all tomorrow. We might either see these results determine qualifying or have qualifying before the race itself, as qualifying taking place seems to be a bit doubtful. Anyhow, let's wait for tomorrow to see what happens!
Also, Dennis Hauger has just won the F3 title, after tomorrow's F3 race was preponed to today, after worries over how much running can be done tomorrow. Props to him, he drove fantastically all year, and has taken the title in fine style! He joins names like Ocon, Russell, Leclerc, Bottas, and even Hubert- one of the best clubs, filled with exquisite names. Appreciation should be given to the drivers in junior formulae, and Hauger deserves all the praise he gets!