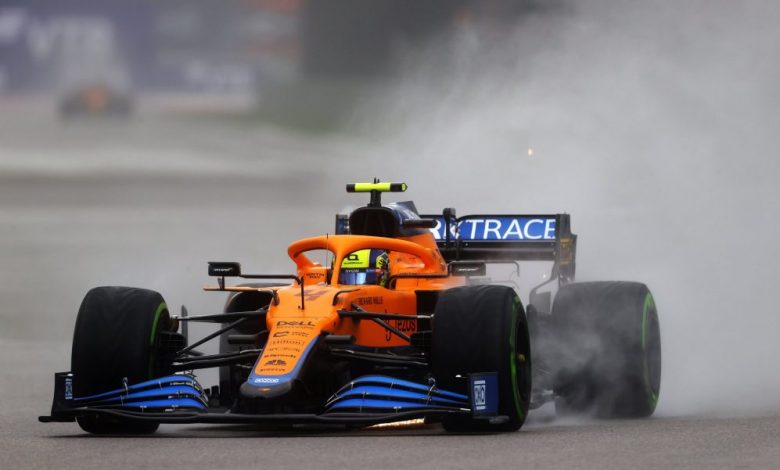 Yet again, I'd like to take a moment and thank the F1 gods for today's qualifying session, because WOW.
The unpredictability in F1 has the capability to put out some remarkable results, and today gave us exactly that. In a very unlikely series of events, Lando Norris has taken his first ever career pole position, followed by his 2020 teammate Carlos Sainz, and the Williams of George Russell in P3! I think this tweet by Lando below sums up the entire session!
Hahahhaa! YES!!

— Lando Norris (@LandoNorris) September 25, 2021
A McLaren, Ferrari, Williams front row? Are we back in 2001? Definitely not, it's happened for real! I'll run down the events of qualifying now, cause they're really something to behold!
Q1
Q1 was very wet, and drivers struggled to keep it on the tarmac. Some decided to start on inters, while only Fernando decided to go out on the wet tyres. The drivers found it difficult to keep it on the track, and Antonio was the first one to show us how tricky the conditions were, spinning at Turn 16.
First incident of the session as Antonio Giovinazzi spins and Charles Leclerc narrowly avoids him 👀

Yellow flags come out temporarily but we're quickly green again

Halfway through Q1…#RussianGP #F1 pic.twitter.com/OiJ43wrIxy

— Formula 1 (@F1) September 25, 2021
Max decided to abort his lap, as any efforts made in qualifying would be useless, considering the penalties he's taken. Towards the end of the session, it became obvious that only the Alfa cars and Haas cars had no pace, and subsequently all 4 were eliminated, along with Max who didn't set a time at all.
ELIMINATED DRIVERS – Q1

16 RAI 📸
17 MSC
18 GIO
19 MAZ
20 VER#RussianGP #F1 pic.twitter.com/9UKOXlPn9b

— Formula 1 (@F1) September 25, 2021
Q2
Q2 was mostly uneventful right until the end, when drivers started getting impeded on their runs. The biggest losers from this session were Gasly and Vettel, both of whom were impeded on their final runs, and Seb's radio described his emotions perfectly.
ELIMINATED DRIVERS – Q2 ⏱️

11 VET 📸
12 GAS
13 TSU
14 LAT
15 LEC #RussianGP #F1 pic.twitter.com/QIFQfvyCo0

— Formula 1 (@F1) September 25, 2021
Both Nicholas and Charles didn't set a time, Charles not doing so because of his inevitable grid drop for taking a new engine, while Nicholas' car was found to have an issue, and hence the Canadian couldn't set his lap.
Q3
It's the session we all waited so eagerly for, and to say it was interesting is an understatement. Initially, everyone went out on the intermediate tyres, though Russell sent out a domino effect across the field when he asked his team to ready the slick tyres.
It's @LewisHamilton on provisional pole as things stands

But hang on… the drivers are pitting for their final runs, and a lot of them are preparing slicks 🤔#RussianGP #F1 pic.twitter.com/2zndn4WR2D

— Formula 1 (@F1) September 25, 2021
Lewis had set his lap and gone purple, though as everyone came into the pits in a rush to change onto the slicks, Lewis seemed to have awoken his inner Grosjean, crashing at pit entry. His front wing was ruined, and as Valtteri was behind him in line, both had to wait some additional time in the pit box- which didn't help their cause at all.
Lewis Hamilton hits the pit lane wall! 😯

His front wing is damaged – and he faces a race against time to put in another flying lap #RussianGP #F1 pic.twitter.com/txQInKXk50

— Formula 1 (@F1) September 25, 2021
Initially, it seemed as if no one would improve, as through Sector 1 almost everyone was slower than Lewis' time on the inters. Then, Sainz set a personal best, and went on to provisional pole. A few seconds later, Norris well and truly arrived, setting a lap time half a second faster than Carlos, and went onto pole. It wasn't over there though, as George put in a STONKING lap to go P3! In a WILLIAMS!
🏁 TOP 10 – END OF Q3 🏁

1 NOR 📸
2 SAI
3 RUS
4 HAM
5 RIC
6 ALO
7 BOT
8 STR
9 PER
10 OCO#RussianGP #F1 pic.twitter.com/VvLG9DSvSL

— Formula 1 (@F1) September 25, 2021
Lewis couldn't beat any of them as he spun on his flying lap on the softs, though his initial time was good enough for P4. Nothing could stop Lando and McLaren from taking pole though, and I can say that apart from Red Bull and Mercedes, every team will be over the moon with today's qualifying result. George and Williams will also be going absolutely gaga, they've secured what is possibly the best place to start for tomorrow! P3 will give George a beautiful tow down to Turn 2, where he could do some magic on Lap 1!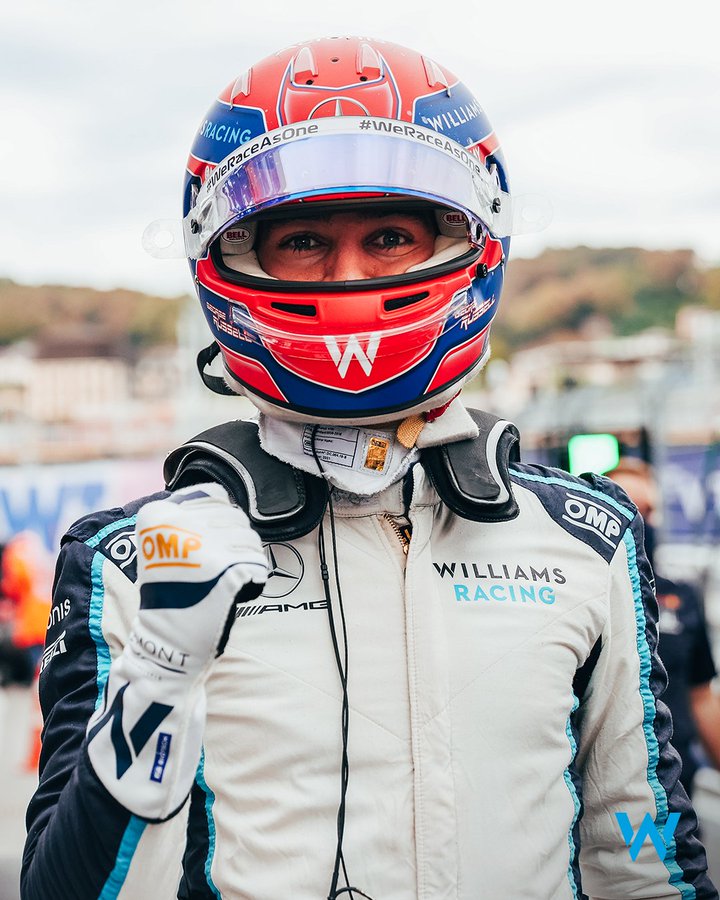 Neither Valtteri nor Perez could improve, languishing in 7th and 9th. Regardless of everything, it's amazing to see two buddies and ex-teammates in the form of Lando and Carlos share the front row for tomorrow! The happiest person today would be Lando- just hear his team radio at the end of quali!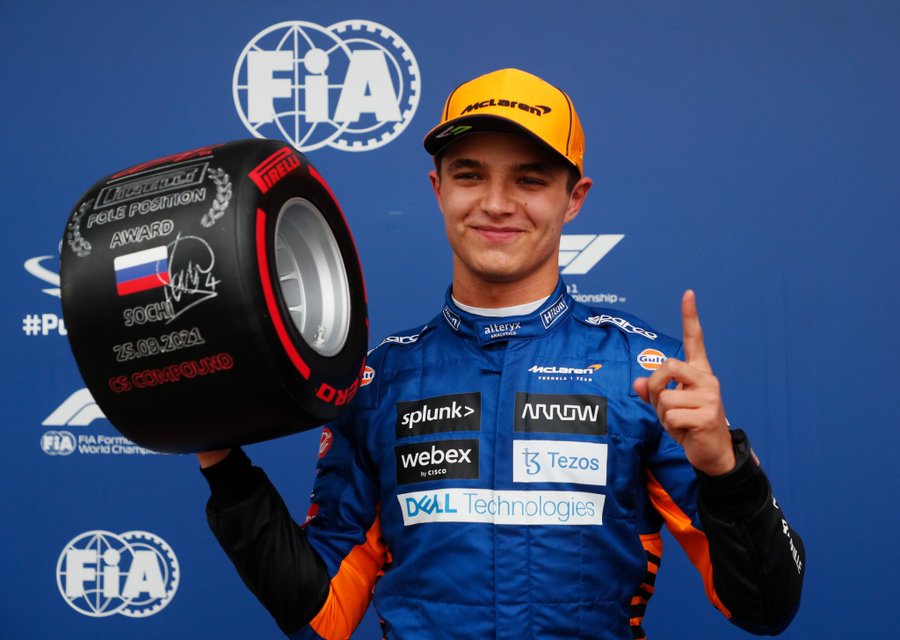 This also marks the first time Carlos will start on the front row, though the elusive pole position still strays away from him. Even with that in mind, McLaren-Ferrari-Williams cars finishing 1-2-3 in qualifying has managed to make us all incredibly happy and gives us a lot of hope for tomorrow! Bring it on, Sochi!