Formula 1
Lewis Hamilton wins his 100th GP in fine style by taking top honours at the Russian GP
It goes like this... two unlucky McLarens, one super lucky Max and a century for Lewis at a seriously and unexpectedly nerve-wracking Russian GP.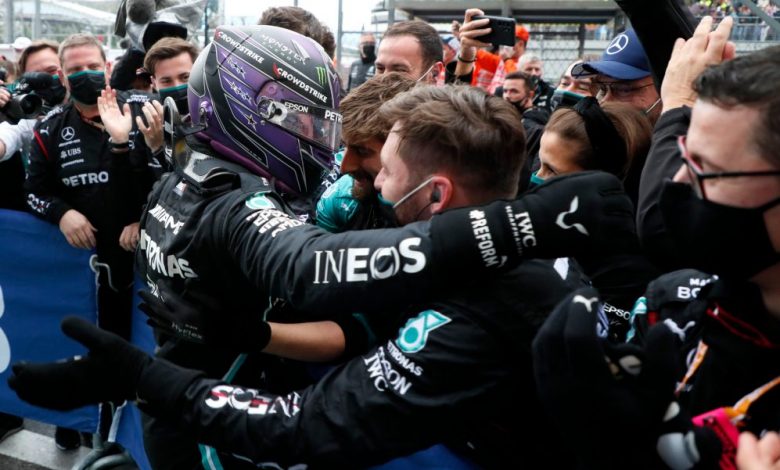 Yet again, I'll take a moment and thank the F1 gods for today's race end, because WOW²! And of all places, it happened at Sochi!
We, as F1 fans, always pray for rain to arrive. It can spice up races, and jumble the pecking order by a massive degree. Well, today gave us exactly that, with the entire race being dry right up to the final 6-7 laps, where it POURED. So much, that it completely changed the outcome of the race! And mind you, it poured at a time of the year when it is bright and sunny at Sochi. The mountains near the track were covered with snow!
Lando Norris no doubt drove like a man on a mission today, but his disregard for the engineer's call MUST have taught him the difference between a hungry rookie and a planned driver. You may be wondering, "hmm, so everyone makes errors. What's the big deal?". This one error in judgement by Lando was so incredibly critical, it cost him his maiden race win. An opportunity to bring in a second P1 in a row for McLaren after McLaren's pit crew ruined Ricciardo's race. It's a yikes from me, then!
The moment a first #F1 win finally slipped away from Lando Norris#RussianGP pic.twitter.com/W3ofVyM6Fb

— Formula 1 (@F1) September 26, 2021
Right from the start, we had incredible action, though the middle stage of the race was quite monotonous. However, the excitement at the end was palpable, and ruffled up everyone's feathers. A literal train of cars right behind each other and so many moments of so many drivers battling and over-taking each other, we were left to recheck if it was Sochi! It was an incredibly dramatic finish to the race, with Lewis taking his 100th win in F1, an all-time record which might seem insurmountable as of right now. In fact, with the regulation changes from next year, this might be the first and last time someone wins over a 100 races in their F1 career.
I N C R E D I B L E 💯@LewisHamilton #F1 pic.twitter.com/bjPvx2xHHG

— Formula 1 (@F1) September 26, 2021
Let's not wait any longer, and dive straight into how each team performed today!
Ferrari
Today, Carlos absolutely shone. His management of the scenarios and situations thrown at him were amazing to watch, and he sealed it off with a P3, thanks to efficient tyre management and a beautifully-timed strategy call. Charles, on the other hand, had a disastrous end to the race. But, that DOES NOT take away what an absolute driver he is on the grid. He was as good as you'd expect a Ferrari F1 driver to be.
The gamble to stay out on dries on a wet track failed for Charles, the Monegasque struggling badly to stay on track, having a massive lockup, which eventually cost him big points. A P3 result after struggling in the wet is very welcome, though I'd say they got lucky, their pace in the dry was nowhere powerful enough to get them on the podium. yet, both the drivers managed to give the rest, a difficult race.
Red Bull
P20 to P2, P9 to P9, bittersweet for both Red Bulls. Max had a tough time on the dry compounds, getting stuck behind traffic in P6. He did get lucky with the rain though, as both he and the team called the intermediate conditions at an appropriate time. That helped him jump a massive train of cars he was stuck behind, and helped propel him up to P2. So, what was to be a 7 point deficit to Hamilton in the Championship, is now down to just 2 points.
But, it wasn't all luck for Max. Max is absolutely hungry for the championship and it shows. Sometimes it is desperate but mostly, it is passion. His move on Valtteri where Valtteri literally did as little as he could, was super impressive. Then, Max was unstoppable. He was stopped by Vettel and Alonso for a while though, they were just small hurdles in Max's grand mission. Although, when Max had really destroyed tyres, did you see Alonso's move on Max?
Moreover, Max had used a LOT of his tyres in the run so, it wasn't looking too good towards the end. RedBull appeared to have decided for a two stop and told Max to got full on but Max was saying he just couldn't turn the car! Still, he managed, if that was even possible. Kudos to a tremendous drive. But, I'm still wondering… if it didn't rain, would we see a desperate Max towards the end?
Coming over to Perez. Checo, like Leclerc, got stuck out on a wet track with dries on. But, overall Checo didn't do as well either stuck behind Hamilton not being able to make a move for the entirety of the race in what is a superior car!
The team and Checo's gamble cost them valuable points to Mercedes in the constructor's championship, which is a shame because if the team had brought him in, he'd have come out in a good position, and been able to capitalise and likely even score a podium. The team will be ruing the bad call they made, though I'll still say that anything is possible.
AlphaTauri
Both AlphaTauri cars had one of their toughest weekends yet, with neither car scoring any points, Pierre finishing P13, while Tsunoda finished P17. They took the gamble with both cars to stay out on the dries, and while attempting to do so, Pierre struggled, being spun around after being hit by Stroll. His race ended disastrously, finishing in a lowly and lonely P13, when he could've scored points.
Yuki just plain and simple struggled, and the team did take a gamble in the changing conditions with him, though it was for the soft tyre and not the intermediate tyre. He understandably struggled, and finished second to last in P17. AlphaTauri pulled the grenade's pin, but didn't actually throw the grenade. Their strategic blunder lost them more than what they ever should have.
Williams
Finishing 7 places down from where you started seems like a disaster, but not when you're driving a Williams! George started P3, though understandably fell down post the pitstop phase due to driving an inferior car. He and the team called the conditions very well, and managed to salvage a lucky point with P10. Great stuff by both team and driver, Russell has now scored points in 4 out of the last 5 races, and sits just 2 points behind Tsunoda. All this, while driving a WILLIAMS!
Nicholas was a ghost for most of the race, not being seen at all, and retired with just a handful of laps to go. It's obvious frustration for the team, though I'm certain they'll be happy to take a point away after all the chaos that occurred!
Haas
Since 2019, Haas has been on a downward trajectory, and today was no different. The car was atrocious, and both Mick and Nikita struggled massively, being at times well behind the next car in the field. Mick was forced to retire after a hydraulics leak, while Nikita was the last running car, finishing in P18 after languishing in last place for the entirety of the second half of his home race.
Even though the team took the correct choice of strategy with Nikita and put him on the inters, he was TWO MINUTES behind the next car of Latifi, and eventually finished last. It's hard to write positives about this team, so all I'll say is kudos on not taking each other out, like how they did at Monza!
Aston Martin
There's a golden rule in motorsport- "Never hit your teammate". Seems like Lance was busy having maple syrup at the time he was told of this rule, as he did exactly that, and effectively ruined both Aston cars' races! At turn 10 Lance squeezed Seb into the wall, effectively calling it curtains on both their races.
Both cars limped home to 11th and 12th for Seb and Lance respectively. They could've scored points, as both took the right gamble tyre-wise, but with Seb having car damage and Lance taking out Gasly as well in the final few laps, it was a weekend to forget for the team from Silverstone.
Alfa Romeo
Alfa were one of the lucky teams, who capitalised on the chaos with a returning Kimi to finish in P8, though Antonio struggled, finishing P16. Alfa normally didn't have the pace to stay in the points under dry conditions, though they got lucky with Kimi managing to cling on to P8, being overtaken by Lando on the very last lap for P7.
It's some solace as Alfa fight to possibly take the battle to a very strong Williams. Antonio had no radio at all for the entirety of the race, so it may have played a role in him performing badly. Either ways, it's finally some points for the team, after a difficult middle part of the season.
Alpine
Yet another team who made the wrong strategy calls, Alpine pitted Fernando while keeping Esteban out. This resulted in Fernando achieving a result of P6, while Esteban languished down in P14. It could even have been a lucky podium for Fernando, had he pitted a bit earlier than when he did.
The call with Esteban was the absolute wrong one, while Fernando could've got a podium had the team bit the bullet a bit earlier. Nonetheless, yet another bittersweet result, with the team left to imagine what could have been.
Mercedes
Here's the thing. Mercedes' team has a camaraderie that you won't see in national teams. They put blind faith on the drivers as the drivers put their on the strategists. Yes, sometimes they question it and sometimes they're wrong, but mostly they're winning. THAT helped Merc pull off what is likely one of the best recoveries of all time. The strategy call for inters when Lewis was claiming the rain had stopped AND Lewis still believing in them and pitting, got them the win at the end. Maybe Lewis would've caught up to Lando in the dries if it didn't rain but, the next move sealed it.
For most of the race from the beginning, Lewis was stuck behind an extremely fast Ricciardo which meant he was being stalked by Perez behind. Although, Lewis being the tyre management genius, managed them for a REALLY long time. Right when we thought "his tyres were actually gone", he was setting fastest lap times in the 1:39:000. Mercedes then faked a pit call which, in a hurry, saw McLaren calling in Daniel fearing an undercut. This led to a seriously slow pit stop for Daniel and Lewis going on longer in clean air. His call to undercut Daniel was indeed a ruse and McLaren got trapped in it. Why'd someone make that call in the open, McLaren?
He then managed to drive fast enough in clean air when he got the opportunity, came in for the tyre change and was soon behind Lando, catching him FAST. Then, came the rain and the rest is history. The decision to pit was an inspired one, which saw him win the race- his 100th win. Hats off Lewis, you're marvellous!
Though their Twitter feed may not show it right now, the team did remember that they have a driver called Valtteri who exists, and for me, they were the only team who took the correct call with both cars. Valtteri was stuck in traffic, and thanks to pitting early on, he jumped absolutely everyone, and finished a respectable P5. Believe me, he was P14 at the time. Also, Mercedes engine change to make Valtteri start behind Verstappen was a really desperate move their. Mercedes now sit with a comfortable buffer of 34 points over Red Bull in the constructors' championship, and Valtteri's contributions thanks to a well-timed strategy call helped increase that tally to where it is now!
McLaren
Oh, fate. Why art thou so cruel?
McLaren could have had two race wins in a row, Lando could have had his maiden race win after a great drive- but he made the crucial error of ignoring his team's repeated pleas, who asked him multiple times to pit for inters, and he declined each one of their requests. In the end, however heartbreaking, it was he who declined the chance to pit, and he paid a very, very hefty price for it.
Daniel adhered to the team's suggestions and pitted, and finished in P4. If Lando had done similar, he'd have got his first race win, though it wasn't meant to be, as the sight of the win blinded him, and a misjudgement made him falter, and eventually he finished P7.
I'm not bringing Lando down here at all. He held off Lewis for many laps in the dry, and drove a remarkable race with outstanding pace, though it all slipped away at the end from him due to an ill-fated strategy call. It should always be remembered, that wins are only achieved when the team and driver are in sync, and towards the end of the race, McLaren just wasn't. As Prakhar quoted while we discussed the race, "Youth is no guarantee of innovation", which is a statement I feel is apt after what ended up happening to Lando today.
In Conclusion
An eventful race, which ended with a jumbled-up and mixed result, and gave us some incredibly thrilling moments, especially towards the end! Here's the race highlights– they're not one to be missed, that's for sure!
With that, another race draws to a close. The gap between Lewis and Max is now down to just 2 points in Lewis' favour, and it's very possible that this championship could well go down to the wire! Bring it on, Istanbul!