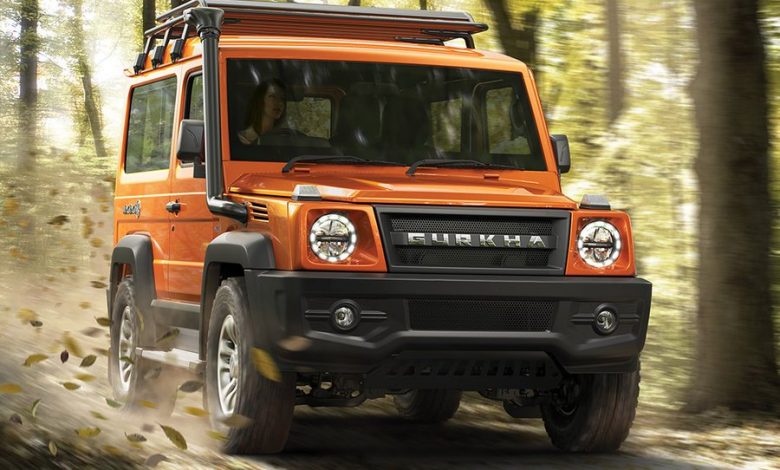 The Force Gurkha has officially launched, with only one variant, which is fully decked-out. The car can be pre-booked by paying an upfront fee of Rs 25,000 on the company's website, and will be available in 5 colours at launch- Red, Green, White, Orange, and Grey. Pretty straight forward!
The car will come with a 2.6L engine, which produces 91HP/250NM. The biggest changes from the previous generation are on the exterior, with features like new DRL's, 16-inch alloys surrounded by black arches being visually appealing. What is also a big selling point is the functional snorkel, which will allow the car to wade through 700mm of water without a hitch.
The car has an all greyish-black interior, with the centre console housing the new 17.7cm infotainment system. The system has Apple CarPlay and Android Auto built-in, and each passenger also gets their own 12V charging port. The interior also has auto-dimming lights, for ease and comfort.
The wipers are also updated, with an intermittent variable speed wiper, and a rear wiper as well on the single piece door. There are new cornering lamps, and the headlights have a follow-me-home feature as well.
The suspension has remained unchanged in comparison to the previous Gurkha, but Force says that the suspension has been re-tuned to provide better stability and driving ease. There is also only a manual variant available, and the car has 4WD, with manual locking options for front and rear differential. The rear windows have also been given new and large windows, and overall spaciousness has been improved as well.
The car is priced higher than the Thar's base variant which is priced at Rs 12.78 Lakh, though is significantly lesser in price than the Thar's top variant which is priced at Rs 15.80 Lakh. Offroad capabilities wise, the stats lean towards the Thar, though once deliveries for the car begin on 15th October, the real tests can be made then! But, there still is no denying that the Gurkha is an expensive one, especially for a seriously underpowered 90 HP engine. All we can say to Force Motors is good luck!