Formula 1
Red Bull and AlphaTauri reveal their one-off liveries as a tribute to Honda's last F1 season
A livery so gorgeous, it gives a fitting good-bye to Honda from F1.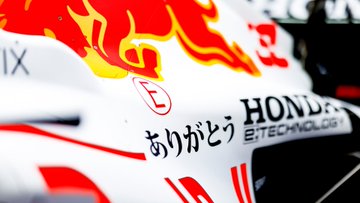 Red Bull have revealed their special one-off livery for the 2021 Turkish GP, and boy does it look stunning! The livery is meant to celebrate the Red Bull-Honda partnership and a tribute to Honda's last season in F1. This was to be for the Suzuka circuit which got cancelled and was replaced by Turkey. The car is also decked out in the same colours as the one in which Richie Ginther won the 1965 Mexican GP in.
With this announcement, Red Bull have also announced their plans for a partnership with Honda for 2022 and beyond- an amazing prospect. Honda's engine IP and Honda engineers will be working in collaboration with Red Bull Powertrains, to make the Red Bull and Scuderia Alphatauri engines for next year and beyond. It's a partnership with the capability to cause ripples in F1 in the future! But, Honda will no more be a direct engine supplier to any of the F1 teams.
A gorgeous white livery with Japanese wordings all around the car- I'm just speechless! As far as I remember, Red Bull have only used a white livery once during a race- all the way back in 2008 for Coulthard's final race. I must say, the livery looks absolutely dapper, and will be a sight to behold on the track!
The Bull in 🤍 #PoweredByHonda 🇯🇵 pic.twitter.com/24weGNCRwa

— Red Bull Racing Honda (@redbullracing) October 7, 2021
As for the AlphaTauri cars, their rear wings will be adorned with the words "Arigato", which in Japanese means Thank You. A small token of appreciation to Honda. The fact that Honda could not race in Japan in a year they could possibly win a championship is a very sad prospect, indeed! Japan has a racing driver in F1 AND a championship winning prospect with such close margins and there'd be no race in Japan. Testing times indeed!
it's a big shame we're not able to race in Japan for the second year in a row 🇯🇵

this is our small way of saying thank you to all our incredible Japanese fans for your continued support! 🙌 pic.twitter.com/NOu1i0pGnn

— Scuderia AlphaTauri (@AlphaTauriF1) October 7, 2021
This will mark the first one-off livery we've seen since Monaco earlier this year, when McLaren ran their gorgeous Gulf livery. Another gorgeous one-off was last year's burgundy red Ferrari at Mugello to celebrate Ferrari's 1000th race. Mercedes also donned their one-off livery at Germany 2019!