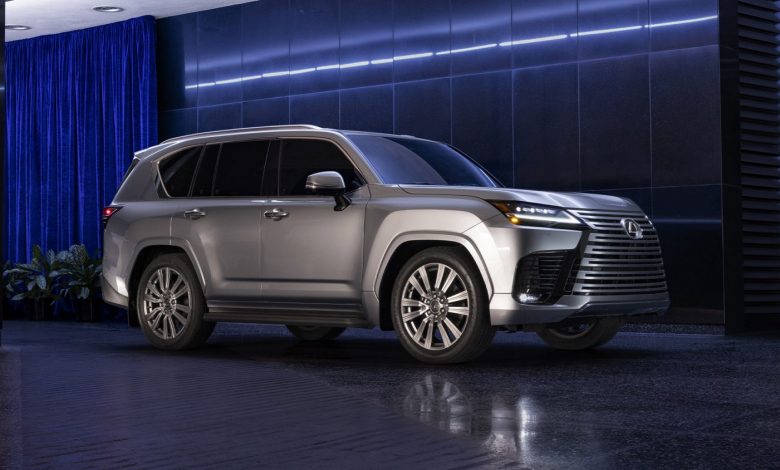 A few months on from the reveal of the Land Cruiser, Lexus has revealed their take on the car, but with a luxurious twist. The car has seen a new iteration after 14 years of it's initial launch, and has seen some very significant changes to it as well.
Compared to the previous generation, the car has undergone a slight weight loss as well. In this case however, "slight" means 200KG! The car is based on Toyota's GA-F platform, which is said to be 20% more rigid, and is a far stronger car as compared to it's predecessor.
The mammoth outgoing 5.7L V8 engine is replaced by a turbocharged 3.5L V6 engine producing 410HP/650NM. Also standard is a new 10-speed automatic, along with AWD. Features like Electronically Controlled Brake (ECB), and Electric Power Steering (EPS) are also included, and so are Active Height Control (AHC) system and Adaptive Variable Suspension (AVS) which help in increased traction and grip.
Vehicle ride height can also be adjusted in a more customisable way, with 3 available height positions available while idle. These are Normal, Hi1 and Hi2. This is available so as to let the driver be one with the car while going over any type of terrain, and have a smoother and comfortable ride over uneven terrain.
Massive 22-inch wheels have also been included, the largest in Lexus' lineup though 18 and 20 inch wheels are also available, all of which help in stabilising the car. The wheelbase also hits that sweet spot of 2850mm, which right from the first-generation LX600 has provided the car with a combination of performance and comfort as well. An incline angle of 44 degrees and a climb angle of 45 degrees are carried over from the previous generation as well.
The interior however, is the place with quite massive changes. A huge 12.3″ infotainment system adorns the center console, and a 7″ screen below it shows the climate control and displays multi-terrain options. These multi-terrain controls let the driver choose between 6 options- Auto, Dirt, Sand, Mud, Deep Snow and Rock, all of which enable easy driving over tough terrain.
The car has been given 2 new variants in the form of Ultra Luxury and F Sport. Ultra Luxury will have just 4 seats in total, with features like the rear seats reclining up to 48 degrees, and 43 inches of legroom! The F Sport on the other hand, is a sportier version of the car, and has specially tuned dampers, a new stabilizer and more, which increases responsiveness of the car.
We can make an assumption that the SUV will be making it's way to India, considering that the Land Cruiser isn't expected any time soon. Pricing will be around Rs 2.5 crore, but the car will reach dealers in the US by the first half of 2022. Let's wait for some official confirmation by Lexus!