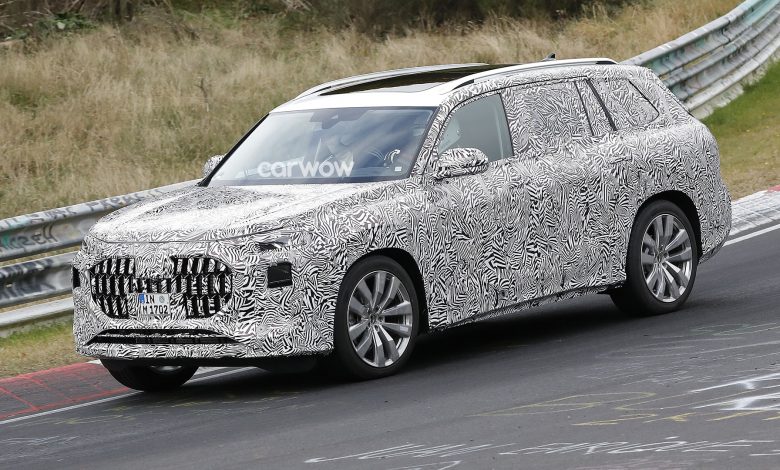 The Audi Q9, the biggest SUV ever by the brand was spotted being driven around the Nurburgring. The car was heavily camouflaged, but the folks at CarBuzz say that the car is 5062mm long, 1971mm wide and 1740mm high. The front grille was barely visible yet quite obviously MASSIVE. Similar were the two barely-visible but tiny headlights.
Spies said that the car looked a good bit longer than the Q7, so we can be certain that this car will be a very spacious one as well. A full fledged 3-row luxury SUV to give the first ever 3-row Range Rover some competition.
We can expect the car to have an interior similar to the Q8, but with a few more added features and gimmicks.
As it is basically a palace on wheels, we can expect it to have a very powerful engine. A 3.0L V6 is expected for the base variants, while the higher variants may even get a 4.0L V8 engine, with possible mild-hybrid technology.
Pricing is unknown, as is the launch date- though we can put an estimation for the launch date for sometime next year at the least. Being the biggest Audi SUV ever, we can also be certain it'll be expensive as well, so let's wait it out a bit longer to get some official info from Audi themselves! Competitors will likely be the BMW X7, Mercedes-Benz GLS and possibly even the new Range Rover SV!