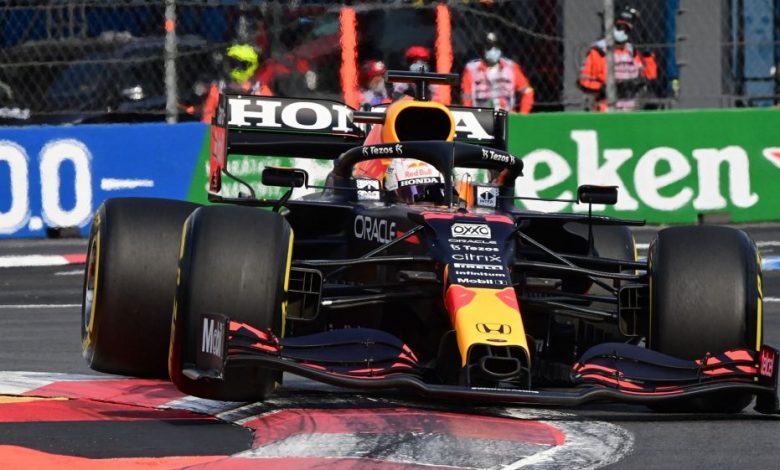 Friday (Saturday for us, watching from India!) running at Mexico was eventful, with FP1 starting off with a very dusty track and FP2 having not a lot more in terms of action . We did get some news in FP1, that Stroll and Tsunoda will be starting from the back of the grid on Sunday, after both decided to change their engines.
Lance and Yuki will need to charge from the back of the grid on Sunday 🚀#MexicoGP 🇲🇽 #F1 https://t.co/VAdOgBsMNJ

— Formula 1 (@F1) November 5, 2021
Let's get straight into the action of FP1 and FP2 without any further waiting!
FP1
FP1 started off with a very, very dusty track and drivers struggling for visibility. Most struggled to make much sense out of where to brake and where to push, and so for the initial moments the track was busy, but no real running took place. Then, at the last corner, both Charles and Checo went into the wall and damaged their rear wings, which temporarily brought out the VSC.
Not the return to Mexico that Charles and Checo would've hoped for 💥

They both recovered to set times in the top 10 in FP1 👏#MexicoGP 🇲🇽 #F1 pic.twitter.com/UTrW7IzPET

— Formula 1 (@F1) November 5, 2021
Once both went back into the garage to have their cars repaired, normal running resumed. Not a lot happened henceforth, with the occasional impeding by one driver, and the usual angry radio messages. It'll be a trend we see quite a bit over the weekend, given that there are only a few proper places to let another driver by without causing any issues here at the Autodromo Hermanos Rodriguez!
Lookin' mighty fine, @mexicogp 🏟👌#MexicoGP 🇲🇽 #F1 pic.twitter.com/3J909obpVE

— Formula 1 (@F1) November 5, 2021
Both Charles and Checo came back out on track, and everyone did their usual running. Not much happened hence, and the session ended with a Merc 1-2 with what seems to be a confident Valtteri on top, though Red Bull weren't far behind. Though this is a track which favours RB thanks to the high altitude and thin air, Merc could be stepping up their game in these sessions. Or it's just RB sandbagging a-la how Mercedes does at every event!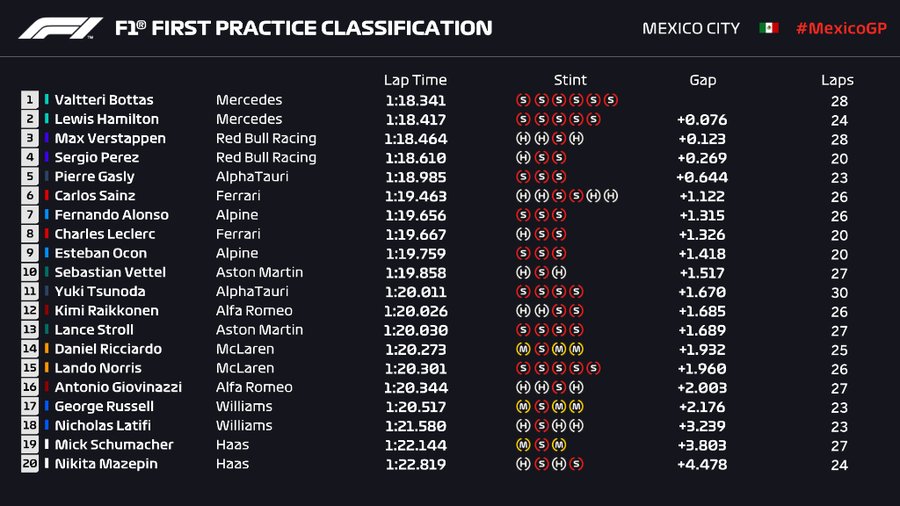 McLaren's lack of pace is slightly concering, though it's nothing to be alarmed about, they do usually show slow pace on Friday and pick it up by Saturday at the most. Pierre was fabulous as usual, and so were both Alpines. Aston and AlphaTauri's strategy for Stroll and Tsunoda respectively will be interesting to watch, given that both will be starting at the back of the grid. Anyhow, let's move onto FP2 now!
FP2
FP2 was quite modest, with not much in terms of action just like FP1. The session started without the dust cloud that we saw in FP1, though the traffic still carried on! There was a big queue at the stadium section at the start of the session, as all the cars piled up together to start their laps at what all seemed to be the same time!
How much traffic?! 😵 #MexicoGP 🇲🇽 #F1 pic.twitter.com/Q7h0lkMc34

— Formula 1 (@F1) November 5, 2021
Both Merc cars locked up massively at Turn 1, flat-spotting their tyres in the process. Further back, both Ricciardo and Russell suffered with their gearboxes. Both had their sessions end then and there, and sat out the rest of the day's running.
Gearbox problems for George Russell 🙁

The Williams driver has returned to the pits for running repairs ⚙️#MexicoGP 🇲🇽 #F1 pic.twitter.com/1cMuVpuViR

— Formula 1 (@F1) November 5, 2021
Nothing else happened in the session of note, apart from Seb driving into the McLaren garage, and Latifi almost binning it at the last corner. The session ended with Max having a comfortable lead over the next car, which shows that he felt more comfortable with the car in the second session than he did in the first session!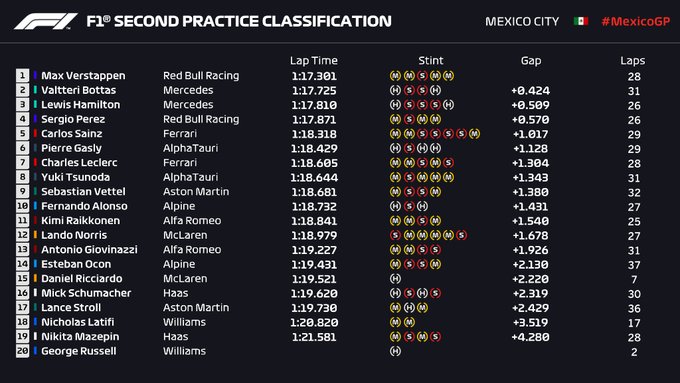 Everyone's pace was in a more sensible place this session, though McLaren still seem to lack the pace a bit. Both Mercs cut ahead of Perez, which will be an obvious concern for the Austrian team! Ferrari and AlphaTauri showed some great pace, with Yuki showing some stellar pace this weekend!
With that, Friday (early Saturday morning for us in India) practice ends, and now we await Saturday's action! These race weekends really mess up our sleep schedule, and all I wish for is an exciting qualifying and race on Saturday and Sunday respectively for us to enjoy! Let's wait for tomorrow, I'm quite interested in seeing how Quali pans out! (No opinions formed by me yet, as though RB look strong, Merc could still pull something out of the bag!)