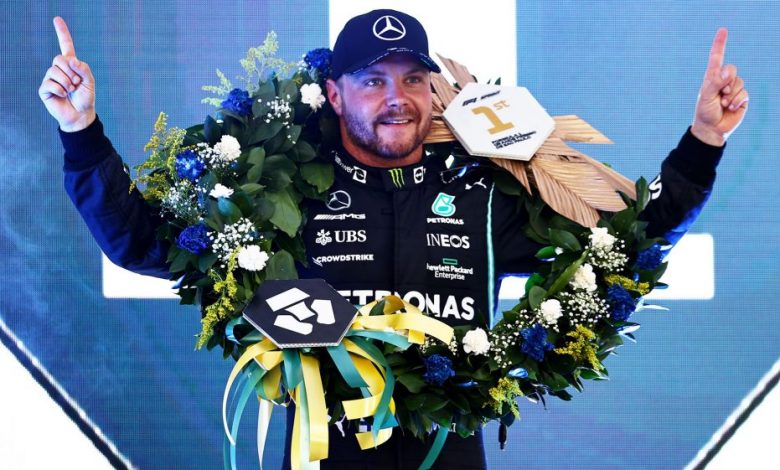 Saturday saw a very uneventful FP2, and only the third iteration of the Sprint Qualifying format being used in F1's history. Let's get straight into the events of Saturday at Interlagos!
FP2
FP2 was very uneventful, with nothing in terms of on-track action or drama at all. Sure, there was the odd lock-up, but there was absolutely nothing in terms of drama. Red Bull had decent pace, though it was a surprise result in P1, as Alonso in the Alpine went fastest of all, by over 8 tenths of a second, leading an F1 session for the first time since 2017!
Topped a session for the first time since 2017, you say? 😉#BrazilGP 🇧🇷 #F1 pic.twitter.com/qNa3xjDMUE

— Formula 1 (@F1) November 13, 2021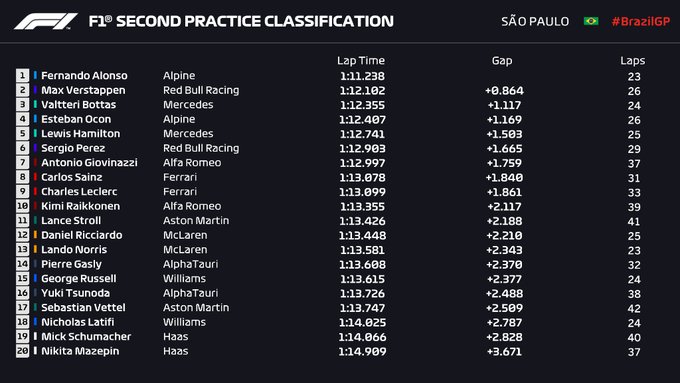 Most were doing race runs, so the session was quite uneventful and nothing of note happened as such. We cannot really ascertain much from this session, then apart from the fact that both Alpine cars looked quite rapid! Now, onto Sprint Qualifying we go!
Sprint Qualifying
Oh boy, was Sprint Qualifying fun!
Right from the start, it was apparent that all Valtteri had to do today was ensure Max didn't finish in P1. He was fitted with the soft tyres for that exact purpose, while Max was on the mediums which gave him a bit less grip. The 5 lights went out, and immediately Bottas shot into the lead. Sainz made a lightning start as well, rocketing up into P2 by the end of the first sector- a very dismal start for the Red Bulls, who went from P1 and P3 to P3 and P4 for Max and Checo respectively.
LIGHTS OUT IN SAO PAULO!

Bottas takes the lead into Turn 1! And Sainz is up to second, with Verstappen third#BrazilGP 🇧🇷 #F1Sprint pic.twitter.com/KeG347oM18

— Formula 1 (@F1) November 13, 2021
Max set about making amends, and got straight onto Carlos. On just the second lap, both Alfa cars collided, with Antonio hitting Kimi and sending the Finn to the back for what will be his last Brazilian GP. Lap 4 came about, and Max powered past Sainz to take P2, and started his pursuit of Bottas.
LAP 4/24

Verstappen powers past Sainz to reclaim second 💪#BrazilGP 🇧🇷 #F1Sprint pic.twitter.com/bPdqSs1Jp9

— Formula 1 (@F1) November 13, 2021
Just behind him, Checo made various attempts to pass Sainz, and some of them looked like they'd end in tears. By far the biggest mover in the field was Lewis though, and with his fresh new engine he soared past almost everyone, and in just 11 laps he'd made up 9 places!
LAP 8/24

Hamilton is up to eleventh after passing Alonso 👏#BrazilGP 🇧🇷 #F1Sprint pic.twitter.com/egjlavA3pG

— Formula 1 (@F1) November 13, 2021
Lando made his way past Leclerc after a small battle, and set about chasing Checo, who was still unable to pass Sainz. Lewis moved into the top 10 after passing Ricciardo, and his pace was uncanny. At the front of the pack, Max was still chasing Valtteri, though to no avail as even with DRS he couldn't make a valid lunge on the Finn. Lewis was, however making his way up the field with absolute ease, passing 3 cars in 3 consecutive laps!
LAP 18/24

Started P20, now P7 🔥

Hamilton dispatches Vettel, Ocon and Gasly on consecutive laps#BrazilGP 🇧🇷 #F1Sprint pic.twitter.com/KrEvbeYORY

— Formula 1 (@F1) November 13, 2021
Lewis then went and passed Leclerc, and overtook Lando on the very last lap with a brilliant lunge down the inside at Turn 1. Victory, or rather pole position went to Valtteri after a stupendous drive by the Finn- he made the soft tyres last 24 laps without losing pace! Max finished P2 with the fastest lap, and Sainz did manage to fend off Checo to take P3 in the end.
Your polesitter for Sunday's race in Sao Paulo 👌@ValtteriBottas defended hard for 24 laps to win the Sprint!#BrazilGP 🇧🇷 #F1Sprint pic.twitter.com/fFCi2iK2JB

— Formula 1 (@F1) November 13, 2021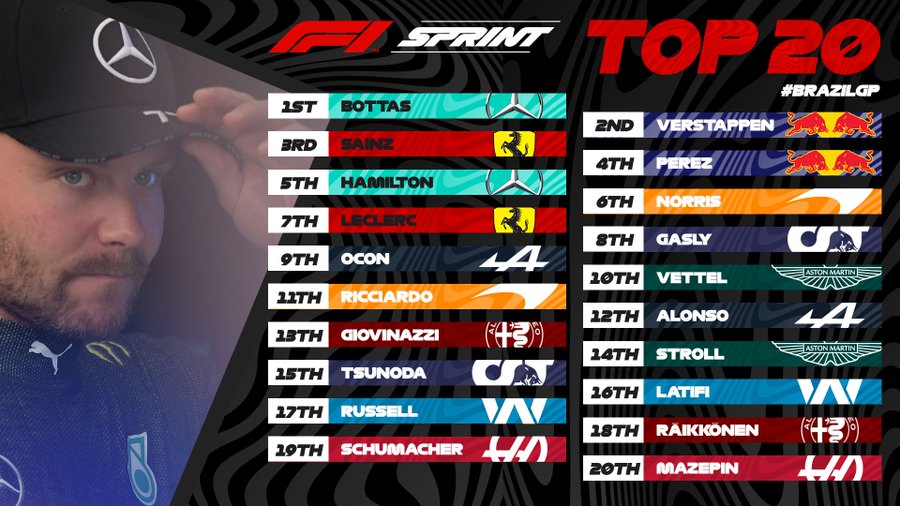 There were a few clear winners and losers from this, and I'll list them out as well.
Winners: A fantastic drive by Valtteri and one of the best recovery drives by Lewis from dead last- what else would Mercedes need? Lewis was phenomenal, and get this- he drove so well he finished just a second behind Checo Perez! Sainz cannot be ignored either, as he managed to fend off Perez till the end in a slower car, and bagged P3 as tomorrow's starting position- a fantastic effort.
Losers: Red Bull lost out massively. Max lost out on what could end up being a very crucial point thanks to a gear sync issue at the start, while Perez just didn't have the pace today to get past the slower car of Sainz. Ricciardo and Raikkonen also both had difficult races, the Aussie unable to do much while Kimi's contact sent him to the back, relegating him to a P18 start for tomorrow.
It was a great Sprint Qualifying, and I just cannot wait for tomorrow's race! Can Valtteri hold on and take the win? Can Max make use of the inside line to his advantage? How many places will Lewis be able to make up? Could Sainz give us a surprise tomorrow? Let's wait a bit longer, and find out for ourselves!