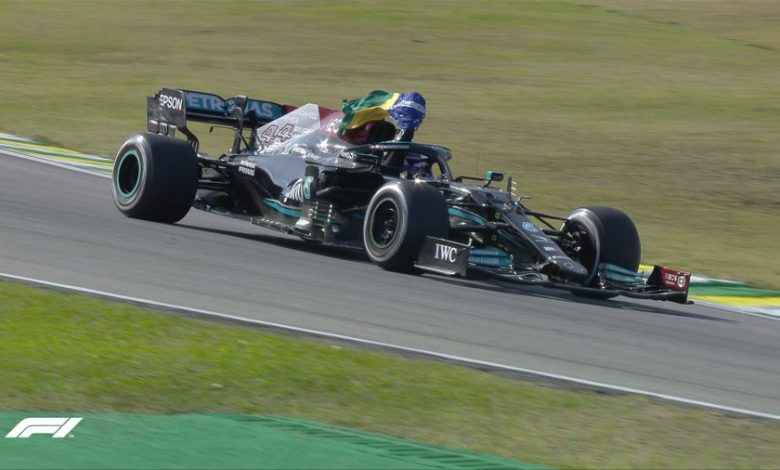 Oh Interlagos, how we F1 fans adore you!
The Sao Paulo Grand Prix was a fantastic one, for it had drama, crashes, Safety Cars and a brilliant win for the reigning world champion Lewis Hamilton. Even though we may be tired of his continuous wins and sheer domination, we absolutely cannot take away the fact that this was one of his greatest wins. Ever. Infact, for me personally this is the finest drive by Lewis that I've had the pleasure of watching. Here's a brief run-down of the race!
After the lights went out, not even 5 seconds had passed and Lando had a puncture after contact with ex-McLaren teammate Sainz. Max shot into the lead after overtaking Valtteri down the inside, and Turn 4 after Valtteri overshot his braking point, Perez moved up into P2, giving us a Red Bull 1-2 after just the first sector! Lewis was also immediately on the charge, making up 4 places in one single lap!
LAP 1/71

Puncture for Lando Norris

Max Verstappen takes P1

Lewis Hamilton up to P6 from P10#BrazilGP 🇧🇷 #F1 pic.twitter.com/OaiMtWOXuP

— Formula 1 (@F1) November 14, 2021
On Lap 4, Lewis was let by Valtteri in a pre-planned move, and with that he was up to P3! On Lap 6, Tsunoda and Stroll made contact, with the AlphaTauri driver getting front wing damage, a 10-second penalty, and 2 penalty points on his superlicence for the contact. Ouch!
LAP 6/71 – SAFETY CAR

We're behind the Safety Car, with debris being cleared from the track after Yuki Tsunoda loses part of his front wing#BrazilGP 🇧🇷 #F1 pic.twitter.com/WPX31JtGtg

— Formula 1 (@F1) November 14, 2021
After 4 laps, the Safety car was back in, and racing resumed. Mick made contact with Kimi and had to pit to change his front wing, bringing out a brief VSC. Lewis then started to make up even more ground, and overtook Perez with a slick overtake, assisted by a touch of DRS. Magnificent!
LAP 18/71

After briefly swapping positions, Lewis Hamilton passes Sergio Perez to take P2 – and makes it stick

He's now off in pursuit of title rival Max Verstappen

We told you this might be pretty good, didn't we? 😉#BrazilGP 🇧🇷 #F1 pic.twitter.com/cN6xGKjh7Y

— Formula 1 (@F1) November 14, 2021
Lewis was called in on Lap 26, and in response Red Bull called in Max on Lap 28. Those 2 laps had cost Max, the gap which was once 3.8 seconds halved to about 1.9 seconds. However, after just 12 laps, Red Bull called Max in for a fresh set of Hard tyres, and then 3 laps later Lewis followed Max into the pits.
LAP 43/71

Hamilton pits for his second stop – and has tyres that are two laps fresher than Verstappen's

Will it count towards the end of the race? Max currently 2.5s ahead…#BrazilGP 🇧🇷 #F1 pic.twitter.com/dGKeCMC1jX

— Formula 1 (@F1) November 14, 2021
As the lap counter went on, the gap between Lewis and Max just kept going down. On Lap 48, I believe that I speak for the entire F1 community when I say that that move at Turn 4 had us all a little woozy! Max and Lewis were battling incredibly hard, and went off-track in doing so. There was no investigation deemed necessary by the stewards in the end though. More on that later.
LAP 48/71

;kljhfdjksahfljkahdfaljkdsfhlajksdhf#BrazilGP 🇧🇷 #F1 pic.twitter.com/JEidAt74Xq

— Formula 1 (@F1) November 14, 2021
On Lap 59, Lewis did get past Max after trying so very hard for so many laps. Once he was past, he just soared into the distance, and built up a gap of almost 2.5 seconds in just about 2 laps! Valtteri was given a "pep talk" on the radio by team boss Toto Wolff, which effectively told him to get on with it, as the team sensed a possible 1-2 finish!
LAP 62/71

BOT RADIO: "Valtteri – go get him!"

Toto Wolff sensing that Bottas (P3) might be able to catch Max Verstappen (P2) as we enter the final ten laps…#BrazilGP 🇧🇷 #F1 pic.twitter.com/sznOrv9NML

— Formula 1 (@F1) November 14, 2021
As the laps passed, Lewis just kept on increasing his lead, eventually getting it to over 10 seconds at the fall of the flag! Lewis had well and truly done it- "Speed King" with P1 in Qualifying, recovering beautifully after getting disqualified prior to the Sprint Qualifying and going from P20 to P5, and then taking a 5-place grid drop and starting P10, only to come back to win. 25 overtakes in the Sprint and the race. Take that in.
Even his most vocal critics have got to agree with Felipe Massa's post-race comments to Lewis, that he wasn't just Driver of the Day, but Driver of the weekend! Max finished a distant P2, while Valtteri finished just under 4 seconds behind Max in the end.
FROM 10TH TO FIRST, LEWIS HAMILTON WINS!! 🤩

What a race from the incredible @LewisHamilton, what a race 👏

He brings down the gap to Verstappen in the title fight to just 14 points!!! 🤯#BrazilGP 🇧🇷 #F1 pic.twitter.com/0Ct4xgGG2l

— Formula 1 (@F1) November 14, 2021
Let's now look at each team's race in detail!
McLaren
The Papaya team had a very difficult race, with Lando suffering a puncture on the very first lap after contact with Sainz, and Daniel suffering power loss late into the race while running in the points. Lando finished in P10, which meant that the team took away 1 point from what could have been a very promising weekend.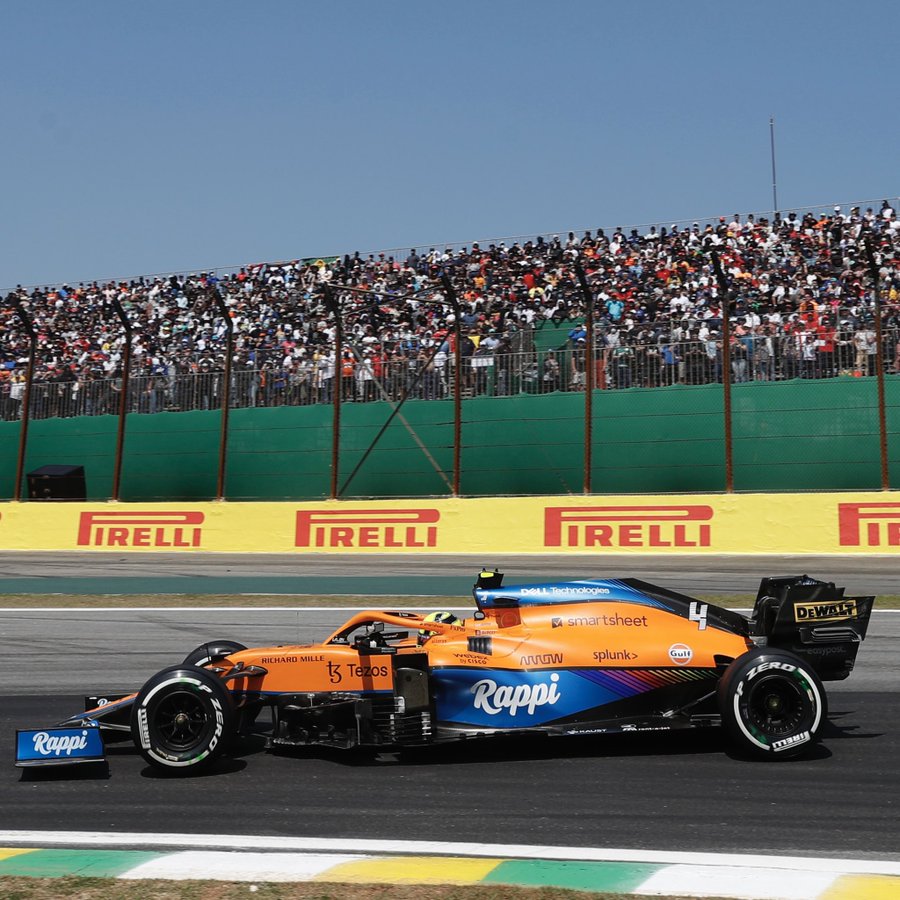 In the past 3 races, namely USA, Mexico and now Brazil, McLaren seem to have fallen a bit behind Ferrari. They are now 31.5 points behind Ferrari, and will certainly be looking to regain some ground on tracks like Qatar and Saudi Arabia, though in this sport we never know!
Alpine
Their performance would likely go ignored, but a double points finish was just what Alpine needed, and now they are level on points with AlphaTauri on 112 points! Esteban finished ahead of Fernando after a weird last-lap swap between both cars.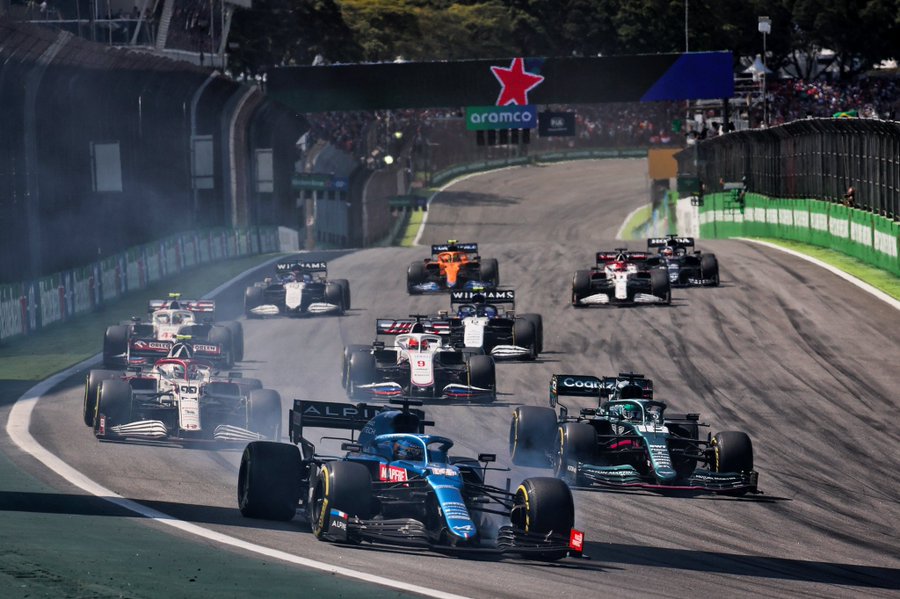 Alpine need to just keep this run of form going on, and they'll be able to move ahead of AlphaTauri in the standings and bag a crucial P5, though they need to be slightly faster to do so! They had a double points finish, but were still far behind close competitor Gasly.
Red Bull
P1 and P3 at the start, then a 1-2 in the 1st lap but finishing P2 and P4 with the fastest lap at the finish isn't how Red Bull saw this race pan out. Max did try his best, though it just wasn't enough to stop a possessed Lewis, and he finished a distant P2 after leading most of the race, almost falling into Bottas' clutches towards the end!
Max's over ambitious move luckily did not result in any penalties but I was glad to see him not behave like an amateur later on. Very unexpected from a driver who needs a lot of space if he isn't winning. Lewis' experience definitely got the better of him by forcing him wide and Lewis gaining a better slingshot to take the place at the back straight. Impressive racing by both.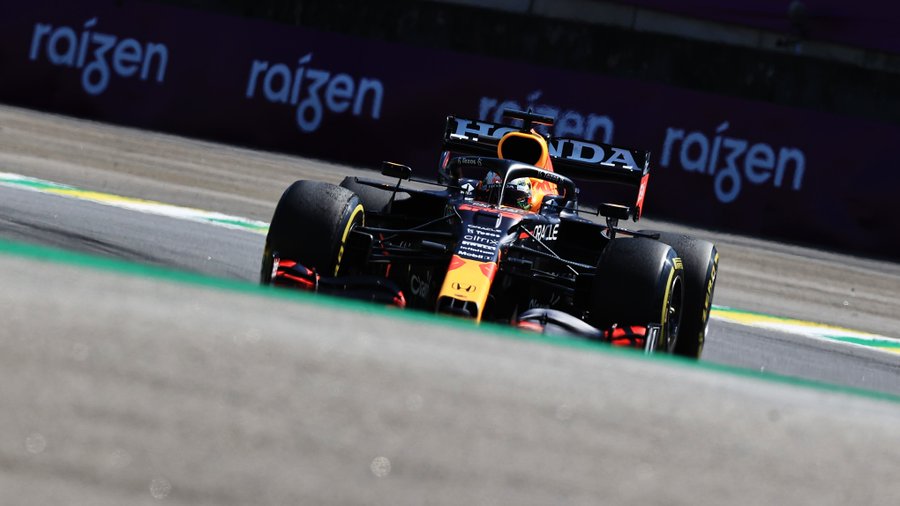 Sergio looked good for a P3 finish until a suspiciously well-timed VSC to clear some debris ensured Bottas would steal P3, leaving the Mexican in P4. He did nick the fastest lap off Lewis in the end, though Red Bull will be very disappointed with how the race panned out for them. Max's lead in the championship and Red Bull's gap to Mercedes both have gone in the wrong way, and they'll be hoping Qatar goes better for them!
Alfa Romeo
Both Alfa cars were invisible for most of the race, with Kimi going from pitlane to P12, while Antonio finished P14. Kimi had a moment when he made contact with Mick, though was lucky to get away without any bodywork damage. Antonio just wasn't in the mix at all, finishing a lowly 14th.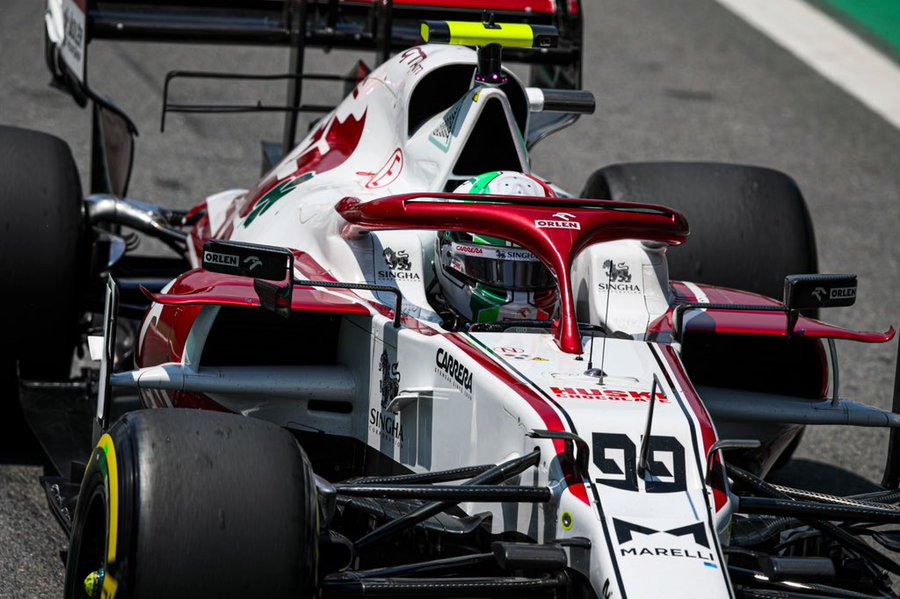 It all just seems like a fading possibility now for Alfa to beat Williams in the constructors' championship, and it looks like Antonio's time in F1 might also be getting over soon. They need to have strong weekends in Qatar, Saudi and Abu Dhabi, or their chance to clinch P8 is all but lost!
Ferrari
Ferrari had a great weekend. P5 and P6 was the best they could achieve, and they did exactly that! Both Charles and Carlos finished P5 and P6 respectively and displayed strong pace, and they were also the last cars to not be lapped by the leader. Overall, a very strong weekend for the team from Maranello!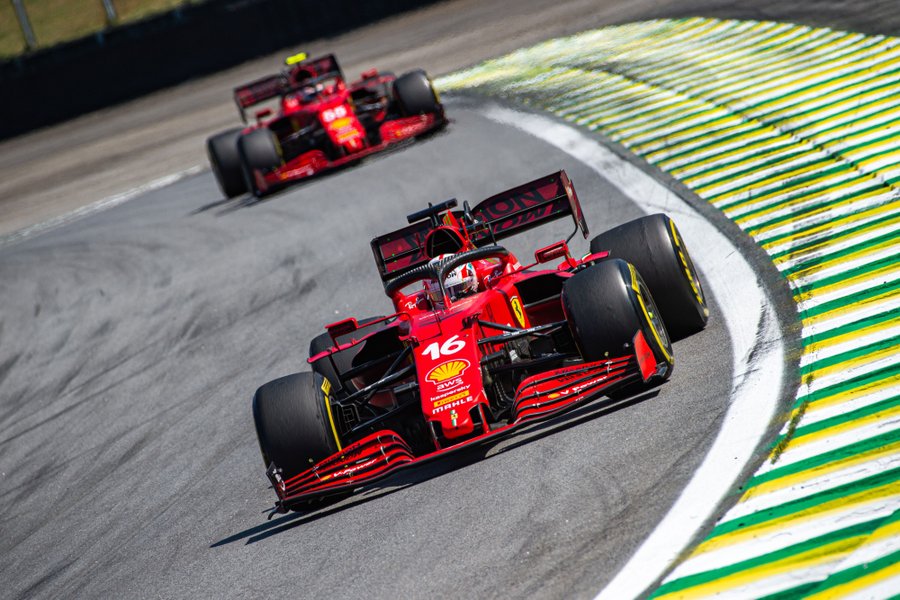 This result, coupled with McLaren's singular point takeaway from the weekend sees Ferrari sit in a slightly more comfortable P3, 31.5 points ahead of McLaren. They do need to push and make efforts to retain this P3 till the end, though we never really know!
AlphaTauri
It was a mixed bag for AlphaTauri- Gasly got great points with P7, while Yuki languished in P15 after his race was annihilated by the stewards with a series of what in my opinion were likely deserved but way too harsh penalties. They entered the race level on points with Alpine, and they leave level yet again!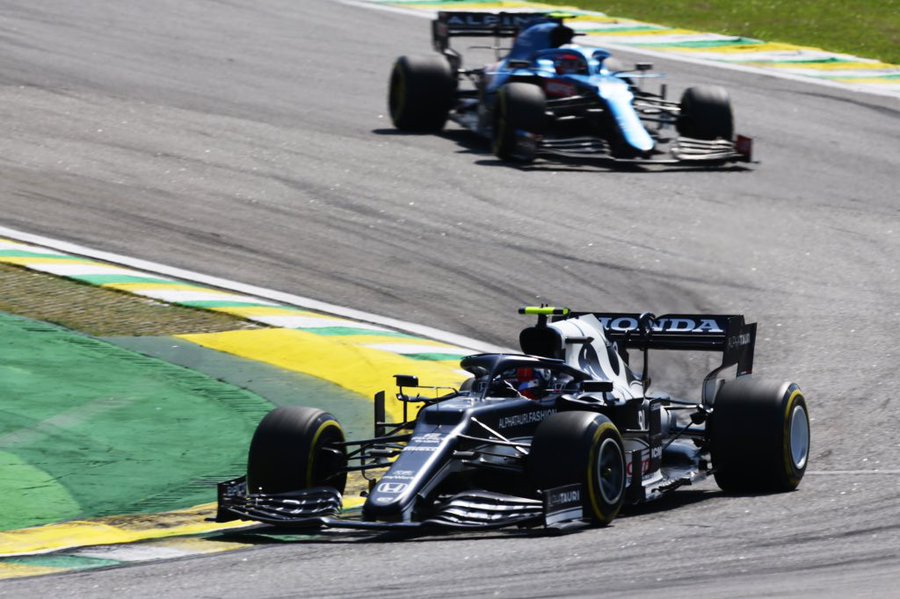 It's no secret that Yuki's performances haven't been up to par. Even in his rookie season, he's just scored 20 points while teammate Gasly has scored a whopping 92. Couple that with Yuki's tendency to find himself around pieces of what used to be his car, AlphaTauri have a real shot at P5, provided Yuki steps up in these final few races. Pierre is absolutely faultless though, and is one of the star performers of the season!
Williams
Williams didn't have a great day, with George P15 and Nicholas P17. Strategy for Nicholas was compromised, something which he was very vocal about on the radio as well. George just had a very difficult weekend overall, and couldn't do much.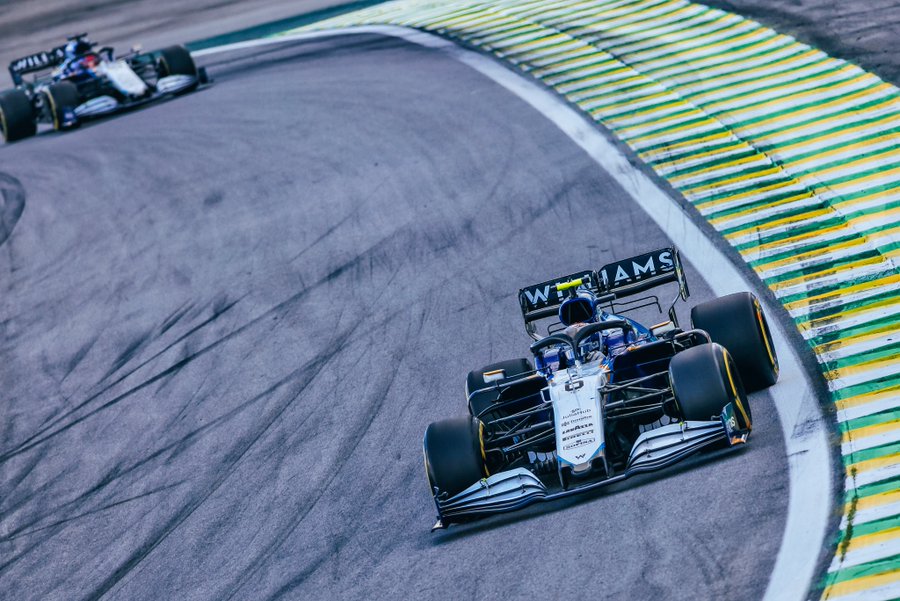 It's not all over yet for Williams- their efforts in the middle part of the season will ensure that their haul of 23 points will likely be good enough to stay ahead of Alfa by the end of the season, though it was a disappointing race for the team here.
Aston Martin
It wasn't a great race for the British team, with Seb finishing just outside the points with P11, while Lance had to retire. Though it seemed on certain occasions that Seb could have a chance of finishing in the points, it just wasn't meant to be, while for Lance the damage caused thanks to contact with Yuki was far too much to continue on.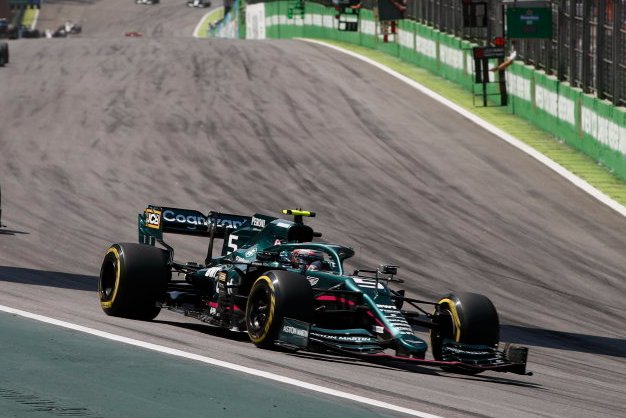 In hindsight, 2021 has been quite a disaster for the team from Silverstone. They've scored just 67 points, and sit a distant 7th in the standings- and that's where they'll probably finish as well. Possibly the next few races could have something in store, though I feel like Aston's charge might end with a disappointing 7th place finish this year.
Mercedes
Let me just say- wow. Lewis had so many setbacks, was disqualified from qualifying and had a grid drop and started 10th, and still won the race by a distance. If that doesn't make one wonder the sheer speed Lewis has, then I don't know what can. For me personally, it was Lewis' best drive that I've had the pleasure of witnessing! Hamilton drove like a man possessed.
At the rate of his overtakes, he could've lapped Verstappen if the race was 10 laps or so longer. He has done it before and he wanted to remind us. He went from P19 to P2 in around 22 laps at Istanbul in his junior career so, this was a normal day at work for him.
Moreover, the over-ambitious defence from Max definitely deserved something as even Lewis' most vocal critic Martin Brundle felt Max was lucky to not be penalised. To sum up the state of things for Lewis, he was fined €5000 for a loose seat belt after the race. Hmm… wonder how they feel about Charles forgetting to put on the seatbelt that one time.
Valtteri was set for a P4 finish until a very suspiciously-timed VSC to clear some debris helped him jump Checo and take P3, where he stayed till the end. Mercedes look strong, and provided they carry on this speed into the next few rounds, they could clinch the title without much issue!
Haas
For once, Haas looked alright, though were still 17th and 18th with Nikita and Mick respectively. I use the term "alright" in a casual sense, as they were still bad, though not as bad as they usually have been all season.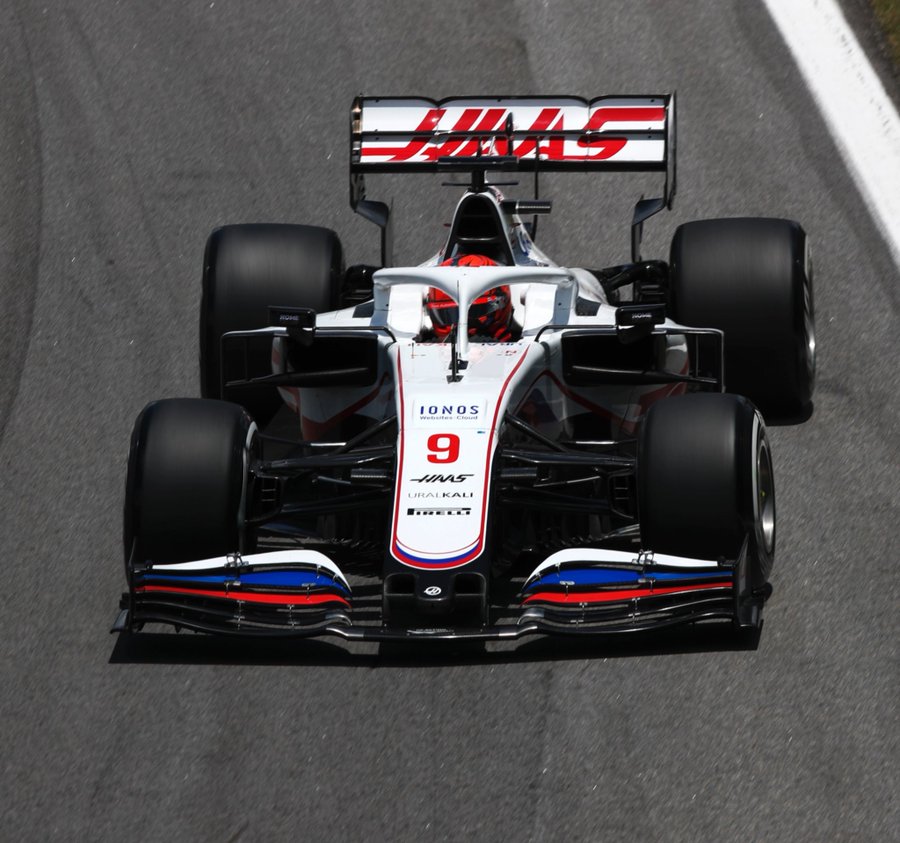 Mick's race was hampered by contact with Kimi, while Nikita naturally slipped down the order. It looks like it'll be curtains for this year then, with the chance of them scoring points this year more unlikely than Hakkinen ending his sabbatical and returning to F1!
Next up will be Qatar, a track where F1 has never raced. It's just a week away, so not long to wait- we'll surely see some surprises there! I'm excited for the track and the possible racing there as well. Here's some info about the track to get you ready before next week's race!