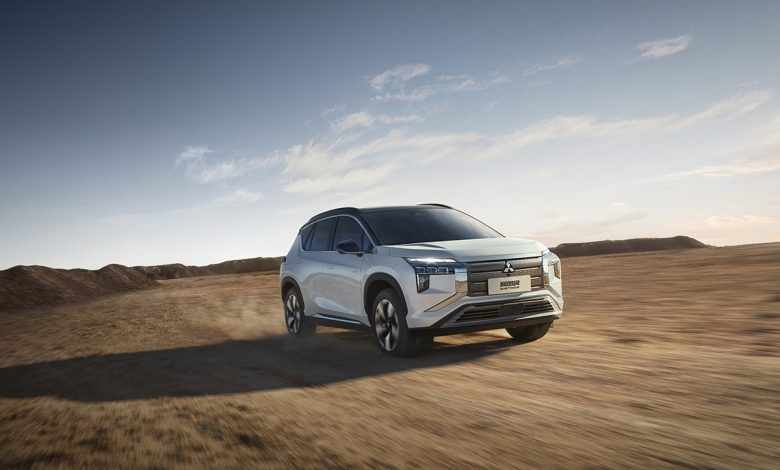 At the Guangzhou Auto Show, Mitsubishi has revealed the new Airtrek EV, which is a joint collaboration between Mitsubishi and Guangzhou Automobile Group. The production-spec model was unveiled at the Guangzhou Auto Show yesterday.
The car shares many design cues with the existing GAC Aion V electric SUV, which is apparent thanks to the car having the same height, wheelbase and width as the Aion, with the only exception being that the Airtrek is slightly longer than the Aion.
The car is strong design-wise, with a big front fascia and sharp headlights, while the dual-tone side profile with the alloys looks quite good as well. Look carefully and you'll see that the door handles are retractable pop-out door handles, which is a great novelty to have. There is also a sunroof available , the grille is also quite large and has plastic body cladding and stacked reflectors on the grille as well.
The interior is surprising, as the large touchscreen takes over most of the traditional dashboard features. Voice recognition and AR for mapping are built into the system, and the cabin is quite spacious as well. Soon there might come a day where cars have no buttons at all on the dashboard- this sure seems to be going in that direction!
The battery pack is quite powerful and long-lasting, and the 69.9 kWh battery has a massive range of 520KM under CLTC3 and produces 181HP. The car will go on sale in China sometime next year, and will be priced at about $33,000-$37,500 as an approximate. It'll likely remain a China-only prospect, though it's interesting to see the direction in which carmakers are heading in the next few years!