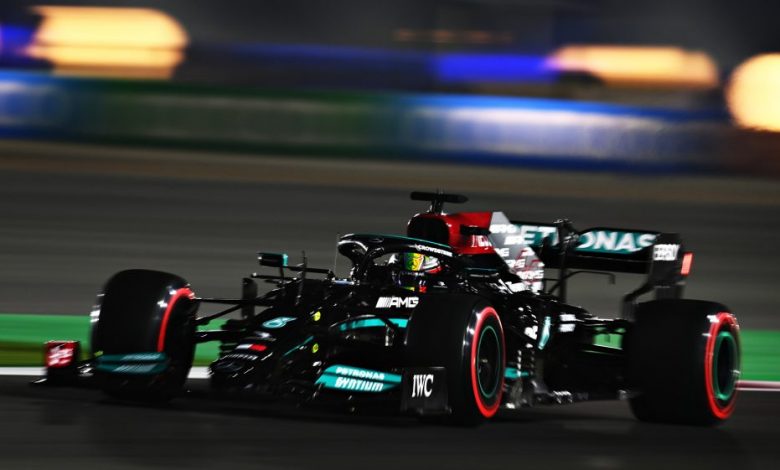 Saturday at Qatar was quite eventful, and we saw spins, shocking qualifying results, Lewis' 102nd pole and a dramatic end to Qualifying! Let's wait no further, and dive straight into the events of today.
FP3
Not more than 4 minutes into the session, Mazepin's car ground to a halt at pit exit. It was terrible news for the Russian, who had only completed 16 laps across all 3 practice sessions combined, and this meant that he wouldn't be taking any further part in the session. A red flag was thrown out to recover his car.
FP3 was over before it began for Nikita Mazepin 😫#QatarGP 🇶🇦 #F1 pic.twitter.com/uycKPyvgjk

— Formula 1 (@F1) November 20, 2021
Once his car was recovered, the session resumed. Not many cars were out on track in the initial moments, and they slowly made their way out onto the track. Lewis set the pace, though the sector times were still split between Red Bull and Merc. Leclerc then had a moment and a spin, flat-spotting his tyres.
Charles Leclerc exploring the limits around Losail 😮#QatarGP 🇶🇦 #F1 pic.twitter.com/e08ICLcbQj

— Formula 1 (@F1) November 20, 2021
Not much happened hence, apart from a small spin for Pierre. The session ended with Valtteri on top, followed closely by Lewis to complete a Mercedes 1-2. Max was third, though a bit off the pace, 3 and a half tenths behind. Both Alpines and Gasly had good pace as well, while McLaren seemed to be slightly on the back foot as well.
Qualifying
Q1
Q1 began in dusk conditions, and the cars set off. Lewis set the initial pace as per usual, though it was very close between the top few! Traffic was yet again a major factor, and Lando nearly had his front wing swiped off by an Alpine at the final turn. Leclerc had a scruffy first lap, though did make it out of the bottom 5 in the end. The usuak few suspects were eliminated, though the most surprising fact was that Mazepin was almost 2.5 seconds off Mick's time! It is all down to his lack of running, though to the average viewer it won't be all that clear upon seeing just the timings.
❌ ELIMINATED IN Q1 ❌

Raikkonen
Latifi
Giovinazzi
Schumacher (📸)
Mazepin #QatarGP 🇶🇦 #F1 pic.twitter.com/T28ohUacCJ

— Formula 1 (@F1) November 20, 2021
Q2
Q2 was possibly the biggest shocker of the weekend, with some big names being eliminated. Charles struggled with pace on the mediums, and couldn't find the 9 tenths he was missing to be in the safe zone. It was obvious that Ricciardo, Perez and Leclerc's time on the mediums wouldn't see them through to Q3, so they all went out on the Soft tyre. What wasn't expected though, was that none of these 3 favoured Q3 runners made it into Q3! The star of this session was Sainz, who only used the Mediums and still got through into Q3. Leclerc was understandably angry, while Perez's result will see Marko's temper reach all-time highs- his Quali performances throughout the season haven't been great at all.
❌ ELIMINATED IN Q2 ❌

Perez (📸)
Stroll
Leclerc
Ricciardo
Russell #QatarGP 🇶🇦 #F1 pic.twitter.com/ZPouWN6OU5

— Formula 1 (@F1) November 20, 2021
Q3
Right off the bat, it was clear that Lewis was in a very, very fast car. He set the provisional pole position, with Max not far behind. At this point, the naive few of us who thought that this would be a closely-fought battle for pole between Max and Lewis, we were in store for something truly remarkable.
Lewis Hamilton puts it on provisional pole with a 1:21.262 ⏱

Verstappen joins him in P2 #QatarGP 🇶🇦 #F1 pic.twitter.com/7Eacszcl8X

— Formula 1 (@F1) November 20, 2021
On their second runs, Lewis was the first car out on track. He didn't have to do much, but guess what? He did above and beyond, and improved his laptime by nearly 4 tenths! Then, while we waited for the others to complete their laps, we saw a warning for Yellow flags in Sector 3- Gasly had a puncture after losing parts of his front wing on the kerbing and had stopped on the main straight. As Lewis was the first one out on track, he escaped scot-free, and took pole by a monster 4 and a half tenths to the next car of Max!
Pole number 102 for @LewisHamilton 👊

In spectacular fashion too 🙌#QatarGP 🇶🇦 #F1 pic.twitter.com/hUW9jOc4V6

— Formula 1 (@F1) November 20, 2021
Fernando had a stunner of a lap, and lines up P5 tomorrow, just behind Gasly. Lando pipped the quick Sainz in the end, and it was overall a great showing for AlphaTauri as well- Yuki might be 4 places back from Pierre, but he was just 2 tenths behind in the end, which shows some promise. Max wasn't all too pleased with P2, while Valtteri lined up a bit further back in P3.
In Conclusion
Qualifying was a bunch of fun, and we saw unexpected results for some in both good and bad ways, while Lewis yet again stunned the paddock with his sheer speed. It will be a tall mountain for Red Bull from here on- Perez will need to claw his way back up the field, while realistically only strategy can get Max ahead of Lewis in the race! Let's wait for tomorrow's inaugural Qatar GP- it will surely be one to watch!