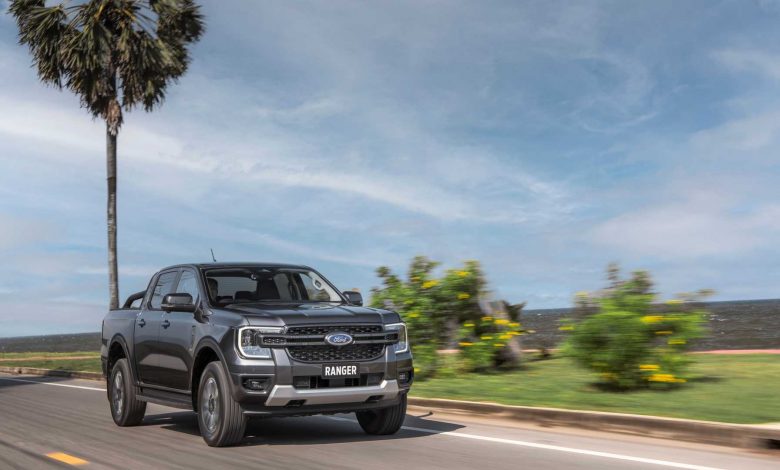 The new global Ford Ranger is here, and it has quite a few changes on the exterior. The car now looks beefier and bulkier, which is only a good thing for a pickup! This will be the global model, and production is expected to start from 2022 onwards.
The exterior has seen some of the biggest changes. A 50mm larger wheelbase and track, built-in side steps and a step on the rear to allow easy access to the bed of the pickup. The bed also sees the addition of more tie-down points, 360 degree camera and a smart tailgate as well. There will be two 4WD variants available, which are either an on-the-fly shifting 4WD system or a permanent 4WD system.
Of course, the interior has been given the biggest upheaval. There is an option between a 10.1″ or a 12″ touchscreen with Ford's SYNC4 infotainment system, and it's expected to get OTA updates over time as well. The instrument cluster has also been made all-digital. There is also all-round lighting and matrix LED lights, which gives owners the prospect of controlling the lighting from their smartphone.
The engine is, for a lack of better words, chunky! Fitted into the top-line model of the car is a 3.0L V6 turbo-diesel. Specifications about the power output haven't been revealed, though. There will also be two smaller 4-cylinder diesel engines with a single or twin-turbo setup. The transmission on offer will be a 10-speed automatic or a 6-speed manual.
Assembly for the car will start sometime next year in Ford's Thailand and South Africa production facilities. Orders for the car in Europe won't be available till the end of 2022, and deliveries will only commence in 2023. There's not a lot more which has been revealed, and a US launch would be announced at a future date. It's an exciting pickup, this one!