Motorsport
News
Hamilton heads both Friday practice sessions at the brand-new Jeddah Corniche Circuit! FP1 and FP2 report from Saudi Arabia
FP1 was not too eventful as the drivers took it a bit cautiously, while FP2 saw drivers pushing the limits, get impeded and a huge crash for Leclerc.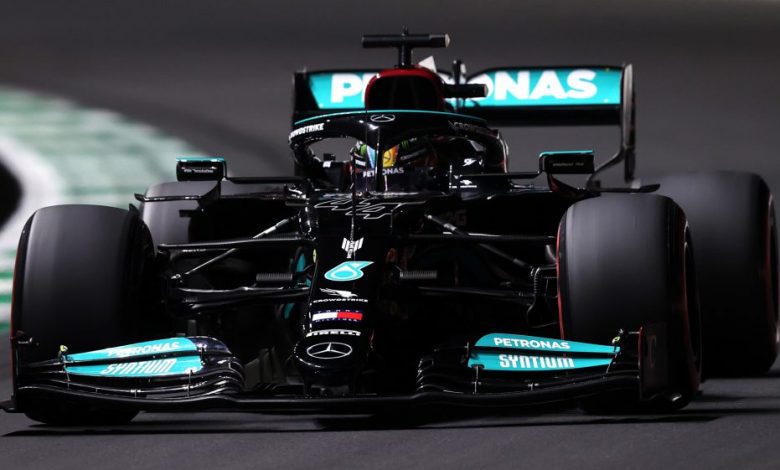 Friday evening at Jeddah played host to the F1 circus, with the brand new Jeddah Corniche Circuit being the venue for the same. It is a brand new track, quite narrow in some places but over 6KM in length, it is the longest and fastest street circuit on the current F1 calendar! This lap of the circuit would give a good idea of how fast and flowy the track really is.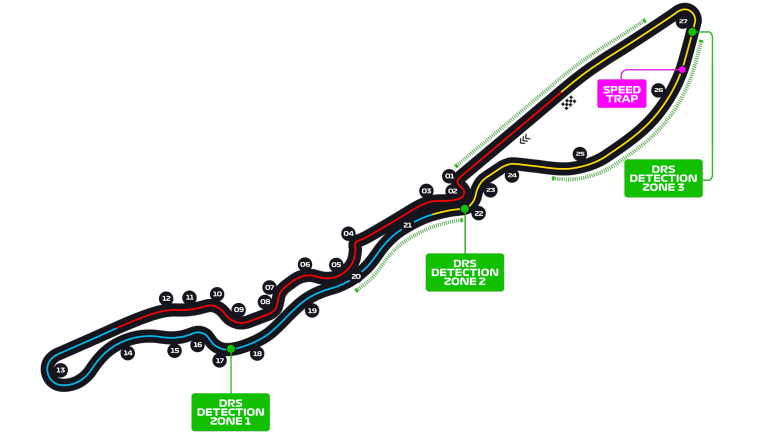 The long straights are overwhelmingly in favour of the Mercedes car on paper, though considering how this season has played out we absolutely cannot say for sure who will come out on top! FP1 was very close between Max and the two Mercs, while FP2 was much more eventful, as the drivers pushed hard to find the limits- Leclerc pushed a bit too hard! The paddock raced in memory of Frank Williams, who sadly passed away a few days ago.
This weekend, the whole paddock races for Sir Frank ❤️#F1 pic.twitter.com/mSECUi2Grk

— Formula 1 (@F1) December 3, 2021
Let's not wait any more, and get straight into the events of Friday practice!
FP1
FP1 began with a bit of drama in the pitlane when Tsunoda was almost released into the path of the Alpine of Ocon, though thankfully resulted in no crashes or cars damaged. The track was very busy in the initial few minutes of FP1; everyone wanted to test the limits and get a feel for the track!
Here we go… FP1 in Jeddah is under way!#SaudiArabianGP 🇸🇦 #F1 pic.twitter.com/KPc7lR9ZCI

— Formula 1 (@F1) December 3, 2021
Max was out on the Hard tyres, and was well and truly on it. For the first half of FP1 he was quickest despite other drivers setting their laptimes on the quicker soft tyres, indicating that the Red Bull could possibly have more in the bag than we expected for this race.
Max just keeps getting faster

As confidence and track knowledge increases, the lap times tumble! Max improves his P1 time to a 1:30.014 🔥#SaudiArabianGP 🇸🇦 #F1 pic.twitter.com/06KaqgjsEn

— Formula 1 (@F1) December 3, 2021
Valtteri soon went quickest, and really seemed to really enjoy driving around the track! His time stood as the provisional fastest time until teammate Hamilton took over the reins, though Red Bull's pace on the Soft tyres wasn't all that great at all. A "sparky" moment for Max showed just how much he was pushing the limits, and extracting the most out of his car!
Lighting it up ✨#SaudiArabianGP 🇸🇦 #F1 pic.twitter.com/NsgGL447Sj

— Formula 1 (@F1) December 3, 2021
The flag dropped on FP1, and so did the sun from the horizon- the next session, i.e. FP2 will be under the lights! Lewis topped the time charts just 6 hundredths faster than Max, with Bottas a bit further behind in P3. Gasly and Giovinazzi had fantastic showings, and so did both Ferrari cars.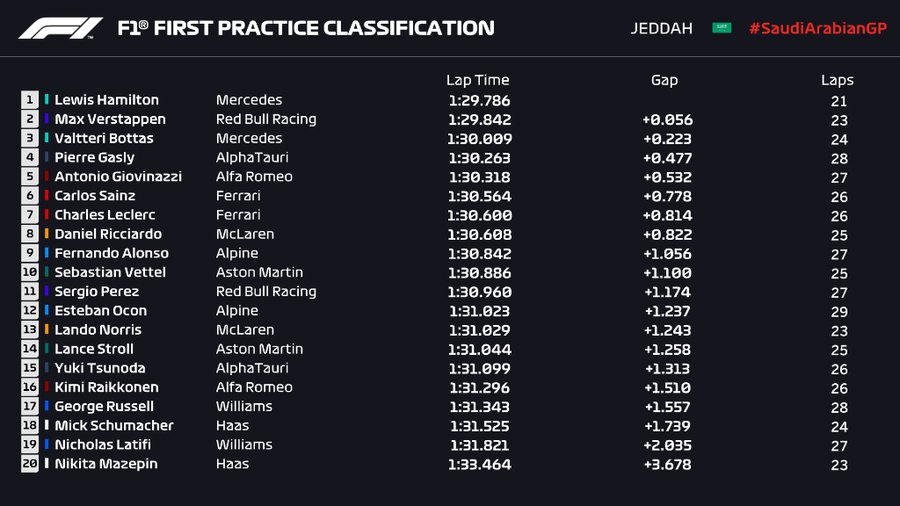 The McLarens were lagging behind as they usually tend to do in FP1, while it was a shocker of a session for Checo Perez, who languished down in 11th place- the Mexican will be keen to do better than that! Stroll was also out of place in 14th, while Kimi struggled in comparison to teammate Giovinazzi. Next up, let's go onto FP2!
FP2
Under the spotlights, FP2 got underway. The cars all filed out onto the track, with most taking on medium tyres so as to get an idea of their race pace, and they all set about extracting the most from their cars. I must say, the track looks beautiful under the lights!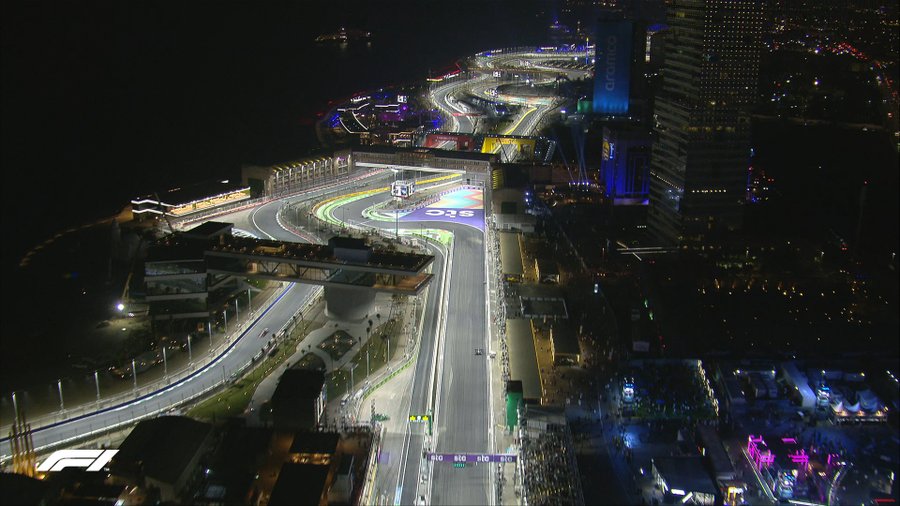 A practice session under the Jeddah lights 🌃

Let's do this! FP2 is go!#SaudiArabianGP 🇸🇦 #F1 pic.twitter.com/lqJZlKKOeH

— Formula 1 (@F1) December 3, 2021
For the most part, drivers kept it quite clean, though we saw many lockups at Turn 1. Traffic could be an issue, as many drivers got impeded on their laps. Mazepin spun at Turn 1, and nearly sent Lewis into the barriers due to the same. The rest of the session was quite clean, though with a few minutes to go we had our first big incident of the weekend.
Looking pretty under the lights 😍#SaudiArabianGP 🇸🇦 #F1 pic.twitter.com/WIDlLtrJA1

— Formula 1 (@F1) December 3, 2021
Leclerc went heavily into the Tecpro barriers at Turn 22 with just under 5 minutes to go, and brought out the Red Flag due to the severity of his crash. He seemed to lose the rear of the car, as he came steaming into Turn 22 after the end of the DRS zone, and went heavily into the barriers. The rear of his car took the first hit, and due to the possible damages to it he might have to change his power unit before FP3 tomorrow. Let's hope Ferrari do a better job of inspecting his car for damage here than the way they did it in Monaco!
Charles Leclerc went off into the barriers at Turn 22, causing an early end to FP2

Thankfully he was able to get out of the car himself and confirm he was ok#SaudiArabianGP 🇸🇦 #F1 pic.twitter.com/wif6Pau2N4

— Formula 1 (@F1) December 3, 2021
This meant that the session ended a bit earlier than it was supposed to, and this resulted in many people's practice start and qualifying runs having to be aborted. Lewis led yet again, followed very closely by Valtteri and then Gasly a bit further back in P3.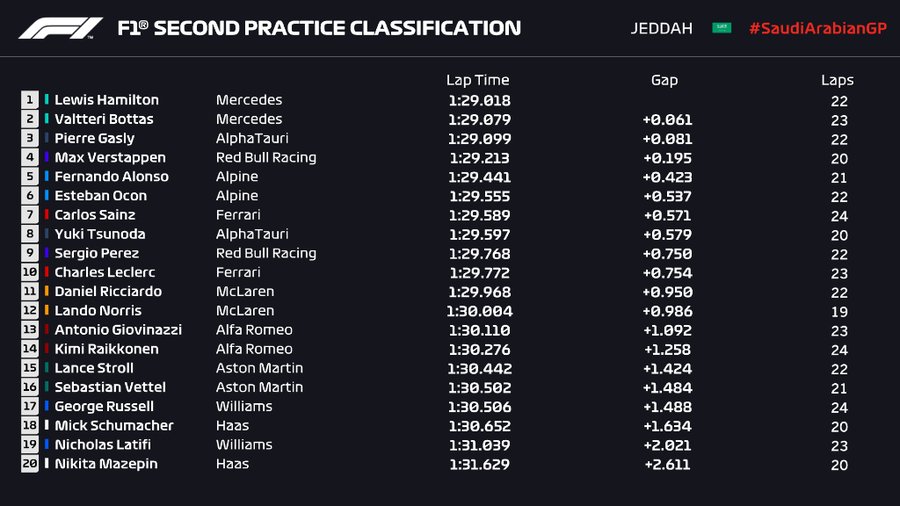 The pace, or lack thereof for Red Bull is a bit shocking for me, as though I did not expect them to have the advantage here, their deficit to Merc is a bit worrying. Add that onto the fact that Max's best lap was on the soft while both Merc cars set their best lap on the mediums, and that adds to the worry. Checo has also been off the pace- Red Bull might possibly need a miracle to achieve a good result this weekend.
Both Alpines showed great pace, and so did both Ferrari cars. McLaren seemed to be a bit further behind, while Aston were quite slow, though 15th and 16th didn't make them worry much for some reason.
In Conclusion
So, Friday running at the Jeddah Corniche Circuit ended with Lewis leading both sessions, and the Merc cars showing tremendous pace. Despite a clean FP1, the walls are very close around here, and as we saw with Charles, they'll have to be wary that they don't push the car beyond it's controllable limit! Tomorrow we'll see FP3 and Qualifying, and it's safe to say that Mercedes look like the favourites, while Ferrari ascertain the damage to Charles' car overnight. Bring it on, Jeddah!